Missing pulled pork since you've transitioned to a vegan lifestyle. Why should all the meat lovers get to eat all of the fun foods?
Look no further than this bbq jackfruit recipe. Best of all, it's the perfect vegan substitute that has a similar texture to pork.
What Is Jackfruit?
Jackfruit, commonly called the jack tree, is a member of the fig, mulberry, and breadfruit species.
Jackfruit is cultivated in the tropical regions of Southeast Asia, Brazil, and Africa.
Even though jackfruit is scientifically classified as a fruit, it has a texture that is akin to chicken and pork.
However, jackfruit pairs perfectly with sweet and tangy barbeque sauce. Furthermore, jack fruit is a low-calorie, low-sodium, cholesterol, and saturated fat-free food.
What Does Jackfruit Meat Taste Like?
Jackfruit'sflavor is neutral, making it the perfect canvas as it literally soaks up the seasoning or sauces you add to it.
Often jackfruit is canned in brine, which gives it an acidic, slightly salty flavor.
It is best to use jackfruit in water, but if you can only find jackfruit in brine, rinse it really before using it.
In regards to texture and consistency, jackfruit is a hybrid between pineapples and canned artichoke hearts.
Can you overcook jackfruit?
Jackfruit is as easy to overcook as any other food. Most jackfruit recipes mimic pulled pork or shredded chicken.
If you do not like overcooked pork or chicken, then you won't like overcooked jackfruit.
It's best to keep in mind that jackfruit cooks faster than meat. Do not walk away from your jack fruit while it's cooking. It is the only way to prevent overcooking it.
How to make BBQ Jackfruit
This bbq jackfruit is so easy to make. Season your jackfruit with the bbq rub, saute it in oil until it browns, then stir in a bit of water bbq sauce and lemon juice.
Cover your pot, and simmer until the jackfruit is tender. Add the bbq jackfruit to your vegan buns, and you will have a dinner that knocks pulled pork out the box.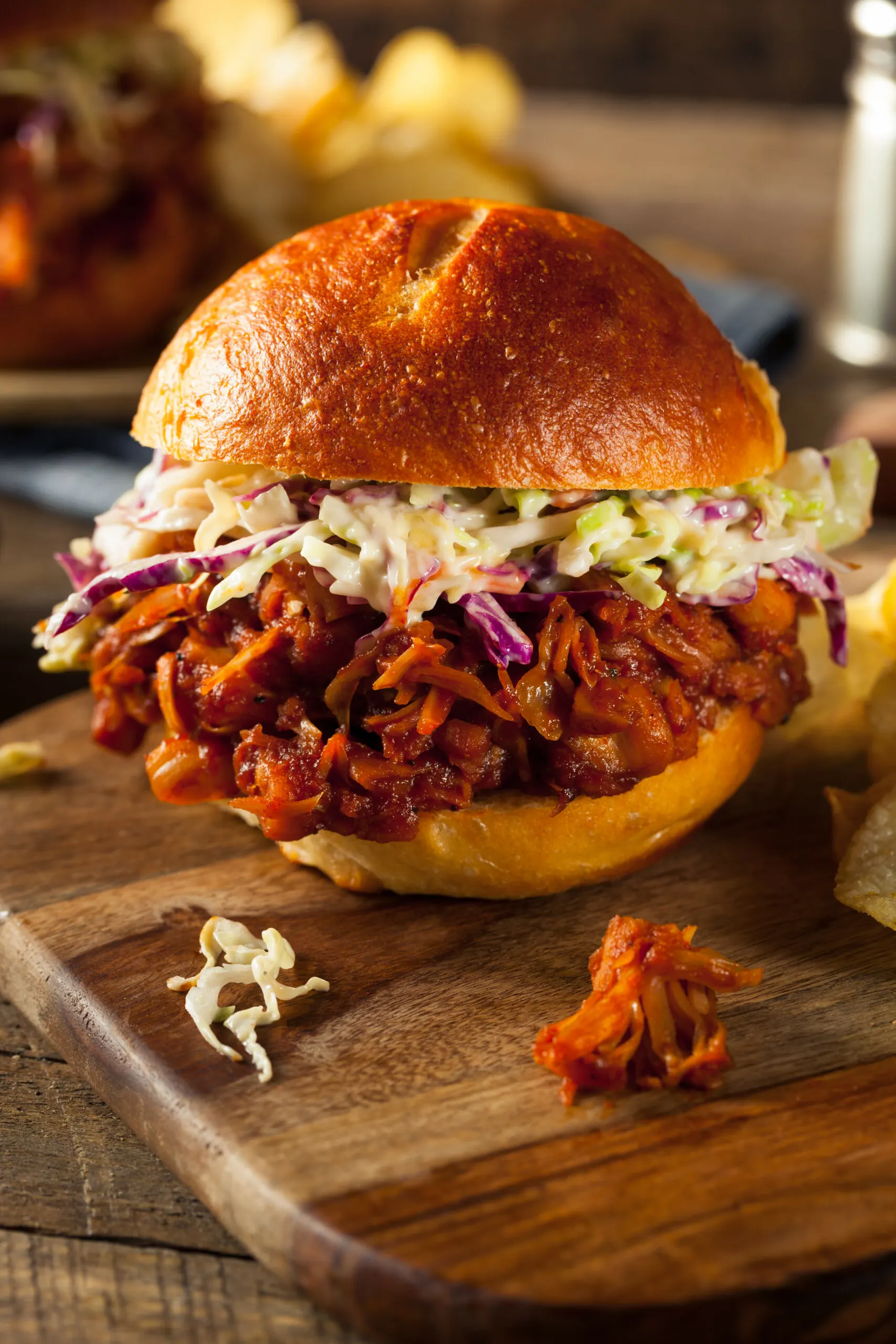 Bbq Jackfruit Recipe
Jackfruit is seasoned with a bbq rub and simmered in flavorful barbeque. Place this tasty bbq Jackfruit on a hamburger bun, and you will have yourself a vegan pulled pork sandwich.
Equipment
Whisk

Bowls

Measuring spoons

Measuring cups
Ingredients
2

20oz

cans green jackfruit in water

2

tbsp

brown sugar

1

tbsp

smoked paprika

1

tsp

garlic powder

1

tsp

onion powder

1

tsp

salt

½

tsp

cayenne powder

1

tbsp

mustard powder

½

tsp

chili powder

2

tbsp

olive oil

2

tsp

lemon juice

2

tbsp

water

¾

cup

BBQ sauce

6

vegan buns
Instructions
Place the jackfruit into a colander and rinse it under cold water. Pat the jackfruit dry with paper towels and slice the cores of the jackfruit.

Whisk the brown sugar, paprika, garlic powder, onion powder, salt, cayenne pepper, chili powder in a bowl.

Sprinkle the seasoning over the jackfruit and toss to coat it.

Place the olive oil into a skillet, heat it over medium-high heat, and add the jack fruit once it is hot.

Cook the seasoned jackfruit for 2-3 minutes until the jackfruit develops a slightly browned color.

Add the bbq sauce, lemon juice, and water, place the lid on the pot, and cook for 20 minutes, periodically stirring.

Use two forks to shred the jackfruit, cover the pot and cook it for an additional 15 minutes.

Place the jackfruit onto the bottom buns and add the top bun.
Nutrition
Serving:
1700
g
Calories:
399
kcal
Carbohydrates:
47.9
g
Protein:
17.7
g
Fat:
16.4
g
Saturated Fat:
0.9
g
Polyunsaturated Fat:
6.88
g
Monounsaturated Fat:
23.37
g
Trans Fat:
0.014
g
Sodium:
2332
mg
Potassium:
161
mg
Fiber:
63.8
g
Sugar:
13.17
g
Vitamin A:
0.0001
IU
Vitamin C:
164
mg
Calcium:
47
mg
Iron:
7
mg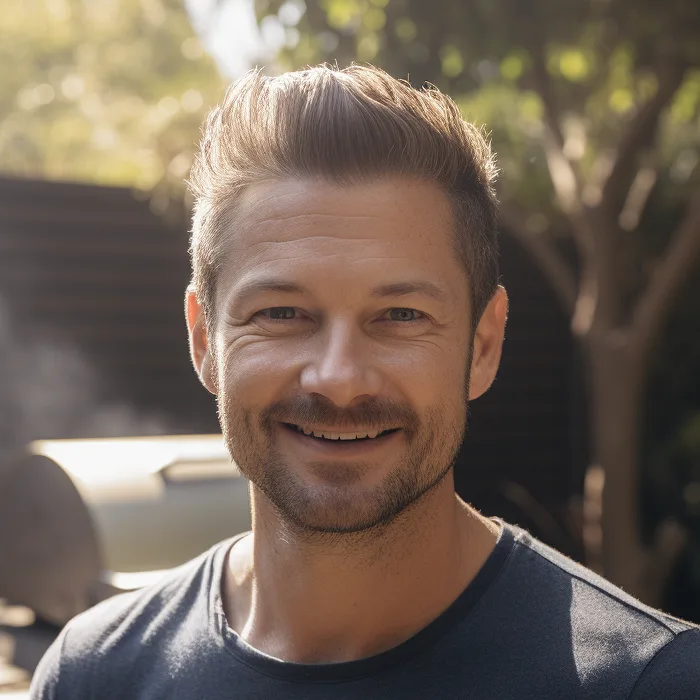 I have been smoking and grilling meat from an early age and enjoy sharing my knowledge and expertise through the hundreds of articles I have written about BBQ. I hope to make everyone's BBQ journey that little bit easier.