We can all agree South Carolina is one of the most famous barbeque spots in the world. However, most of us have never had the chance to visit this treasure trove of BBQ history.
Most people have only been exposed to tomato and vinegar-based BBQ sauces.
Nevertheless, there are multitudes of BBQ sauces available on the market. There's no reason to book a plane ticket to South Carolina or rent a car.
We can have a taste of the historically famous South Carolina BBQ sauce right at home.
What Is Carolina Mustard BBQ Sauce?
It is the common assumption that North Carolina BBQ sauce and Carolina bbq sauce are the same sauce.
However, these sauces are different. North Carolina BBQ sauce is a vinegar-based sauce made from ketchup, brown sugar, and molasses.
On the other hand, Carolina Mustard BBQ Sauce is a mustard-based BBQ sauce made with vinegar, sugar, and spices.
Mustard in BBQ Sauce?
I know. Mustard in barbeque sauce? That's crazy! It's a strange combination, but it tastes oh so delicious.
Most individuals tend to draw hasty conclusions when it comes to weird food combinations.
However, this Carolina BBQ sauce is unlike anything you have ever tasted. You will never know how good this Carolina-style BBQ sauce is unless you taste it.
Where Did Carolina BBQ Sauce Originate?
Traditionally Carolina BBQ sauce was a combination of vinegar and spices that resulted in a thin sauce. Next, African slaves elevated Carolina BBQ sauce flavor.
However, the defining moment of Carolina BBQ sauce happened in the 18th century.
German explorers brought mustard to regions of South Carolina and Georgia. Germans fell in love with the tangy flavor of mustard and pork.
Gradually mustard became a star ingredient in the sauces served alongside barbeque dishes in this state.
What Are Carolina Mustard BBQ Sauce Ingredients?
Carolina mustard BBQ barbecue sauce features a few staple ingredients.
Nine out of ten times, this sauce is made with yellow mustard, but you can also use brown or Dijon mustard.
Vinegar, sugar, peppers, herbs, and spices are also ingredients used to make this sauce.
How Does Carolina Mustard BBQ Sauce Taste?
Carolina mustard BBQ sauce has a tangy flavor with different degrees of sweet, savory, and spicy tones. Mustard naturally has a strong flavor that complements barbecue meats perfectly.
Apple cider vinegar increases the zesty flavor will creating an intense flavor that is ideal for pulled pork. Garlic, onion, Worcestershire sauce, and chili powder are usually used to create savory tones.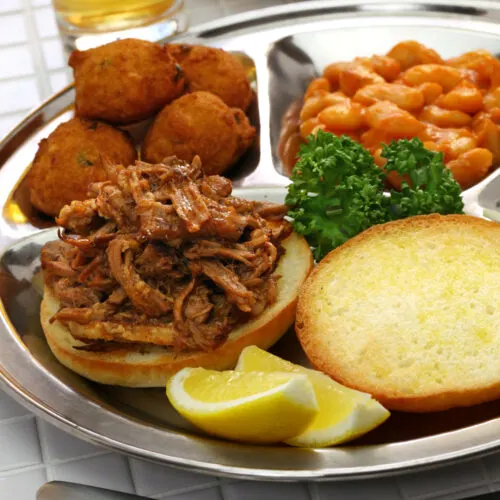 Carolina BBQ Sauce Recipe
This Carolina-style BBQ sauce recipe is the perfect flavor component to complete your grilled chicken or pulled pork dishes.
Equipment
Whisk

Large bowl

Measuring cups

Measuring spoons
Ingredients
¾

cup

yellow mustard

½

cup

maple syrup

¼

cup

brown sugar

½

cup

apple cider vinegar

1

tbsp

lemon juice

2

tbsp

ketchup

2

tsp

Worcestershire sauce

2

cloves

cloves garlic

grated

¼

cup

onion

grated

1

tsp

salt

1

tsp

chili powder
Instructions
Whisk the mustard, maple syrup, brown sugar, apple cider vinegar, lemon juice, ketchup, Worcestershire sauce, garlic, onion, salt, and chili powder in a large bowl.

Pour the Carolina BBQ sauce into a saucepot and cook it for 5-10 minutes, periodically stirring until it thickens slightly.

Remove the Carolina barbeque sauce from the heat and allow it to cool completely.

Pour the Carolina BBQ sauce into an airtight container to allow the flavors to blend together in the fridge overnight.

Shake the Carolina bbqsauce before serving.
Nutrition
Serving:
52
g
Calories:
72
kcal
Protein:
16.92
g
Fat:
0.58
g
Saturated Fat:
0.044
g
Polyunsaturated Fat:
0.148
g
Monounsaturated Fat:
0.35
g
Trans Fat:
0.001
g
Sodium:
411
mg
Potassium:
95
mg
Fiber:
0.8
g
Sugar:
14.37
g
Vitamin A:
100
IU
Vitamin C:
1.2
mg
Calcium:
32
mg
Iron:
0.43
mg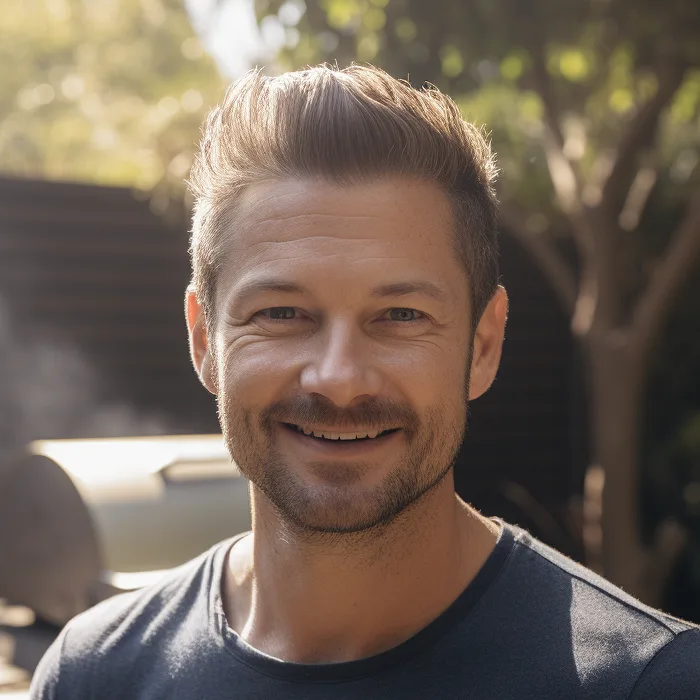 I have been smoking and grilling meat from an early age and enjoy sharing my knowledge and expertise through the hundreds of articles I have written about BBQ. I hope to make everyone's BBQ journey that little bit easier.