South Carolina-style BBQ is one of the best BBQ in the entire country. It is prepared with a thin vinegar or ketchup-based sauce marination.
The result is a unique tangy flavored BBQ meat that is tender and juicy.
The Louis Memphis dry rubs and traditional Texas-style BBQ are among the best BBQs you can find in restaurants in South Carolina.
If you're in town for the best BBQ experience, here is our list of the top 10 best BBQ in South Carolina that you should try.
Best BBQ in South Carolina
Rodney Scott's BBQ – Charleston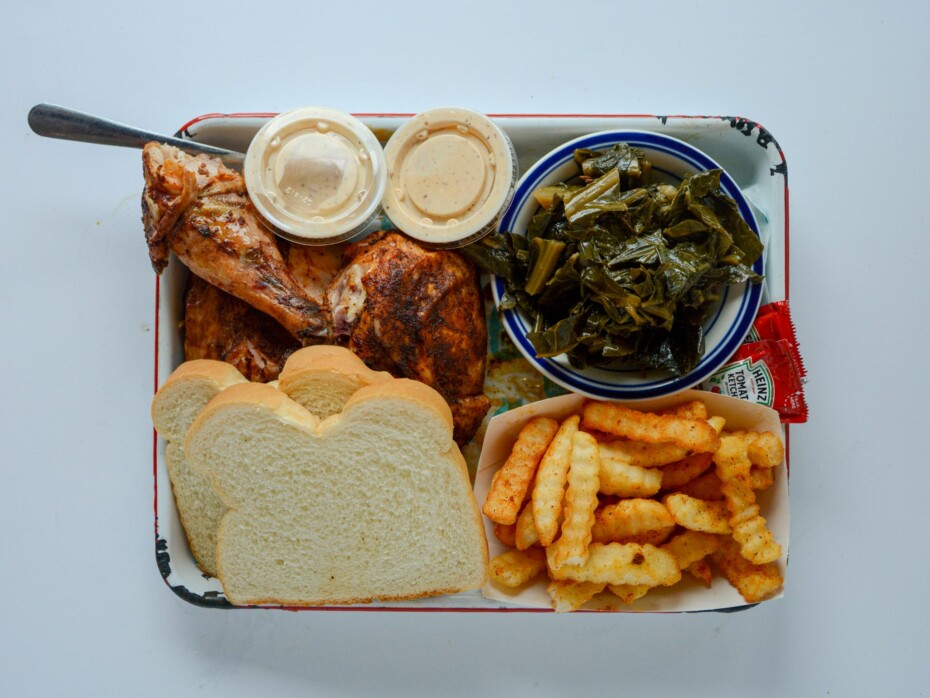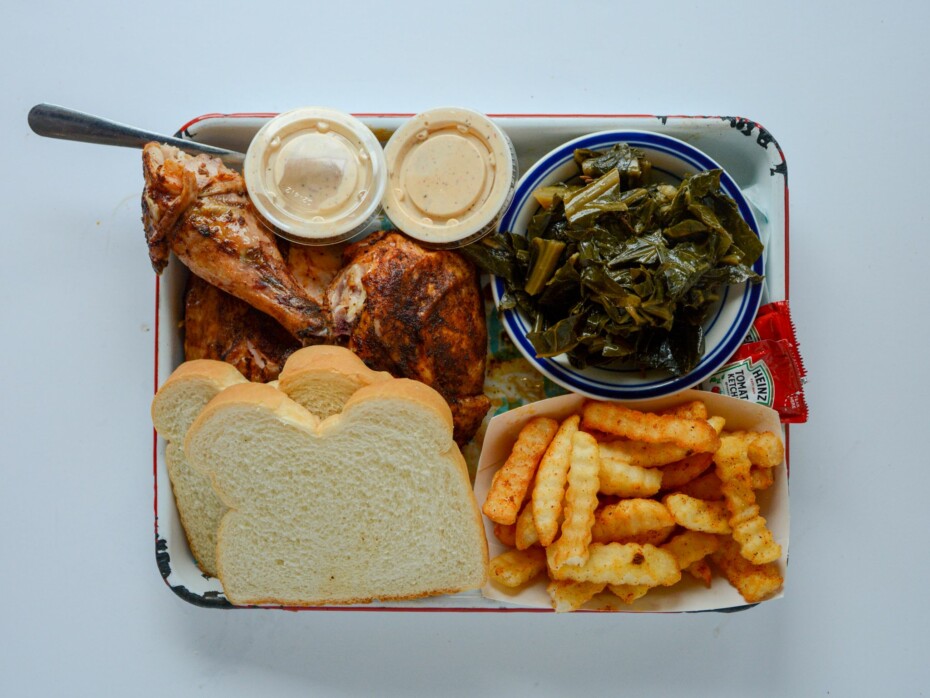 Rodney Scott's BBQ – Charleston is a counter-serve restaurant to enjoy Lowcountry-style slow-smoked BBQ meats, including pulled pork, ribs, and brisket.
The restaurant is simple off the charts good, and there is nothing you would want any different. The whole hog pork is super delicious.
There is a line of people waiting on a busy day, so it is good to show up early or book a table.
The restaurant won the Hames Beard award, and your experience of eating at this restaurant shows you that it was well-deserved.
1011 King St, Charleston, SC 29403, United States
Monday – Sunday, 11 AM –9 PM
+1 8439909535
Sweatman's Barbeque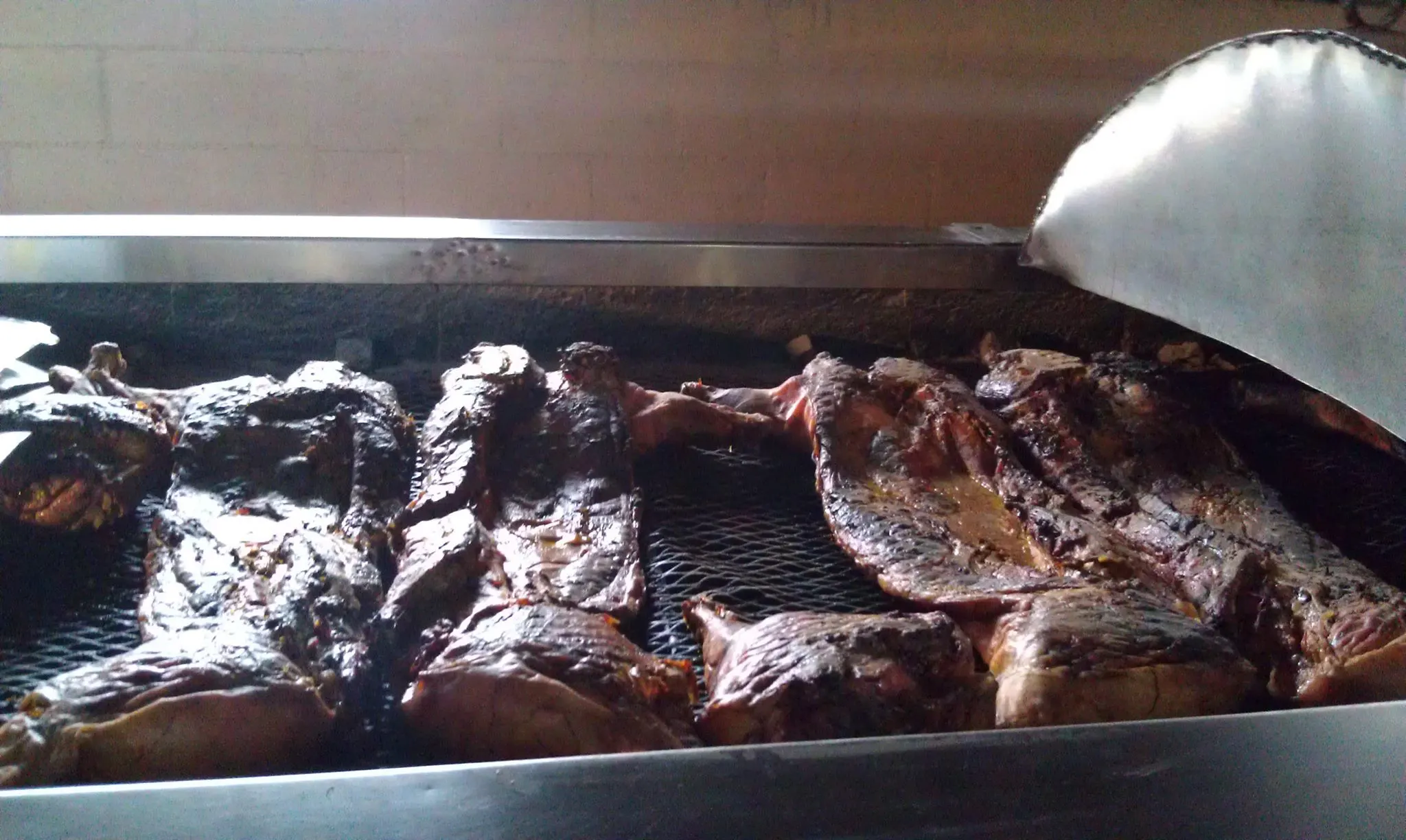 Sweatman's Barbeque is a charming old farmhouse that a local family runs.
They serve all-you-can-eat BBQ in a rustic setting. Although, the southern sides served with BBQ are delicious, you cannot forget their hash.
This place is worth a visit if you are heading to Charleston.
The hall where everyone is seated is huge. The minute you walk in the door, you are received by a friendly waiter, and the smell of BBQ makes you hungrier.
1427 Eutaw Rd, Holly Hill, SC 29059, United States
Friday and Saturday, 11:30 AM –8 PM
+1 8034961227
The Southern Belly BBQ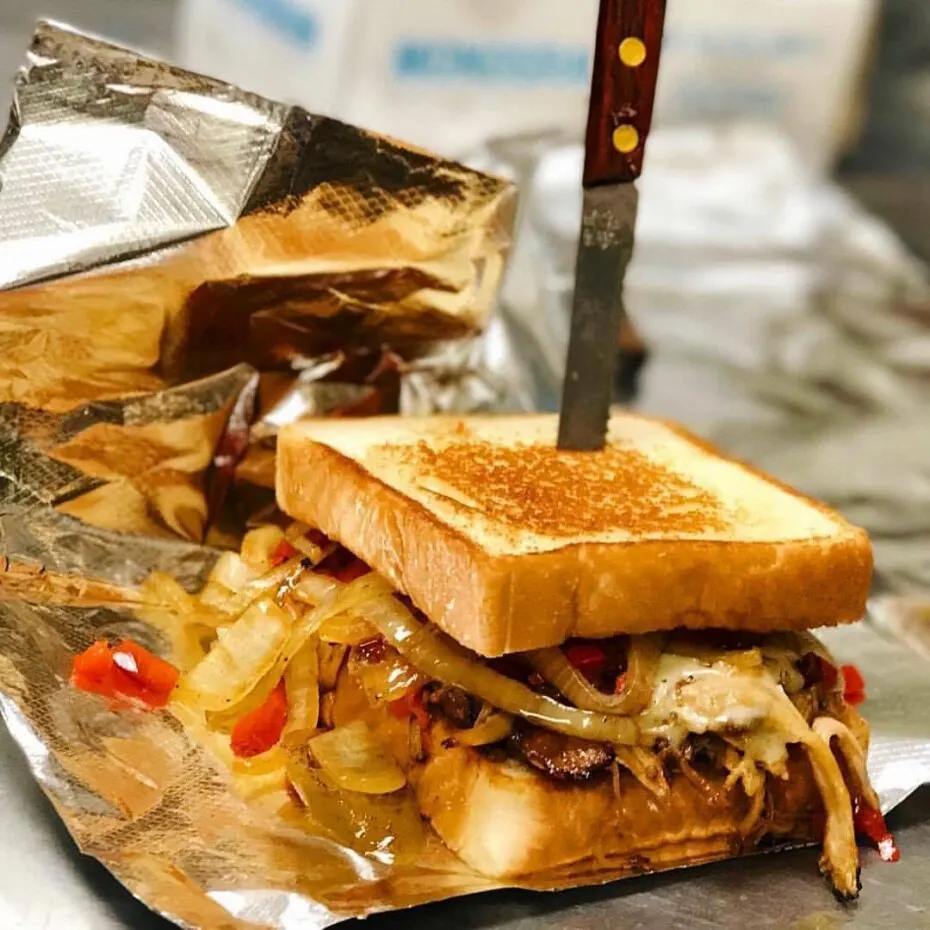 The Southern Belly BBQ is a snug BBQ place in Harden St that serves a variety of reimagined pork sandwiches with innovative toppings & sauces.
Their BBQ sandwiches are iconic, and they are huge. The place gets filled up quickly, but the wait staff knows how to keep all the customers happy.
819 Harden St, Columbia, SC 29205, United States
Monday – Sunday, 11 AM –10 PM
+1 8037643512
Lewis Barbecue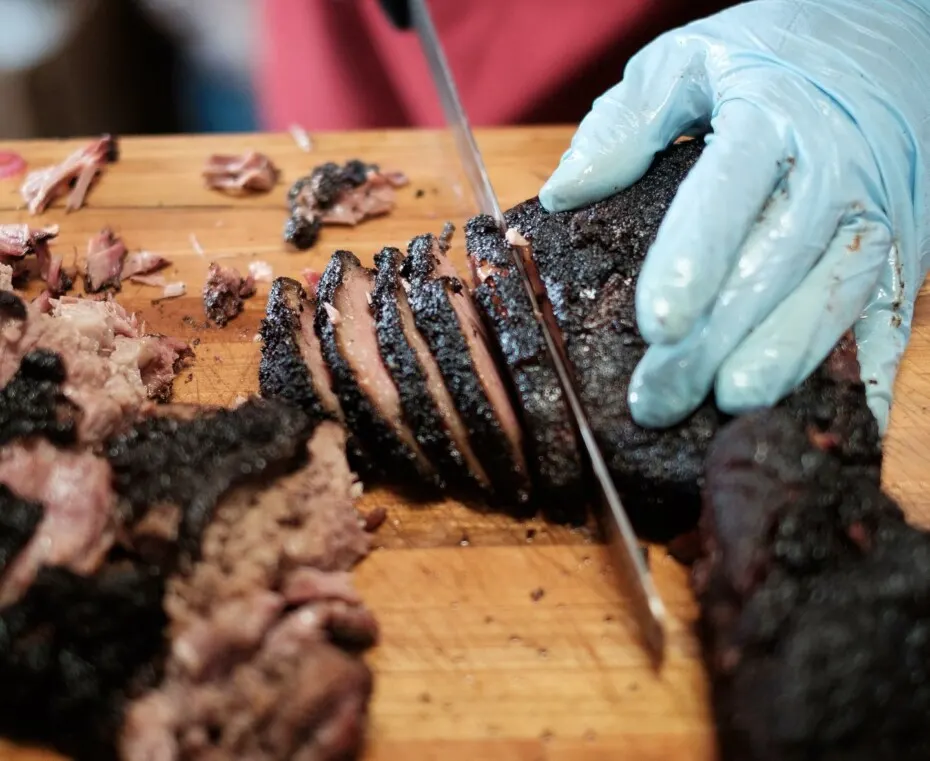 Lewis Barbecue is a Texas-style BBQ joint that serves house-smoked meats in an industrial-hip space that also has a bar.
For a reasonable price, you can enjoy your favorite cut of meat BBQ.
They have nice outdoor seating as well, so on a day when the weather is pleasant, ask for outdoor seating.
464 N Nassau St, Charleston, SC 29403, United States
Friday and Saturday, 11 AM –10 PM. Monday – Thursday and Sunday, 11 AM –9 PM
+1 8438059500
Henry's Smokehouse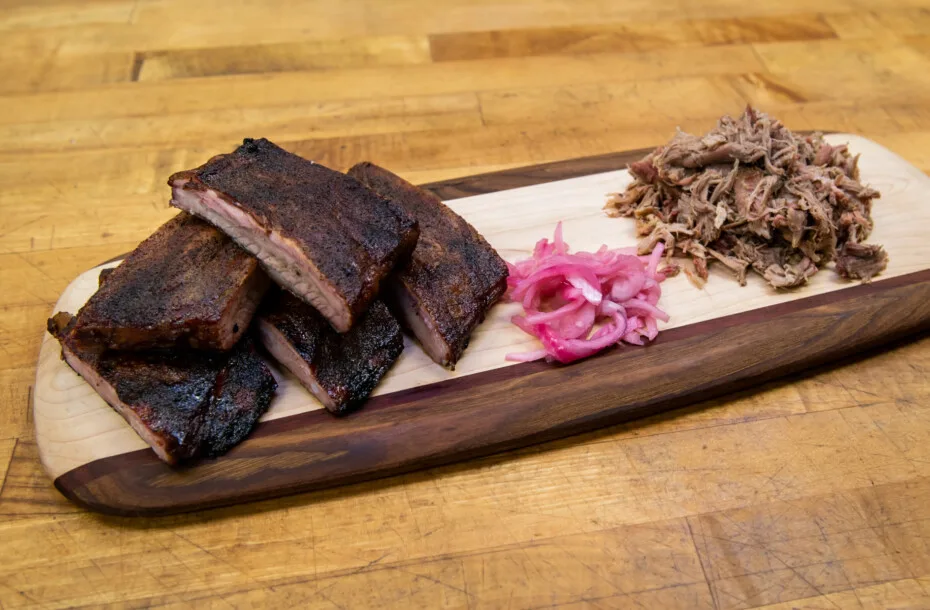 Henry's Smokehouse is a tiny roadside setting in Wade Hampton Blvd famous for its smoked meats and other barbecue fares.
On the tiny roadhouse restaurant, you are seated on outdoor tables and served delicious BBQ. It is one of those rare places where the food is above and beyond expectations.
If you look at it from the outside, you might think that it is a pocket-friendly restaurant that serves average food.
But the food is finger-licking good. Mac and cheese are scrumptious with the BBQ. They also have great sweet potato casserole. The banana pudding is a must-try dessert.
240 Wade Hampton Blvd, Greenville, SC 29609, United States
Monday – Saturday, 11 AM –8 PM
+1 8642327774
Shuler's Bar-B-Que
Shuler's Bar-B-Que is a cabin-like space that serves South Carolina–style pulled pork & ribs.
They have a small pond, and you can look at the lake fish and turtles while eating BBQ. The BBQ buffets are great if you want to eat BBQ like a beast.
They are only open on a few days of the week, so be prepared to eat at a packed place, the place is worth a stop.
If you are craving excellent BBQ ribs, brisket, or pulled pork, Shuler's Bar-B-Que has everything you need!
419 SC-38, Latta, SC 29565, United States
Thursday – Saturday, 11:30 AM –8 PM
+1 8437524700
Swig & Swine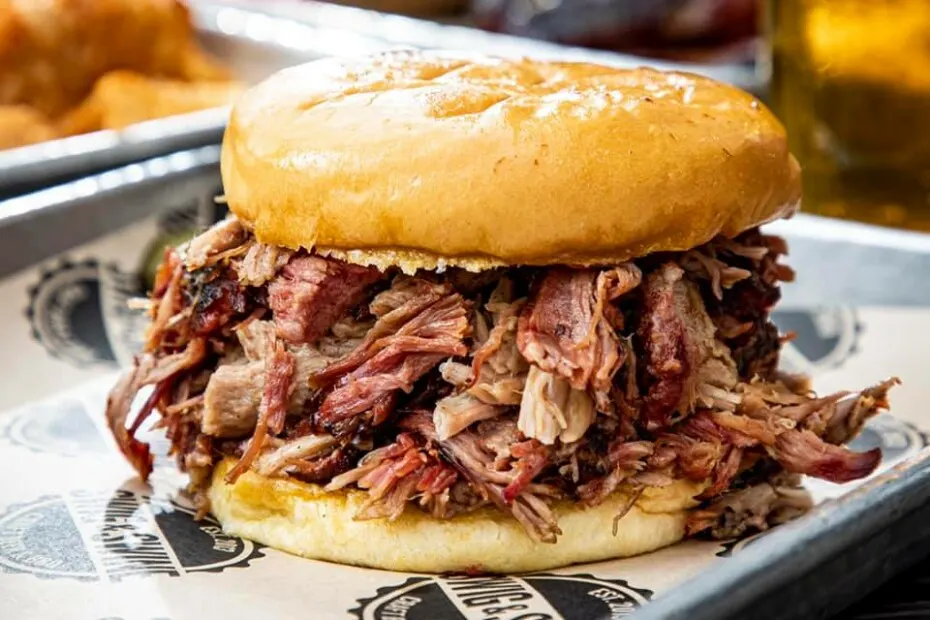 Swig & Swine is a funky BBQ spot just on the road on Savannah highway that serves house-smoked meats, and creative sides served in a funky spot.
They have outdoor seating to enjoy the beautiful weather and a variety of beer & bourbon.
They have authentic BBQ, blue cheese, and cheese mayo dressings to dip your tender BBQ and delicious appetizers.
The grilled cheese sandwich is heavenly. The Brunswick stew is also incredible; it has a light broth taste and a strong flavor of canned mixed vegetables.
The portions are huge, so you can take away your leftovers home with you.
1217 Savannah Hwy, Charleston, SC 29407, United States
Monday – Sunday, 11 AM – 9 PM
+1 8432253805
Bobby's BBQ and Catering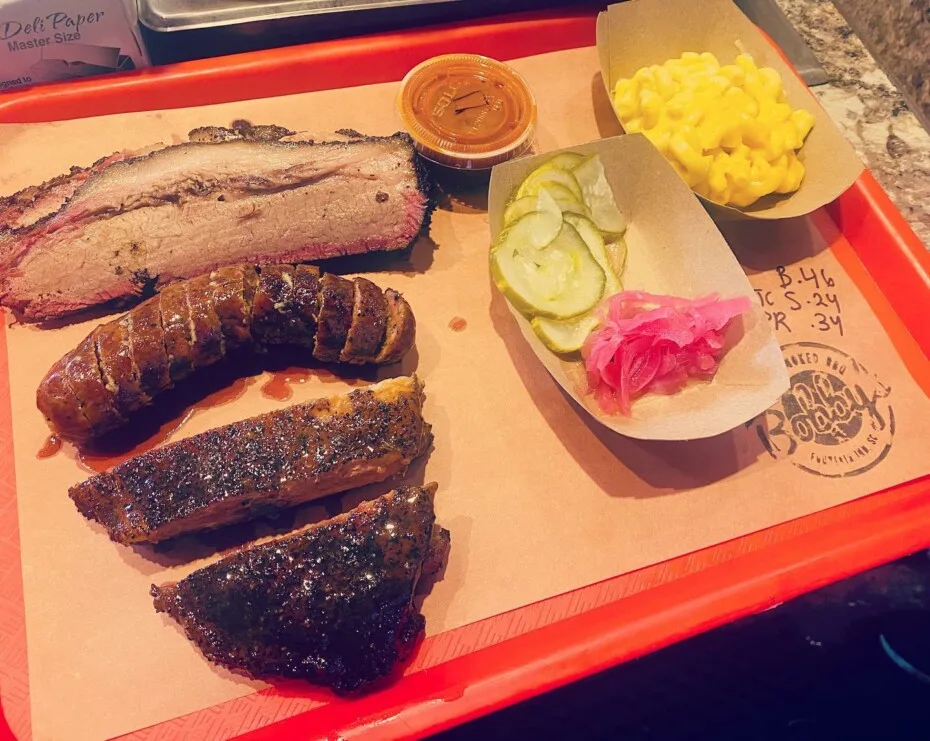 Bobby's BBQ and Catering is a great BBQ place in Fountain Inn that serves BBQ platters and sandwiches in a fun setting.
The inside of the restaurant is minimalistic and clean.
The food is heavenly, and the service is top-notch. The portions are huge, and two people can enjoy the ribs platter for one.
The brisket sandwich and beef ribs sandwich are delicious.
1301 N Main St, Fountain Inn, SC 29644, United States
Thursday – Saturday, 11 AM –8 PM
+1 8644092379
Home Team BBQ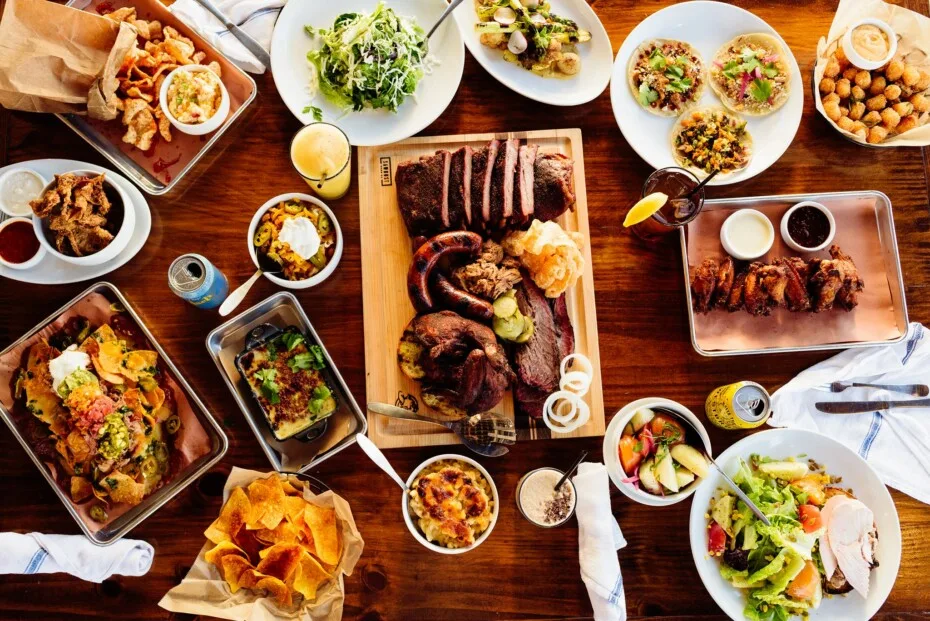 Home Team BBQ is a bustling tavern on Ashley River Road serving generous portions of smoked meat with southern sides and beer.
They have live music nights, and the atmosphere is fun.
If you are looking to have some fun at a BBQ place with the homies, Home Team BBQ is one of the best BBQ places in Charleston.
1205 Ashley River Rd, Charleston, SC 29407, United States
Monday-Sunday, 11 AM – 12 AM
+1 8432257427
Scott's Bar-B-Que
Scott's Bar-B-Que is an old BBQ joint that serves pit-roasted pork & chicken, with delicious sides including boiled peanuts.
The restaurant has an interesting rustic décor. The whole hog BBQ is simply wow.
The meat is moist, and ribs have a deep aroma that makes you fall in love with it.
The sauces they serve with the BBQ are delicious. Servers are very friendly and serve everything with a big smile.
The prices are very affordable, and BBQ meat is sold by the pound.
If you want to meet incredible people, enjoy delicious food, and have a fun day, Scott's Bar-B-Que is the place to go!
2734 Hemingway Hwy #5420, Hemingway, SC 29554, United States
Wednesday, 9:30 AM –5 AM. Thursday – Saturday, 9:30 AM –7 PM
+1 8435580134
City Limits Barbeque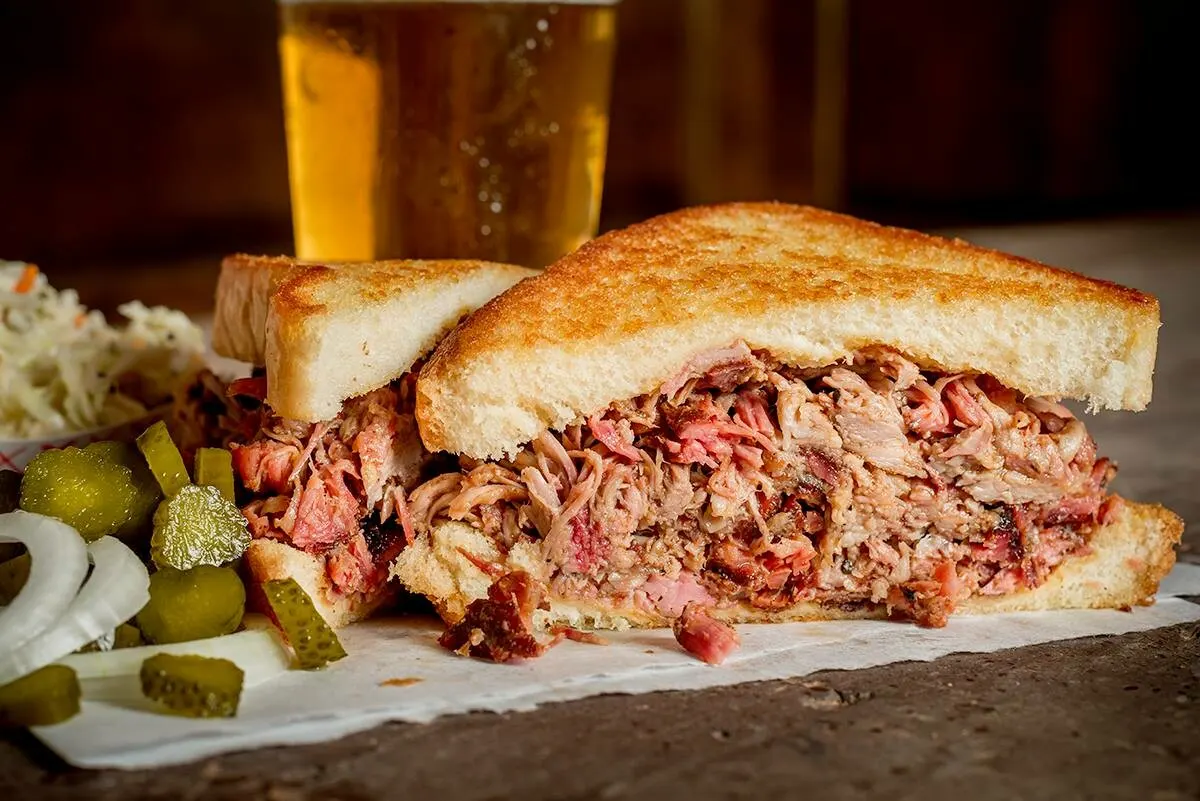 City Limits Barbeque is a popular food truck impressing crowds with Texas-style BBQ since 2016.
Everything here will rock your taste buds, from their meats to scratch-made pickles, sausages, and even their bacon.
Grab a drink and fill your belly with delicious melt-in-your-mouth brisket, pulled pork, burgers, and porky belly burnt ends.
Follow them on Instagram (@CityLimitsQ) or subscribe on their website – it's the easiest way to find out where they'll be so you can get in line!
1330 Methodist Park Rd Unit A, West Columbia, SC 29170
Saturday 11:30 AM – 2 PM
+ 1 803-260-7469
The Spotted Pig BBQ
A hidden gem off the I-85, The Spotted Pig BBQ is a humble spot with great offerings.
Kick back in their homey restaurant, complete with a dining room sink- cuz you're bound to get your hands dirty!
Home-made BBQ sauces drip off their succulent ribs, rounded out with sides like coleslaw, fried okra, and onion rings.
Dry-rubbed pulled pork has a smoky, citrusy tang, and their "Double D" mile-high sandwich will give you a sample of all the meats packed in between garlic toast.
15491 SC-11, Fair Play, SC 29643
Thursday 11 AM – 8 PM; Friday & Saturday 11 AM – 9 PM; Sunday 11 AM – 4 PM
+ 1 864-972-9999
Brisket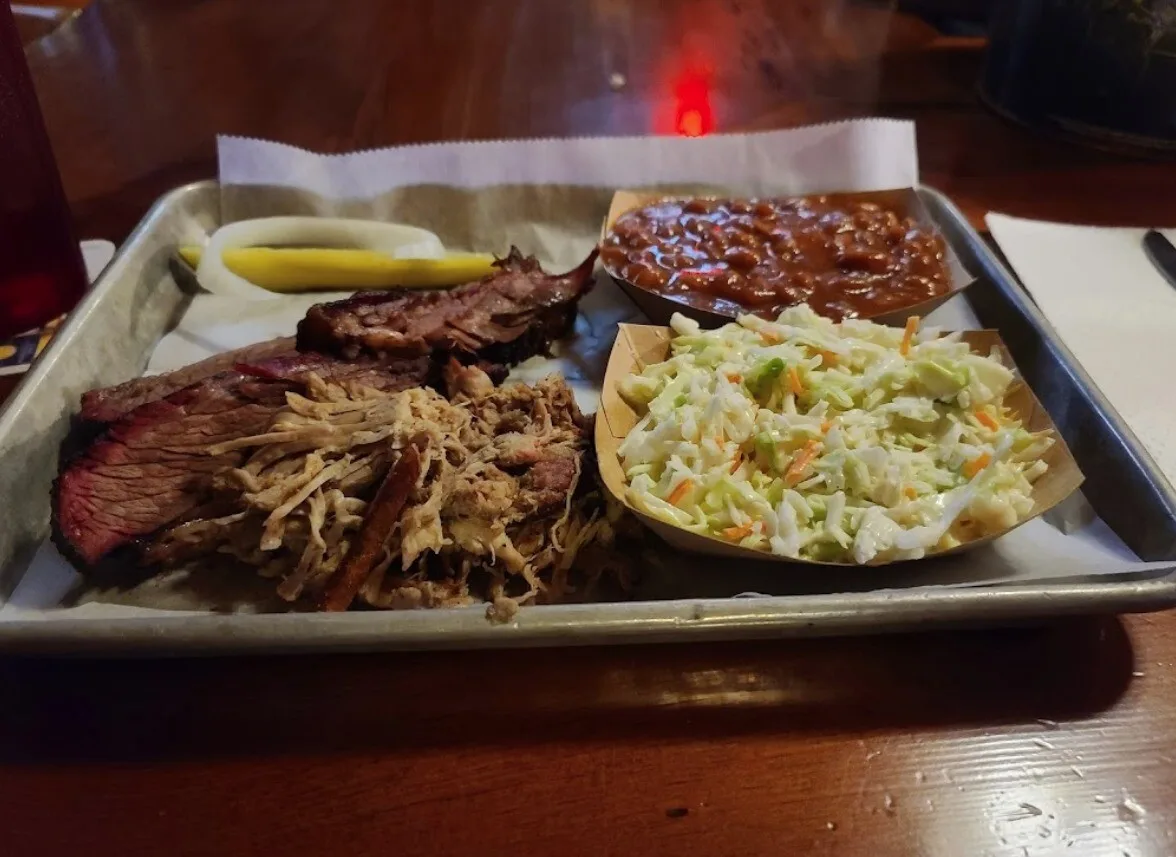 Texas-style BBQ lovers will flock to Brisket, with a selection of meats smoked in-house daily.
Daily happy hour from 4-7 sweetens the deal, alongside starters like Texas Frito Pie or pork rinds & pimento cheese.
Grab a few friends and dip into the "Feed Bag"; enough pulled pork, chicken, brisket, short ribs, sausages, and sides to feed 4 or 5 hungry folks.
Get the Mom's Pecan Pie if you've got space – you'll thank us later.
1501 Hwy 17 S, North Myrtle Beach, SC 29582
Tuesday – Sunday 11:30 AM – 10 PM
+ 1843-273-4423
Smoke on the Water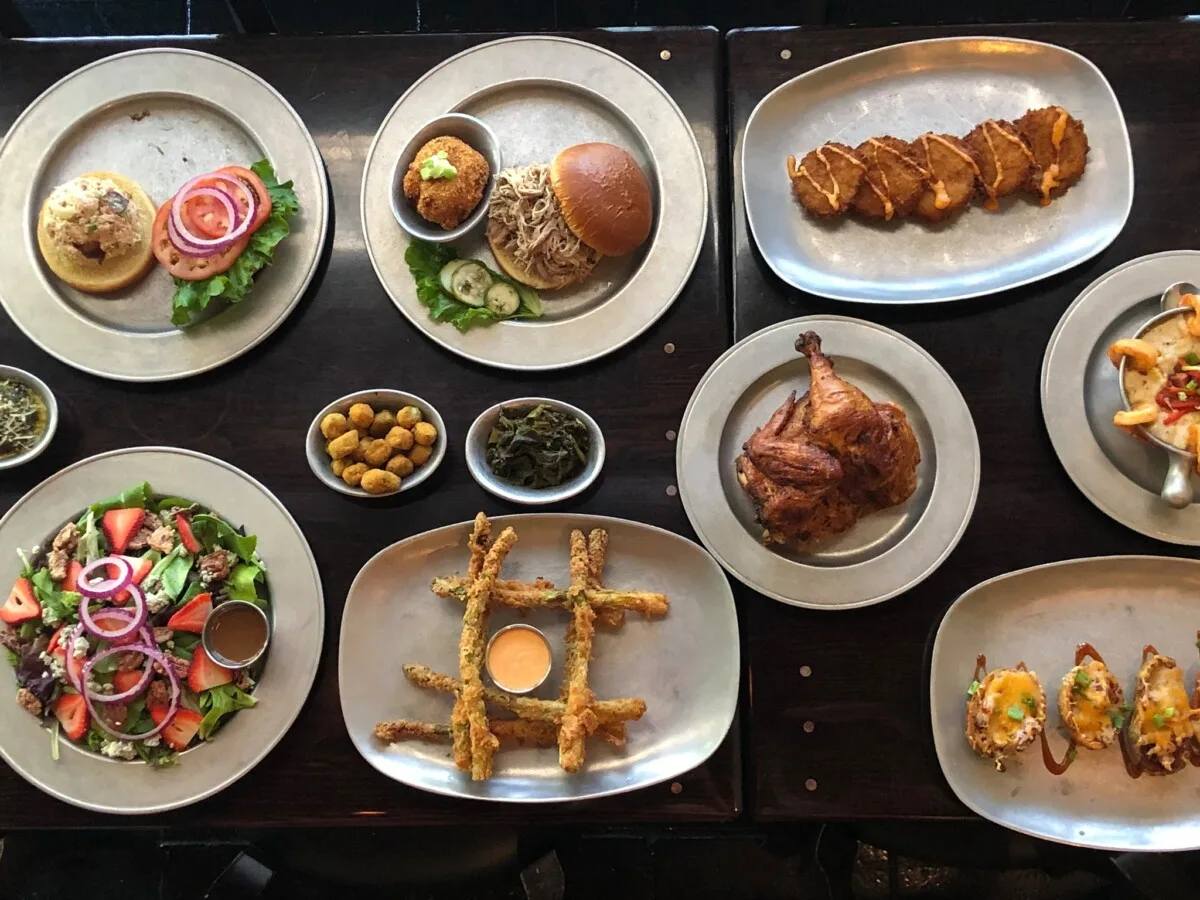 Smoke on the Water is upscale, but this gastropub has a warm and welcoming vibe.
Modern decor and private-label liquors make it fancy, but the BBQ is downright comforting and delicious.
Their secret seasoning on the slow-cooked pulled pork is fan worthy, and the tender beef brisket knocks it outta the park.
The combo plate is the way to go here – get a little bit of everything with sides like squash casserole or perfectly fried okra.
1 Augusta St #202, Greenville, SC 29601
Sunday – Wednesday 11:30 AM – 9 PM; Friday & Saturday 11:30 AM – 10 PM
+ 1864-232-9091
Duke's Barbecue
A relaxed spot with counter service and simple decor, Dukes Barbecue is worth the detour for a great meal.
It's the spot to go if you're looking for some family-style cooking, just like your grandma used to make – especially the peach cobbler!
Their all-you-can-eat buffet is a crowd-pleaser; you can get your fill meats and sides for a reasonable price.
Dukes runs on Southern-style cooking and hospitality, so make sure to add it to your list.
949 Robertson Blvd, Walterboro, SC 29488
Wednesday 11 AM – 8 PM; Thursday – Saturday 11 AM – 9 PM; Sunday 11 AM – 2 PM
+ 1843-549-1446
Midway BBQ
If the name of the game is ultra-comforting, legendary BBQ, then Midway BBQ is a top player.
Check out their daily set menus for different options, including more sides than you could ever dream up!
Sweet potato casserole, fried okra, rice and gravy, and fresh slaw get a thumbs up from us.
Other favorites include np sauce pulled BBQ pork and chopped BBQ chicken, but Midway is also well known for their must-try beef hash and chicken and dumplings.
811 Main St, Buffalo, SC 29321
Tuesday – Friday 10 AM – 6 PM; Saturday 10 AM – 4 PM
+ 1864-427-4047
Melvin's Legendary Bar-B-Q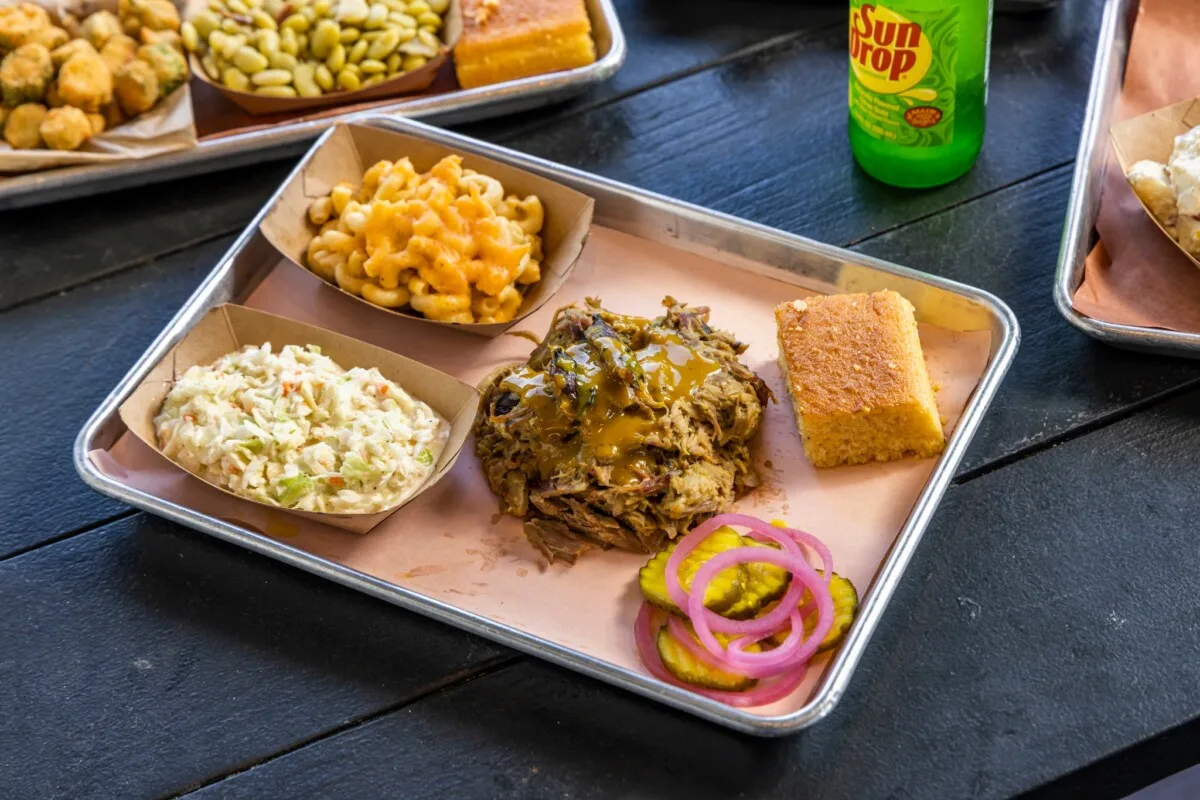 A family-run business since 1933, Melvin's Legendary Bar-B-Q is a Charleston staple.
They offer up lots of variety, including family package meals to feed up to 4 people. Get your fix of chopped pork, BBQ chicken, a hefty half rack of spare ribs, and their famous smoked turkey breast.
Complete your plate with hush puppies, pickled jalapenos, mac n' cheese, or smoky beans. One thing is for sure – you won't be leaving hungry!
925 Houston Northcutt Blvd, Mt Pleasant, SC 29464
Monday – Saturday 10:30 AM – 9 PM
+ 1843-881-0549 ext. 3
Carolina Barbecue Shack
Tucked away in their hometown of Greenwood, Carolina, Barbeque Shack is the local go-to for quality barbecue.
They supply all the daily-made sides and house-smoked meats you could ask for in a friendly, relaxed environment.
The pulled pork is tender and delicious, and they have multiple sauce options to spice it up just the way you like it. Add-ons here include hash over rice and a side of ribs, just in case you want to try it all.
728 Montague Ave, Greenwood, SC 29649
Thursday – Saturday 11 AM – 6 PM
+ 1864-223-2202
Bessingers BBQ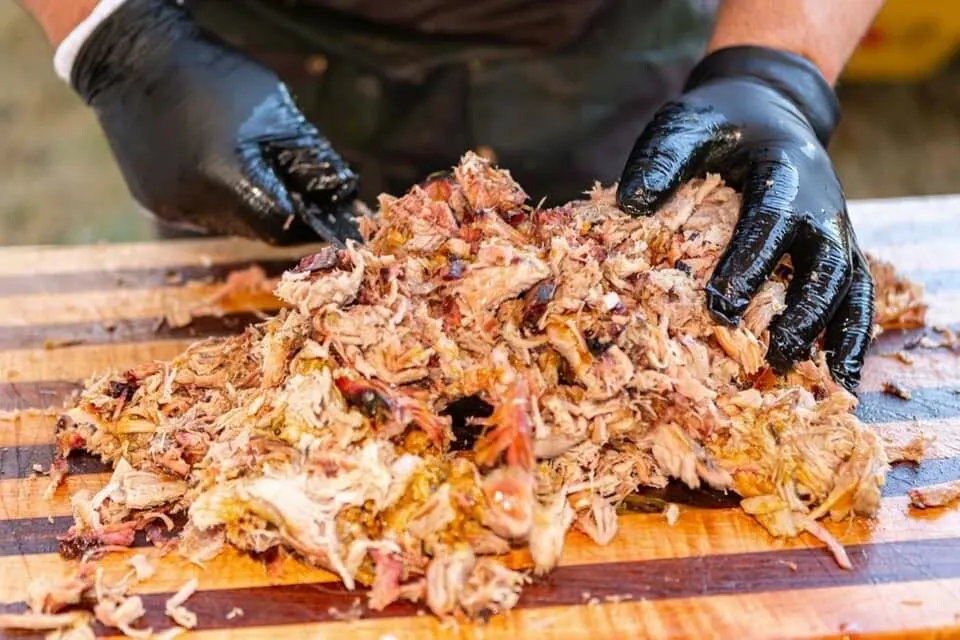 Bessingers BBQ are best known for two things: awesome food and their original mustard-based BBQ sauce. You'll want to keep returning to this friendly joint – especially once you try the food!
Top recommendations here are the St. Louis style ribs, pulled chicken, brisket, and of course, tender brisket.
Get your fix of some of the crispiest onion rings you'll ever try, or grab SC specialty hash over rice. And don't worry – you can buy the famous sauce to take home with you!
1602 Savannah Hwy, Charleston, SC 29407
Daily 11 AM – 9 PM
+1 843-556-1354
Bullies BBQ
Bullie's BBQ is a must-try in SC if you love BBQ smoked over Hickory and Mesquite wood.
You've gotta try their famous pulled pork – moist and delicious and sure to be a favorite.
Pair it up with some jalapeno cheddar cornbread or smoked gouda mac & cheese and your choice of sauces to top it all off.
Kick back and enjoy inside their restaurant or hang out on the picnic tables outside for fresh air.
3 Regency Pkwy, Hilton Head Island, SC 29928
Monday – Saturday 11 AM – 8 PM
+ 1843-686-7427
Big T's Bar-B-Que
Big T's Bar-B-Que is in the business of old-fashioned pit-cooked meats, and you'll want to get in on this local gem.
You might encounter a lineup here, but the service is quick, and the food is worth it. Hash and rice are flavorful with a little kick, and the pulled pork and ribs are tender and delicious.
Don't skip out on the comforting sides either – collard greens, cornbread, and mustard-based BBQ sauce.
7535 Garners Ferry Rd, Columbia, SC 29209
Monday – Saturday 11 AM – 9 PM
+ 1803-776-7132
Old South Bar-B-Que Co
A small spot serving up authentic South Carolina-style barbecue, Old South Bar-B-Q Co gets the nod of approval.
Here they keep it simple with the staples, and you can fill up on ribs, chopped pork plates, or Bar-B-Q trays.
Load up on hushpuppies, slaw, and beans, and don't forget the mustard-based sauce and some iced tea to wash it all down.
If you're looking for Southern hospitality and comforting food, this is your sign!
1020 Sea Mountain Hwy, North Myrtle Beach, SC 29582
Daily 11 AM – 7 PM
+ 1843-663-1056
Hite's Bar-B-Que
The secret to Hite's Bar-B-Que is oak and hickory wood and a lot of patience! A small white building with simple decor, this family-owned joint has been around since 1957.
Weekenders can get a generous fix of hash over rice, mustard base spare ribs, chopped BBQ, and succulent whole roast chicken.
Their slaw is some of the best around, and we recommend ending on a sweet note with their classic banana pudding.
240 Dreher Rd, West Columbia, SC 29169
Friday 8 AM – 7 PM; Saturday 8 AM – 6 PM
+ 1803-794-4120
Pig Out
"Do one thing and do it well" is the motto here at Pig Out BBQ, and they do just that! Operating out of a converted gas station, they focus on quality BBQ and sides, either by the plate or by the pound.
Thursday through Saturday, you can score a rack of ribs, half chicken, and even a juicy 8 oz. tenderloin. Classic beans, slaw, and potato salad are the perfect match for their BBQ/hash combo for the best of both worlds.
3001 New Cut Rd, Inman, SC 29349
Wednesday 11 AM – 3 PM; Thursday & Friday 11 AM – 8 PM; Saturday 11 AM – 3 PM
+ 1864-949-7431
Palmetto Pig Bar-B-Q Restaurant
For some great South Carolina-style BBQ buffet style, head down to Palmetto Pig Bar-B-Q Restaurant. This joint has a cozy Mom & Pop restaurant feel with laid-back wooden tables and chairs, great service, and great bang for your buck.
Located downtown Columbia, you'll find some of the best rice & hash, pork skins, BBQ, and the crispiest fried chicken, too! Keep topping up your plate with hush puppies, pickles, slaw, and mac & cheese until you're full and satisfied.
530 Devine St, Columbia, SC 29201
Tuesday & Wednesday 11 AM – 2:30 PM; Thursday to Saturday 11 AM – 8:30 PM
+ 1 803-733-2556
You might also be interested in: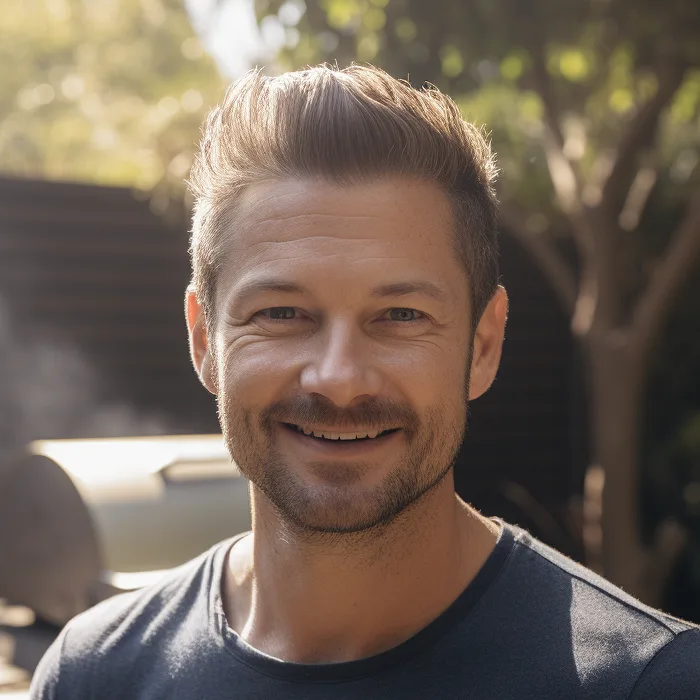 I have been smoking and grilling meat from an early age and enjoy sharing my knowledge and expertise through the hundreds of articles I have written about BBQ. I hope to make everyone's BBQ journey that little bit easier.