Looking for a new barbeque shrimp recipe? Look no further than this bbq shrimp recipe! Best of all, it eliminates the need for cooking shrimp on the grill.
These shrimp are baked in a flavorful sauce filled with garlic, butter, lemon, and Worcestershire sauce.
What Is New Orleans BBQ Shrimp?
New Orleans Barbecue Shrimp rose to stardom in Louisiana. Unlike regular bbq shrimp, New Orleans Barbecue Shrimp is unrelated to barbeque!
In fact, the sauce does not have any tomato or ketchup in it! New Orleans bbq shrimp is sautéed or baked shrimp in a Worcestershire butter-based sauce.
Made with copious portions of butter, the shrimp are cooked and served with shell on, requiring you to put down the cutlery and use your hands to eat this flavorful dish.
This bbq shrimp recipe uses peeled and deveined shrimp, allowing you to keep your hands clean.
Tips for Making New Orleans BBQ Shrimp
Although this recipe is exceptionally delicious, there is still a risk that you may overcook the shrimp. These tips will guarantee flavorful, tender, juicy shrimp every time!
Do not overcook your shrimp. Shrimp is extremely easy to overcook. If you leave your shrimp in the oven for 1 minute too long, they will be overcooked. No one likes the unpleasant rubbery texture of overcooked shrimp! Cooked shrimp will be opaque with hints of pink and red running through it.
Use raw shrimp. If you use precooked shrimp, it is a sure-fire way to end up with tough, rubbery shrimp! Whether you choose to use shrimp with the shells on or off is up to you. However, ensure you use raw shrimp.
How To Make New Orleans Inspire Barbecue Shrimp
This dish is super easy to prepare. Simply season the shrimp with Cajun seasoning, oregano, brown sugar, smoked paprika, black pepper, cayenne pepper, chili powder, and cumin.
Garlic and onions lightly butter then, Worcestershire, bay leaves, lemon juice, and green onions are added.
The seasoned shrimp are placed on a bed of lemon slices, then the sauce is drizzled over the top, and the shrimp are baked to perfection!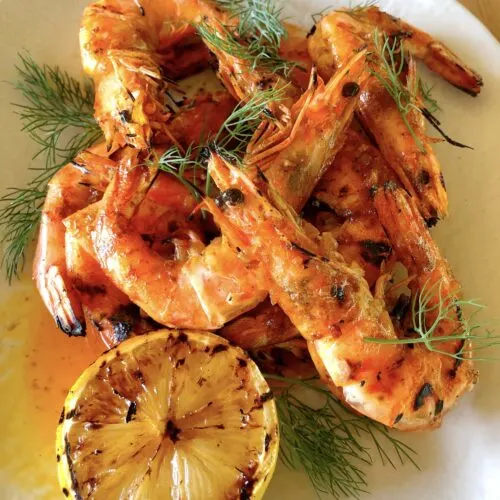 New Orleans Inspired BBQ Shrimp Recipe
These NewOrleans-Inspired BBQ Shrimp are bursting with buttery, lemony flavor, and just the right amount of spice. Serve with rice or a fresh baguette for best results!
Equipment
Mixing bowl

Measuring cups

Measuring spoons

Skillet

Baking dish
Ingredients
2

lbs

large raw shrimp

peeled and deveined

1

tbsp

Cajun seasoning

1

tsp

oregano

1

tbsp

brown sugar

1½

tsp

smoked paprika

½

tsp

black pepper

¼

tsp

cayenne pepper

1

tsp

chili powder

1

tsp

ground cumin

1

cup

butter

6

cloves

garlic

minced

1

small

onion

minced

¼

cup

Worcestershire sauce

2

bay leaves

3

tbsp

lemon juice

3

green onions

sliced

1

lemon

sliced
Instructions
Preheat your oven to 350F, then pat the shrimp dry using a paper towel and place them in a large bowl. Add the Cajun seasoning, oregano, brown sugar, smoked paprika, black pepper, cayenne pepper, chili powder, and cumin. Toss to combine and set aside.

Place the butter into a saucepan or skillet. Once the butter is melted, add the garlic and onions andsauté for 2-4 minutes until the onions have softened and the garlic is fragrant. Add the Worcestershire, bay leaves, lemon juice, and green onions, and bring the sauce to a simmer.

Place the slices of lemon on the bottom of a 9 x 13-inch baking dish, then add the shrimp. Pour the butter and Worcestershire sauce over the seasoned shrimp. Bake the shrimp for10 minutes, then flip them over and cook them for 8-10 minutes.
Nutrition
Serving:
365
g
Calories:
634
kcal
Carbohydrates:
17.53
g
Protein:
32.55
g
Fat:
48.91
g
Saturated Fat:
29.84
g
Polyunsaturated Fat:
2.59
g
Monounsaturated Fat:
12.47
g
Trans Fat:
1.9
g
Cholesterol:
408
mg
Sodium:
1997
mg
Potassium:
574
mg
Fiber:
2
g
Sugar:
7.25
g
Vitamin A:
3034
IU
Vitamin C:
15.8
mg
Calcium:
198
mg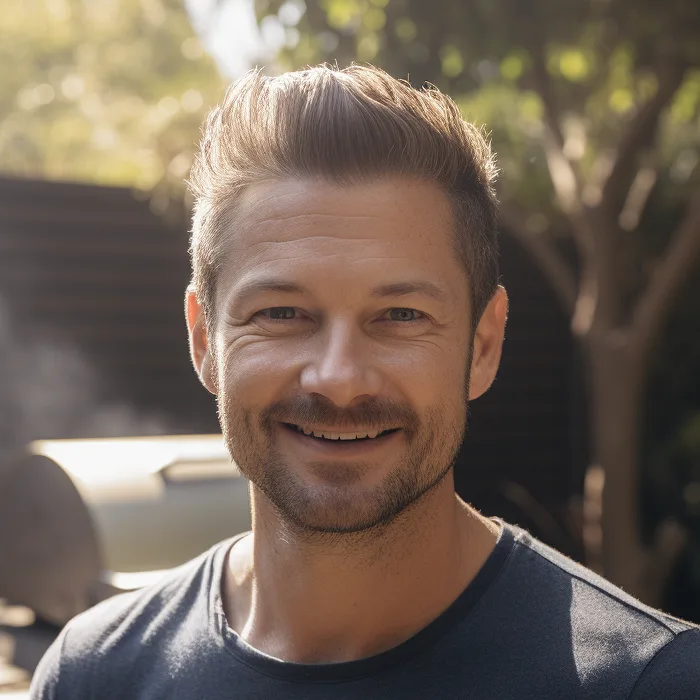 I have been smoking and grilling meat from an early age and enjoy sharing my knowledge and expertise through the hundreds of articles I have written about BBQ. I hope to make everyone's BBQ journey that little bit easier.