Vegan meals don't have to be boring and there are some great alternatives to some BBQ classics. Vegan ribs can be made with a choice of different vegetables and their alternatives.
This recipe is rich and full of protein, yet packed with flavor and deliciousness.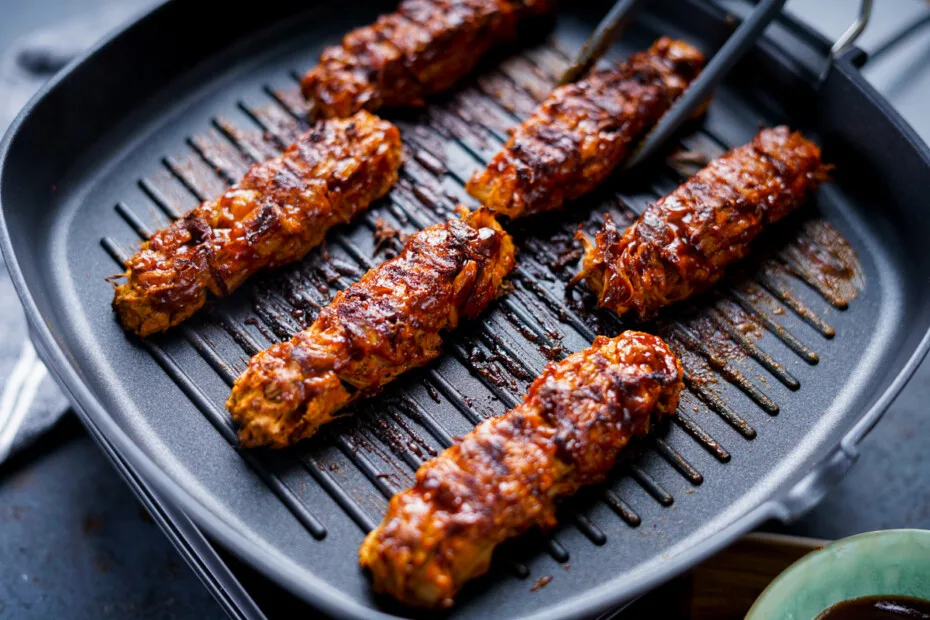 Vegan Ribs Tips
You can either use jackfruit, seitan, or mushrooms to make vegan ribs.
King oyster mushrooms take less time in preparation than seitan, so if you don't have much time, you can simply go for king oyster mushrooms instead.
If you want to make vegan ribs with seitan, then the ratio measurement is very important, so use measuring cups for the wheat flour proportions.
You can also use tamari or tahini in a very small amount if you like a spicier flavor.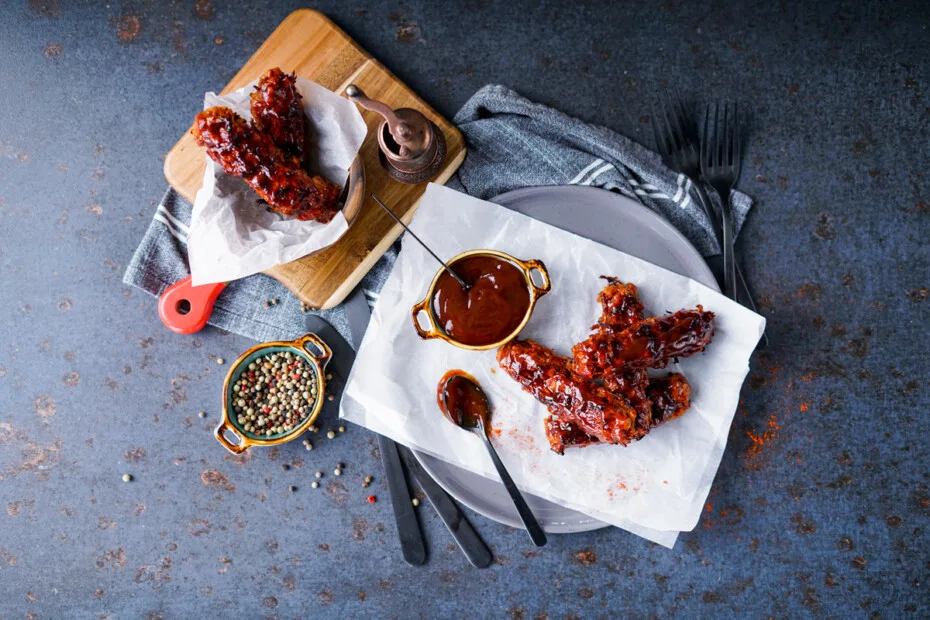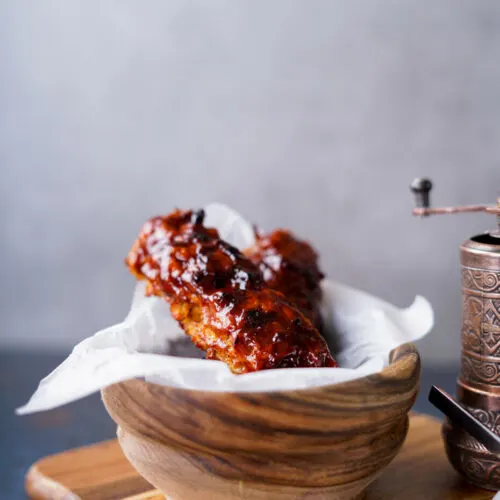 Vegan Bbq Ribs Recipe
These delicious vegan ribs are packed full of flavor and are a great meat-free alternative to pork ribs.
Ingredients
10

oz

canned jackfruit

½

cup

BBQ sauce

1

tbsp

yeast

½

tbsp

garlic powder

½

tbsp

onion powder

1

tsp

smoked paprika

1

tsp

red chili powder

¼

cup

vegetable stock

½

tbsp

soy sauce

1

drop

liquid smoke

½

cup

wheat gluten

1

tbsp

olive oil
Instructions
Take the jackfruit out of the can and shred them into small pieces like you would with shredded chicken. Make sure to remove the seeds and hard pieces of the jackfruit.

Put all the dry ingredients, wheat gluten, garlic powder, onion powder, salt and pepper, smoked paprika, chili powder, yeast in a bowl.

Add the jackfruit into the bowl and mix again.

Add all the liquid ingredients, vegetable stock, liquid smoke, soy sauce, and oil into another bowl.

Preheat your oven and keep the temperature between 350 to 375 degrees.

Add the liquid mixture to the dry mixture slowly to make dough. Knead it gently with soft hands.

After the dough is prepared, take small pieces of the dough and shape them into thick sticks, just like ribs.

Take a pan and grease it with butter or oil. Put the ribs into the pan and then into the over for 30 minutes.

After the vegan ribs are done, take them out of the oven, and you can set up the grill or use a grill pan and put it on a low flame.

Put some BBQ sauce in the grill pan and also brush some of the sauce on the vegan ribs and grill them for 2 minutes or until they are charred. Make sure they don't get burned and grill them evenly.

After grilling them, put more BBQ sauce on the vegan ribs. Serve and enjoy.
FAQs
What Are Vegan Ribs Made Of?
Vegan ribs can be made from seitan, as well as from mushrooms. The specific kind of mushroom could be king oysters.
They are the best option for vegan ribs because they almost have the same texture as real pork ribs have.
What Is Jackfruit?
Jackfruit is sometimes confused with durian but it is a different tropical fruit. It is super versatile, and because of its shredded texture, it looks like meat.
Why Is King Oyster Mushrooms Used as a Meat Alternative for Ribs?
The king oyster mushrooms have the same texture as that of meat or chicken. Regardless of their taste, they can be made to taste like chicken or meat with a little flavoring.
Why Is Seitan Used as a Meat Alternative for Ribs?
Because seitan has a lot of health benefits, it is a perfect yet innovative alternative to meat meals.
Seitan is also known as white veggie meat. It is made up of gluten flour and a little water.
A perfect imitation of meat and chicken in texture and flavoring techniques makes it the best alternative option to utilize when you are on a vegan diet.
Can You Freeze King Oyster Mushrooms?
Yes, you can freeze king oyster mushrooms for future use. You need to boil the mushrooms first for almost three minutes. Then drain all the excess water from them.
Now seal them in an air-tight bag, remove all the air, and put the bag in the freezer.
How Long Do You Marinate Vegan Ribs?
Vegan ribs are usually marinated for about 2 or 4 hours or not marinated at all. But it is better to marinate your ribs to get a richer flavor.
What Are Vegan Ribs Served With?
You can serve your delicious vegan ribs with BBQ sauce or any other sauce of your choice.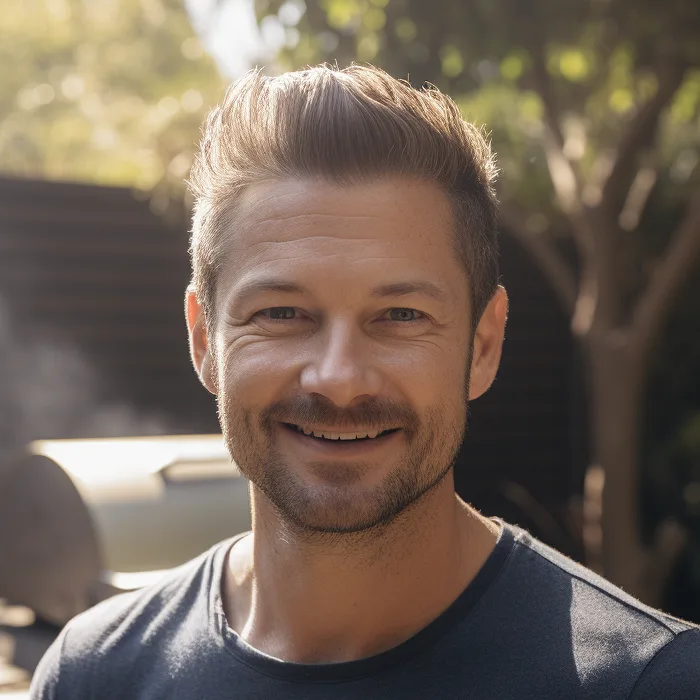 I have been smoking and grilling meat from an early age and enjoy sharing my knowledge and expertise through the hundreds of articles I have written about BBQ. I hope to make everyone's BBQ journey that little bit easier.