Like a cutting board, no kitchen is complete without a butcher block. Though most people believe butcher blocks are cutting boards. However, butcher blocks surpass cutting boards.
Butcher blocks have a certain decorative flair that makes them perfect for charcuterie boards as well as everyday use.
Additionally, butcher blocks also warm up modern kitchens by acting as an accent piece.
However, purchasing a butcher block is no easy task. There are thousands of butcher blocks on the market that all claim to be the best but her block.
Some butcher blocks may be high quality, and others will be low quality.
Luckily this guide provides you with the 5 best butcher blocks available on the market.
However, before we discuss the best butcher blocks, let's discuss what to look for in a butcher block.
What Is A Butcher Block?
Butcher block refers to a specific style of constructed wood used to produce heavy-duty chopping blocks, tabletops, or cutting boards.
Though butcher blocks were typically used in butcher shops or meat processing facilities, they are now becoming more and more popular among everyday consumers and home chefs.
What to Look For In A Butcher Block
Butcher blocks can be produced from any kind of wood or a combination of multiple kinds of wood.
Whichever type of butcher block you choose, there are some characteristics you should consider before investing your money into a butcher block.
Style
Butcher blocks usually come in one of two styles: edge grain and end grain.
An edge grain butcher block has long strips running lengthwise throughout the board.
On the other hand, the wood for end grain butcher blocks cut across the width, so it resembles a checkerboard.
End grain butcher blocks are more common than edge grain butcher blocks, and they are also the best choice for countertops.
Type of Wood
Butcher blocks are most often produced from maple. Maple is an affordable, strong, and accessible material to produce butcher blocks.
However, nearly any hardwood can receive treatment and be classified as a butcher block.
You may come across butcher blocks produced from oak, tigerwood, cherry, walnut, or beech wood as you are searching for the perfect butcher block.
Another factor to consider is whether you want your butcher board to get lighter or darker with time.
Butcher blocks produced from maple or cherry wood get darker as they age, while butcher blocks made from wood lighten as they age.
Kitchen Space
Kitchen space is another factor that needs to be considered when selecting a butcher block. The butcher blocks mentioned in this guide will not take up your entire kitchen counter.
It is crucial to factor in the size of your space, especially if you have a designated area for your block.
Price
The price of a butcher block depends on the materials used to construct it. One of the amazing things about butcher blocks is they are generally affordable.
You can find a quality butcher block for as little as 35 dollars. In contrast, if you want a higher quality butcher block, they can range up to $200 or more.
Ventilation
Another factor important factor to consider when buying a but her block is your kitchen's ventilation system.
Drastic fluctuations in temperatures can cause butcher blocks to expand or contract, leading to warping over time.
Therefore, it is best to ensure your kitchen has adequate ventilation before purchasing a butcher block.
The Best Butcher Blocks
There ate hundreds if not thousands of butcher blocks available in brick and mirror stores and online.
Your search for the perfect butcher block can easily become frustrating and irritating. Luckily your choices have been narrowed down to the 5 best butcher blocks.
John Boos Block R02 Maple Wood Edge Grain Reversible Cutting Board
Top Pick
John Boos Block R02 Maple Wood Edge Grain Reversible Cutting Board
Made in the USA
Sustainably sourced and hand-selected
Both sides can be used
1 Year Warranty
This butcher block is made by one of the most popular butcher block brands in the industry. Constructed from maple wood, this but her block is designed to accessorize any kitchen. Best of all, it is a multipurpose butcher block.
Featuring a reversible design with flat cutting surfaces and integrated handgrips on both ends, you can cut fruits, vegetables, or meats on this butcher block.
With a natural cream finish made from beeswax, this cutting board is protected against harmful bacteria that may cause food poisoning.
This butcher block is not dishwasher safe and must be hand cleaned. Though it requires handwashing, this butcher block is still relatively easy to clean.
All that's required is washing your butcher block with hot soapy water after each use, drying it with a clean kitchen towel, and allowing it to air dry.
Additionally, you can also rinse your butcher block in a vinegar or bleach solution to sanitize it further. Use a teaspoon of bleach or vinegar and a quart of water.
All in all, if you prefer a maple wood butcher block, this is definitely the product for you. It is stylish, easy to clean, and will complement any kitchen!
AZRHOM Large Walnut Wood Cutting Board
AZRHOM Large Walnut Wood Cutting Board
American Walnut Wood
Reversible
Juice Groove
1 Build-In Handles
The AZRHOM butcher board is manufactured from American walnut wood. This butcher block has an array of beautiful shades of colors and textures that add style to a dull kitchen.
This high-quality butcher block is durable, strong, odor-free, simple to use, and easy to clean.
Furthermore, this butcher block comes pre-oiled, which means it is ready to use as soon as you remove it from the box.
With a smooth reversible surface, you can chop or cut any food you desire on this cutting.
In addition to this, it has wide, deep grooves to catch meat juices that are released by the meat while you are carving it. That's right, no more meat juices spilling all over your lovely countertop.
The built-in handles make this but her block easy to transport from the countertop to the dinner table. This organic butcher block is firm and prevents your knife from becoming dull.
It even comes with slip mats that keep the board steady and prevent it from slipping or making noise when you are chopping foods.
You can even stack the nonslip mats to adjust the height of the board.
Though this board is bound to develop knife marks if it is properly maintained, this richly colored board will last for years to come.
As with most butcher blocks, this board must be hand washed to preserve its longevity.
Overall, the AZRHOM butcher board is perfect for carving brisket, beef, pork ribs, cheese platters, or charcuterie boards. This simple yet stylish board will upgrade all of your culinary masterpieces.
Acacia Extra-large End-grain Wooden Cutting Board With Juice Groove
The acacia butcher block offers consumers a large and durable surface area.
This quality board is sturdy and produced from solid, natural acacia wood. It is toxin-free and food safety certified.
The handgrips make this butcher block to transport. Best of all, this butcher block will not warp and won't damage your knives.
The acacia butcher block is 1-inch in thickness, and it's a reversible board which means it can be used on both sides.
It comes with a large lip groove that stems around the perimeter of the board and collects the excess liquid that accumulates when carving meats or chopping juicy produce.
As mentioned above, this butcher block is crafted from acacia wood, a sustainable, eco-friendly, and durable material. In addition to this, tough, durable butcher block is beautiful and elegant.
It's perfect for cheese platters, canapes, and charcuterie boards.
Better yet, acacia is non-porous and hygienic. Some butcher blocks absorb odors; however, the acacia butcher block does not absorb odors and remains odor-free for years to come.
The acacia butcher block is simple to clean and requires little to no maintenance. A little warm soapy water and your butcher block will be clean in no time.
Though you can handwash your butcher block, do not soak it in water as it will damage the wood.
To maintain your butcher block, rub it periodically with a few drops of mineral oil. The mineral keeps the butcher block hygienic and helps it last for years.
All in all, this board is for all of the entertainers. Your party guest will be stunned by the beauty of butcher block.
Kitory Heavy Duty Cutting Boards
The kitory heavy-duty butcher block is 15.7 × 11.8 × 1.57 inches. This board gives you a large, sturdy surface area to chop all of your food items on.
This durable butcher block will outlive many food items and appliances in your kitchen.
There's no need to fret about harmful chemicals leaching into your foods. Made from all-natural acacia wood, this naturally colored butcher block is chemical-free.
The kitory butcher block is food safe and glazed with food-grade mineral oil, then polished with moisture-resistant beeswax.
This double coating prevents moisture and odors from entering the butcher block as well as keeps the board from becoming discolored or separated.
In general, the kitory butcher block is the only board you need. If your board arrives damaged, they will replace it free of charge.
Green Olive Extra Large Bamboo Cutting Board for Kitchen
The green olive butcher block is large and in charge. With dimensions of 25.5-inches by 15.5-inches, this board is larger than most butcher blocks and cutting boards.
The built-in side handle keeps the board sturdy while you are chopping foods. In addition to this, the handle allows you to tilt the board up to discard any meat of food juices or pour food into a skillet.
This butcher block is splinter-free and moisture resistant. It's made from bamboo. Unlike most wood butcher blocks and cutting boards, bamboo is water-resistant.
Bamboo fibers also have naturally occurring bioagents that are odor resistant.
The green olive butcher block is chemical and dye-free. This board is environmentally friendly as it grows quickly and is very sustainable.
Furthermore, it will be easier to clean and less likely to develop stains. The green olive butcher block will not splinter or dull your knives.
All in all, the green olive butcher block is for environmentally conscious individuals.
This board is 0.7 inches in thickness and is perfect for large dinner parties as it can be used for cheese platters, charcuterie boards, or you can arrange your carved meats on the board and serve it farmhouse style.
FAQs About Butcher Blocks
With all of this information about butcher blocks mentioned above and all of the boards available on the market, they must be a few lingering questions about butcher blocks.
These are the most common questions about butcher blocks.
What's the Difference Between a Cutting Board and a Butcher Block?
Cutting boards are practical, while butcher boards are functional but stylish.
Furthermore, butcher blocks generally have the wood grain facing upwards on end, while cutting boards typically have the grain running down the length of the board.
Though these terms were different, most modern butcher blocks can also double as a cutting board.
What Makes a Butcher Block a Butcher Block?
Authentic butcher blocks are constructed from strips of bonded wood to create a workstation.
Butcher blocks are the only kitchen countertop material that's perfect for cutting or slicing. Additionally, most butcher blocks are made from maple, oak, cherry, walnut, teak, and bamboo.
What's So Unique About a Butcher Block?
The appeal of but her blocks is not only that they are produced from wooden boards, but there is also an aesthetic appeal to them.
Butcher blocks are made from a material that will never go out of style and brighten up your day.
Most of all, butcher blocks ate usually made from organic materials that are biodegradable and environmentally friendly.
Can You Cut Raw Meat on a Butcher Block?
It's only natural to wonder if you can cut raw meat on a butcher block.
Most people would assume it is unsafe as you have to cut raw meat and produce on separate cutting boards to avoid contamination.
Technically, this assumption is correct. It's best not to cut raw meat directly on the wooden board. Cut your meat using a plastic board.
Additionally, you can also place the plastic cutting board on top of the butcher block and cut your raw meat on the plastic board.
The plastic cutting hoard will prevent the wood from contamination, especially if you have a butcher block countertop.
Are Butcher Blocks Durable?
Yes, butcher blocks are extremely durable. This warm board is naturally antibacterial and inexpensive.
Though they must be sanded and oiled periodically, butcher blocks are definitely a worthy purchase. More importantly, these blocks will last you for a lifetime.
Are Butcher Blocks Sanitary?
Of course, butcher blocks are sanitary. Once the block has been glazed, butcher blocks are safe for carving meat, chopping vegetables, fruits, and so much more.
Additionally, hot pots or skillets can be placed on butcher blocks as they are also heat resistant.
Can Butcher Blocks Get Wet?
Technically butcher blocks should not be allowed to come into contact with water. However, it is practically impossible. At some point, your but her block will get wet.
Though the polish used to coat butcher blocks is food grade, it is not moisture resistant in most cases.
So if your but her block gets wet, it will not damage the block as long as you clean it up immediately after preparing the food.
What's the Best Way To Clean a Butcher Block?
Gently scrape off any foods that are stuck to the butcher block. Place the butcher block into the warm soapy water and stub it with a sponge along the grain of the wood.
Rinse the butcher block with a towel and allow it to air dry.
Why Are Butcher Blocks So Thick?
Butcher blocks can range in thickness; however, they are usually at least 1 inch thick. Thickness is key for butcher blocks because of weight distribution.
Thicker boards are less likely to create unsturdy work surfaces. Larger, heavier butcher blocks remain sturdy and decrease the chances of a kitchen accident from happening.
What Do You Treat Butcher Blocks With?
Butcher blocks are usually treated with mineral oil, also known as liquid paraffin. Mineral oil is food-safe.
It is non-toxic, color-free, odor-free, bland, non-drying oil qualities that inhibit water retention.
For this reason, food-safe mineral oil is best for butcher blocks and wooden cutting boards. Furthermore, it is best to treat butcher blocks monthly.
Do I Seal Both Sides of a Butcher Block?
Though it may seem like overkill, every side of the but her block must be sealed, including the top, bottom, and sides.
Furthermore, new unfinished but her blocks need a minimum of two coats before it is used.
Do Butcher Blocks Stain Easily?
The only drawback of but her blocks is that they are more likely to stain and scratch.
If you plan to regularly use your butcher block to chop food, be prepared to encounter stains and scratches.
Though butcher blocks are easy to stain, you can sand the stains off, then coat the area with minerals to seal the surface.
Final Thoughts
Now you have everything you need to make an informed decision about butcher blocks.
My advice is to get creative in the kitchen and use your butcher block as many times as you can!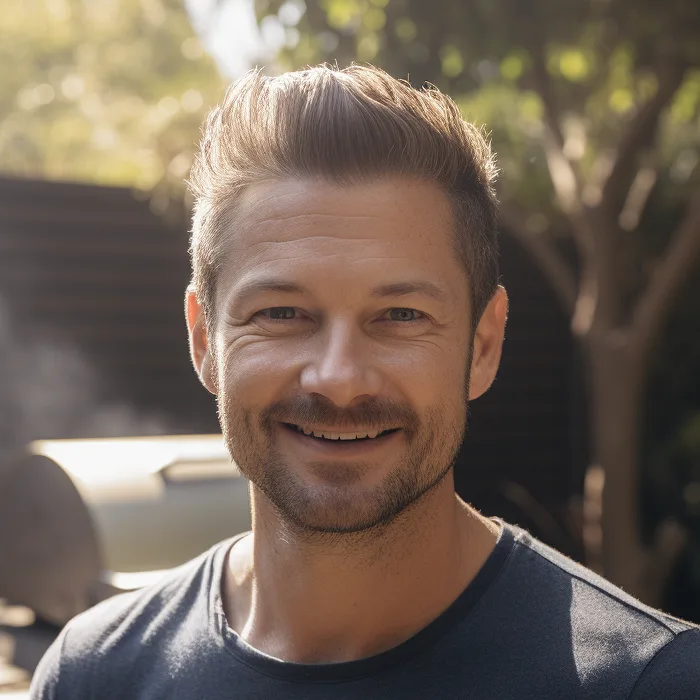 I have been smoking and grilling meat from an early age and enjoy sharing my knowledge and expertise through the hundreds of articles I have written about BBQ. I hope to make everyone's BBQ journey that little bit easier.