When you are grilling food over a flaming hot grill, you need a strong, sturdy grill spatula. Unfortunately, a flimsy grill spatula just won't cut it.
Your grill spatula should be flexible enough to slide under burgers that are arranged closely together on the grill without destroying the beautiful grill marks or the burgers next to the patty you are trying to flip.
A grill spatula should also be thin enough to maneuver under a fillet of fish but strong enough to like a steak or turkey off the grill.
What To Look For in a Grill Spatula
Before starting your search for a grill spatula, there are a few things you should know.
Characteristics such as handle length, shape, weight, and durability will help narrow down your grill spatula choices.
Handle Length
The length of the handle is very important when it comes to grill spatulas. If your spatula is too short, your arms and hands may feel like they are on fire.
At the same time, you can wear heat-proof elbow-length gloves that may be very uncomfortable and may the grill grilling process harder.
It is best to choose a grill spatula with a long handle. A 16 1/4-inch spatula is the ideal length. However, if you prefer a longer handle, some grill spatulas are also 21-inches in length.
Shape
The spatulas shape is one of the most important factors to examine when choosing a grill spatula.
If your spatula has a wider head, it may not be able to flip the burger over without destroying the surrounding patties.
In contrast, a spatula with a shape may be perfect for flipping flatbread or transferring a pizza to a serving platter.
Spatulas with a narrow head can easily flip burgers stacked closely together. In addition to this, grill spatulas with narrow heads give you more precision, agility, and control.
However, do not choose a spatula that is so narrow that it slips through the grill's grates rather than under the food.
These spatulas are often flimsy and so do not have good weight distribution.
Choose a grill spatula that is at least 3-inches wide and has good weight distributions.
Durability
Durable spatulas will be strong enough to remove a brisket or pork butt, or shoulder.
Some spatulas will bend out of shape or break and cause the food you worked so hard to prepare to drop.
If you are going to be grilling brisket, pork butt, or pork shoulder regularly, choose a spatula with a wider head as they are less likely to warp or break.
Handles
Grill spatula handles can be constructed from silicone, wood, plastic, or steel.
Although all of these handles are comfortable to use, it's best to choose a grill spatula with a rougher handle such as wood or steel that has a nice grip.
These models are not dishwasher safer, but they are the best options.
The Best Grill Spatulas
There are literally thousands of grill spatulas available on the market.
This means your search for the ultimate grill spatula can become frustrating and overwhelming pretty quickly.
Oxo Good Grips Brushed Stainless Steel Turner
The OXO grill spatula is strong as it is constructed from stainless steel. The design is simple, but it has a nonslip grip.
Its stainless steel grip is also perfect for grilling as it will not warp or bend under the intense flames of the grill.
The OXO stainless steel grill spatula is dishwasher safe and comes with a convenient hole that allows you to hang the grill spatula on a wall hook.
This sleek grill spatula is 13 1/2-inches in length and has a 3 1/4-inch wide slotted head with a tapered end which is perfect for medium or large hands.
Additionally, this spatula is heat-safe as you can rest on the edge of a pan.
All in all, the OXO stainless steel grill spatula is a multipurpose tool.
This spatula is very easy to use, from flipping burgers on the grill to flipping pancakes on a griddle and sauteing vegetables.
Chef Craft Select Stainless Steel Turner/Spatula
The chef select stainless steel grill spatula is constructed from stainless steel that will not rust even after you have used it countless times.
It does not matter how often you wash this spatula; years down the line.
The handle of the chef's craft grill spatula is made from plastic. The handle is designed to make the grilling experience comfortable for the user.
With a 13-inch handle, you can easily flip foods on the grill without fear of getting burned or scorched.
Moreover, the handle's large shape gives you a better grip and allows you to be agile as you flip your food on the grill.
Overall, with a thin, tapered edge that easily slips under foods, the chef craft select stainless steel grill spatula is dishwasher safe.
Additionally, this spatula is made without welding points which means this spatula is extremely durable and strong.
ZulaySlotted Turner Metal Spatula
The zulay slotted metal grill spatula is constructed from high-quality stainless steel with an edge that can slide under grilled foods, pancakes, fish, eggs, and so much more.
This spatula is designed with a slotted head that allows grease oils or sauces to drain away from the food.
The ergonomic spatula handle also gives you a comfortable, steady grip when you are grilling.
This stylish spatula is approximately 14.8*inches in length that keep your hands safe from the heat while you are grilling.
The strong design also will not warp or bend when you are flipping or lifting heavy foods such as brisket or pork butt.
Best of all, this spatula is easy to clean and store. The stunning mirror-finished stainless steel coating will not be damaged whether you wash it by hand or toss it in the dishwasher.
The zulay spatula also features a convenient built-in hanging hole so you can easily store it on a wall hook.
In general, the zulay grilling spatula will be a stunning addition to your BBQ arsenal.
New Star Foodservice Wood Handle Grill Turner/Spatula
The new start food service wooden spatula is 12.5-inches in length and 3-inches in width. Made from high carbon stainless steel, this spatula is reliable and durable.
Furthermore, this spatula will not stain no matter how many times you use it.
With a securely riveted wooden handle, it is easy and comfortable to grips, and it will last for many years to come.
This spatula must only be handwash to maintain its quality.
All in all, this polished spatula is perfect for flipping burgers, fish, eggs, or anything you can imagine.
FlipFork Boss 5 in 1 Grill Spatula With Knife
The flipfork 5 in 1 grill spatula is a beauty. The fipfork grill spatula is also called the Swiss army knife of grilling spatulas. It has a fork, tenderizer, bottle opener, and sharp-knife edge.
This spatula is made with premium quality stainless steel that is rust and corrosion-free.
Furthermore, the flipfork grill spatula can withstand temperatures of up to 1000 degrees.
Constructed from 100% acacia wood, the handle is water-resistant, also antibacterial, highly resistant to fungus.
This spatula is also dishwasher safe. The 3.8-inch metal spatula allows you to flip meat of any size with ease.
The built-in 3.5-inch knife is perfect for slicing or cutting food, while the built-in fork also helps you turn grilled foods over.
Overall, the flipfork grilling spatula is a multipurpose tool that completes the BBQ experience.
With a meat tenderizer and even a bottle opener, there's no need to rummage your kitchen drawers looking for one tool. You now have five tools in one spatula.
FAQs About Grill Spatulas
With so many grill spatulas available on the market, there are a few questions that might help make your decision even easier. These are the most asked questions about grill spatulas.
Why Do Spatulas Have Slots?
Slotted spatulas are designed for tasks like poaching or grilling fish, burgers, and other kinds of meat.
The slots allow liquids or grease to drain away from the food as you are lifting or transferring it to a serving platter.
What's the Difference Between a Spatula and a Flipper?
Spatulas typically refer to any kitchen tool with a small flat blade.
However, spatulas are flat cooking utensils constructed from rubber or metal and meant to spread, mix or lift food.
In contrast, a flipper, also called a turner, is constructed from metal or plastic and meant to slider underneath food on a grill or in a pan.
Can I Use a Plastic Spatula on the Grill?
Absolutely not! Plastic spatulas can melt when it's exposed to the grills high-temperatures.
Final Thoughts
Though people may wonder if buying a grill spatula is worth it, a grill spatula is an essential grilling tool.
Now you have everything you need to select the perfect grill spatula.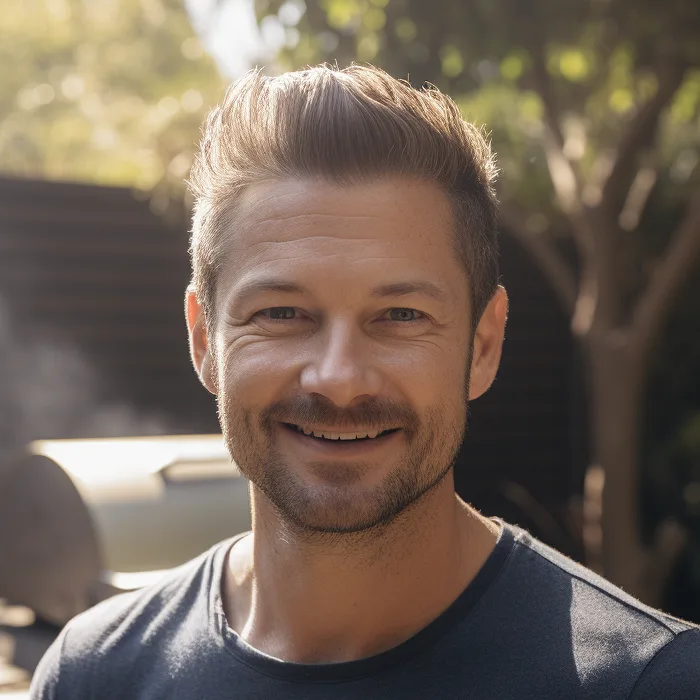 I have been smoking and grilling meat from an early age and enjoy sharing my knowledge and expertise through the hundreds of articles I have written about BBQ. I hope to make everyone's BBQ journey that little bit easier.