Meat grinders are a convenient tool to keep at home for making fresh burgers, sausages, and even grinding bones for homemade pet food.
Especially for those who are grilling enthusiasts, making your own burgers and incorporating unique blends of spices into the meat can lead to an award-winning dinner, all in the comfort of your own kitchen.
With so many options out there, it can be hard to find which ones are worth the money and which ones you should pass on.
What To Look For in a Meat Grinder
Meat grinders, whether attachments for other appliances you may already have or a stand-alone machine are typically made from stainless steel or, on occasion, ceramic.
With these tools, the material they are made out of doesn't necessarily affect the quality of the product, rather, the mechanics inside.
Food Safety
Meat grinders that prioritize food safety are a must, especially when working with raw meat.
Some machines can be hard to clean out, spreading bacteria and eventually causing you and whoever you cook for to fall ill.
Thankfully, therefore stainless steel is typically used for the material of these products.
Stainless steel is easy to clean, but it also helps prevent corrosion, which could lead to foodborne illness.
While this is not something you always need to look after since that's what most of these machines are made of, it's always a good idea to double-check before adding it to your cart.
Automatic vs. Manual
This feature comes down to personal preference.
When it comes down to it, there are usually two big choices between meat grinders, and that's whether you want to grind your meat by hand or automatically.
We'll go a little more in-depth about the pros and cons of both methods later on, but for now, it should be another thing to add to your list of things to look out for to make sure you're not purchasing a product you didn't expect.
Weight Capacity
As you'll notice while browsing the different kinds of meat grinders that are on the market, you may notice that some can hold more meat than others.
Some can process about two pounds per minute, while others can withstand up to twelve pounds.
Of course, industrial meat grinders are built to be more durable than that, but in terms of products that are easy to keep at home, there is often a large margin of weight capacity.
This all comes down to what you think you will be doing in your kitchen.
If you tend to cook for large gatherings of people, you may want to consider a meat grinder that can hold more meat at a time and get the job done faster.
Bottom Line
If you tend to only prepare food for family and close friends, there may not be much of a reason to invest in a product as heavy duty.
The Best Meat Grinders
Huanyu Manual Meat Grinder
If you're the type who prefers to do things yourself rather than relying on a machine to do the work for you, then you might want to consider using a manual meat grinder.
While it is true that they might not be as fast as an automatic meat grinder, you'd be surprised how fast they are and how well they can get the job done.
One of the benefits of having a manual meat grinder is that you can expect a longer life out of them than automatic.
Paired with the Huanyu Manual Meat Grinder's durable stainless steel, you can use this machine repeatedly without worrying about the next time you will have to repurchase it.
Additionally, with this product, you are not just getting a meat grinder but a sausage maker as well.
It is even marketed as handling vegetables such as mushrooms and carrots that you can use to give your meat more flavor.
However, be cautious when using this machine. Some vegetables, such as cabbage and celery, as well as parts of the animal that are known to be high in water, are not designed to be processed through this piece of equipment.
Make sure your meat is properly prepared before letting everything go through.
Tinfancy Electric Meat Grinder
Instead of having to grind your meat by hand, this product works all through electricity to give you the best quality meat each time you use it.
Operating at up to 2000W allows you to grind up to 3 pounds of meat per minute.
And while we typically associate high-power equipment to come with a loud noise while in use, the noise produced is actually incredibly quiet.
You can grind your meat, no matter what time it is and who is around you!
This meat grinder comes with four different tips, depending on what you're grinding meat for. In addition, all of the parts are easy to take apart, ensuring easy cleaning every time you wash your tool.
When cleaning, this product is not suited for water temperatures that exceed 122 degrees Fahrenheit (or 50 degrees celsius).
If you're worried about your dishwasher being hotter than that, you may want to consider hand washing this product.
While the Tinfancy Electric Meat Grinder motor is designed to take on a decent quantity of meat with each use, it was not designed to be left running for long periods.
If you want to get the most out of this product, it is advised that you should turn it off after roughly five minutes of use to let it cool down.
For chefs who aren't expecting to prepare quantities of meat exceeding fifteen pounds, this isn't much of an issue.
However, for those who want to grind large amounts of meat and not have to worry about whether the meat grinder has been on for too long or not, it may not be ideal.
Cheffano Electric Meat Grinder
Similar to the product prior, this is another option for an automatic meat grinder with the same amount of power (2000W) and can grind about three pounds of meat per minute.
However, it differs slightly because it is suggested that while there is a maximum of three pounds that can be tolerated, you should probably keep your meat to about two pounds.
One feature that makes this appliance stand out from the others is that it can dual as both a meat grinder and a produce chopper.
With the proper accessories, you can chop both vegetables and fruits, all in the same product, so you do not have to worry about purchasing multiple appliances that you may not have kitchen space for.
Additionally, while it may not be able to grind as much meat per minute, it does have a built-in heat protection intelligence system.
This means that you do not have to worry about your machine overheating while it is in use, which makes for less stress while doing the things you're passionate about.
While you can grind a variety of meats and produce in this machine, be wary that it was not designed to grind other parts of the animal, especially bone.
Additionally, this product is not washing machine friendly, either. Each time you need to clean this meat grinder, be sure to do it by hand!
Nutronic Electric Meat Grinder
A more powerful automatic meat grinder than we have seen before coming in at 2200 W, the Nutronic Electric Meat Grinder is the perfect choice for someone with a lot of meat to grind and not a lot of time.
Instead of only handling about 2-3 pounds of meat, this product can withstand up to 5.5 pounds a minute, making it much faster and more efficient.
In addition to how much power and the amount of meat it can handle, this meat grinder also comes as a five-in-one appliance.
Some of its features include the typical features you would expect out of a meat grinder and being able to make sausages, stuffed foods such as kibbeh, and comes with a shredding tool for veggies such as carrots and cabbage.
As with many other meat grinders on the market, this product is not dishwasher safe. In order to keep this machine in top condition for a long time, it is recommended to handwash all parts of the meat grinder after every use.
If you're at all unsure if you'll like this particular meat grinder or not and want to feel secure with our purchase, it comes with a one-year warranty on all machines sold.
If, for some reason, it's not working the way you want it to, or it turns out you need something that's even more powerful for the projects you've taken on, you can return it and be guaranteed your money back.
Laralov Meat Grinder
What sets this meat grinder apart from the others first comes in the design of the tool itself.
Instead of looking like an old-fashioned machine with a few buttons on the side, the LaraLov Meat Grinder looks more like a high-tech food processor.
One of the reasons for this is the product has three levels at which it can operate, the first being for soft produce, like peppers and tomatoes, the second for produce as well, but with a harder interior like apples.
However, the third setting on this machine is where you can actually grind meat.
You may want to consider buying a tool that can handle all types of food in it, especially when making foods like sausages, so you can prepare all of the fillings in the same place that you'll be grinding the meat.
Some important features to mention about this product include that it can't make sausages like other meat grinders can.
If you're looking for a product that will make sausage instead of prepping the ingredients, it may not be the best choice for you.
However, if you're more concerned about the prep work for the ingredients than having to put everything together, this is a convenient tool that will help you get the job done.
Unlike other meat grinders that strongly advise against using the dishwasher, this product instead encourages users to keep their hands away while cleaning.
This is because the blades are incredibly sharp, and keeping your hands away is the best way to avoid injury.
While it may have a lower power of 300W, it can still hold about the same amount of food that other meat grinders can. Its max capacity is about 3.5 pounds, making it as efficient without using the same amount of energy.
Hot Tip
In addition, every LaraLov meat grinder comes with a two-year warranty, so you can feel protected with your purchase.
Kitchener Meat Grinder
Another fantastic option for those who know they have a lot of meat to grind, the Kitchener Meat Grinder can withstand about 4 pounds per minute, and not only can grind meat but the bones of small animals, as well.
Animals such as fish and chicken are recommended. However, it is not suggested to attempt to grind the bones of red meat animals with this machine.
If much of your kitchen work has to do with sausage, this is probably the meat grinder for you.
It has a special feature on the machine that is specifically for stuffing sausage, whereas, in other products, you can stuff sausage but still work with the same speeds.
This means you'll have a much easier time preparing these foods with a handy tool such as the Kitchener Meat Grinder.
In many meat grinders, it is common to see that the motor is made of copper.
This is typically the leading cause of the machines overheating, which means you have to turn your machine on and off during the process of grinding to prevent any problems with your tool.
With this meat grinder, the motor is made from steel instead of copper.
This means that you can use your machine longer without having to worry about any damage caused to it from overheating.
And, if you were ever concerned about overheating at all, this machine has a built-in mechanism to cool the motor, all while keeping the machine quiet during use.
Sunmile Electric Meat Grinder
If you're looking for a product with durability that will last you throughout the years, then the Sunmile Electric Meat Grinder is a great product to invest in.
With a price point that won't leave you bankrupt, this meat grinder comes with a three-layer design to ensure there is no corrosion, no rust, and you won't have to repurchase it any time soon.
In terms of the amount of meat that this tool can hold, it can grind about three pounds per minute. In addition to the amount of meat that ground per minute, a review of this product shared a useful tip.
To get the best results using this tool, use meat that is slightly frozen but thawed enough where you can still cut it with a knife!
Important things to note about this meat grinder before purchasing and/or use are that this machine is not dishwasher friendly.
To preserve the quality of the tool, handwashing is suggested to clean. Additionally, it is also suggested not to use it for more than ten minutes at a time to prevent the machine from overheating.
Camoca Electric Meat Grinder
Food safety should always be your top priority when purchasing any kitchen tools, especially when they have to do with handling raw meat.
To ensure the safety of the food that you will inevitably be ingesting, getting a meat grinder made from food-grade materials is a must, which is why the Camoca Electric Meat Grinder is a top choice when it comes to picking out the best meat grinder for your kitchen.
This meat grinder may have a more prestigious price-point than others on the market, but in exchange, you get a machine that can handle up to five pounds of meat per minute and works at a max speed of 2000W.
Not only does this product come with a built-in system to prevent overheating, but it also comes equipped with its own anti-overload protection system.
Even when there's user error with this meat grinder, you're sure that your appliance has your back, so everything in the kitchen keeps running smoothly.
While this meat grinder is perfect for whatever meat you choose, whether it's beef, pork, or even venison, it is not ideal for grinding anything but meat.
That means that bones, skin, and other foreign parts of the animal should be kept away from the inside of the machine to ensure the preservation of your tool.
Stx Turboforce Classic 3000
The STX Turboforce Classic 3000 is designed to process large portions of meat at high speeds.
With roughly three pounds per minute, this machine can grind anywhere from 180-240 pounds per hour, making it a fantastic choice for anyone who has a lot of meat to go through in a short amount of time.
While some meat grinders on the market can be used for multiple things, such as processing fruits and vegetables, this meat grinder strictly processes meats.
If you try to put anything but meat in this machine, you may end up damaging it and needing a replacement- so make sure you're aware of what you're putting in it before you turn it on.
This machine comes with a couple of added bonuses upon purchase. For starters, you will get two free meat shredders and a three-in-one burger and slider maker press.
Even if you don't have access to a grill, whether the weather isn't allowing it or you're away from home, and you still want to cook delicious burgers that you've ground up yourself, you'll still be able to do so!
As mentioned before, this machine can handle large portions of meat at a time. With most meat grinders, the head and the hopper tend to range anywhere from a size #5 to a #8.
With the STX Turboforce, you'll have the luxury of both the head and hopper being a #12, perfect for pieces you don't want to have to make extra cuts to.
Altra Electric Meat Grinder
If you know that you're not the type of person to use hundreds of pounds at a time, there's no need to spend the money on a machine that can do that.
Instead, you can opt for the same tool that handles just what you need and usually spend a lot less money doing so. That's where tools like the ALTRA Electric Meat Grinder can be amazing to have.
This meat grinder can process up to about two pounds per minute, perfect for the at-home chef who's catering to close friends and family.
While its capacity may be smaller, it works just as fast as many others on the market at 2000W.
Like other similar products, this is made with a three-layer design, preventing corrosion and foodborne illnesses resulting from rust and other signs of heavy usage from entering your food.
You can trust the food that you make with this meat grinder and feel safe about serving it to whoever you're cooking for.
This product, as well as many others, is not dishwasher safe. It is also advised that you don't grind anything but meat in this tool, including bones and tendons.
In addition, other important things to keep in mind before purchasing are that it can work continuously for about 15 minutes before needing a resting period.
FAQs
Manual vs. Automatic Meat Grinders: Is There a Difference?
In the age of technology, it might be a struggle to decide if you should grind your meat by hand or let a machine do it with the touch of a button.
Manual meat grinders have the benefit of being smaller because they have fewer parts to them than an automatic meat grinder, as well as typically weighing only a few pounds.
Manual meat grinders, as you may assume, also don't need electricity to run. You don't have to worry about where you're going to plug it in, running the electric bill up, or the possibility of overheating the engine.
It may not be as fast, and your arm may get a bit tired, but in exchange, you'll get a tool that can reliably grind your meat without any extra errors occurring that may happen with an automatic meat grinder.
With that being said, automatic meat grinders are definitely faster.
With home appliances reaching abilities to grind up over five pounds per minute, this may be appealing if you have a lot to process at a time.
You also don't have to worry about putting in the extra effort of grinding, which will make the task less of a hassle.
Bottom Line
With most automatic meat grinders, you run the chance of burning the motor out. If you're not paying enough attention to turn your machine off every couple of minutes, you may find yourself having to repurchase your kitchen equipment sooner than later, which can leave a lasting impact on your wallet.
Why Should I Grind My Own Meat?
One of the biggest perks of grinding your own meat is that you can control the quality of the meat you'll be working with.
Many meat grinders come with different tools to adjust the size of the meat that will come out of it, which is extremely useful when you're swapping between recipes such as burgers, sausages, and even meatloaf.
Grinding your own meat also ensures that there's less of a chance that you can get sick from the food you eat.
There is a high chance of cross-contamination in butcher shops and grocery stores because of the amount they have to process every day.
In addition, you can never be too safe when it comes to food, especially for what you cook and serve for yourself and the people closest to you.
Bottom Line
Knowing that the machine that ground your meat has been thoroughly cleaned and cared for gives you extra confidence in the ingredients you use every time you get cooking.
Different Ways To Use a Meat Grinder
As you can assume, meat grinders can always grind meat. But going beyond that is going to depend on the specific tool you buy.
Some meat grinders have special features that allow you to prepare more than just meat, like fruits, vegetables, and nuts.
Others are durable to break up other parts of the animal, such as bones, which can be useful when making your own pet food.
In addition to the different ingredients you can prepare with a meat grinder, other tools have features to prepare specific foods that some meat grinders may not have.
Some of these features include being able to stuff sausage, kibbeh, and other food that involve meat being inserted inside of it.
While you could always do this by hand, machines with this feature are quick, convenient, and create a lot less mess you have to clean up afterward.
How to Wash a Meat Grinder
As with every kitchen tool, you should pay careful attention to the instructions that come with it in terms of cleaning and maintenance.
Some meat grinders can handle being put in a dishwasher, and some are so delicate that they require neutral soaps to gently wash them.
While dishwashers are a great tool to have and use when the day has been too exhausting to do the dishes, the best way to ensure everything is perfectly cleaned and sanitized is through handwashing.
With most meat grinders, you can't go wrong with washing the parts individually by hand, using a brush to reach inside places your hands can't fit.
Ensure the water isn't too hot, and the soap you're using is high quality and won't damage your meat grinder's materials.
Most importantly, when cleaning a meat grinder, keep in mind how it grinds meat with a blade.
It may not seem like it, but these are pretty sharp, and you should always use caution when cleaning this part of the machine.
Keep in mind what you're using your meat grinder for. If you're using a hybrid appliance and have only used it for vegetables, you may not worry so much about giving it a deep clean after use.
But when using raw meat, it's always a good idea to clean your meat grinder immediately after use.
Bottom Line
Waiting too long can cause bacteria to form, damaging the quality of the meat you put in it next time and increasing the risk of becoming sick.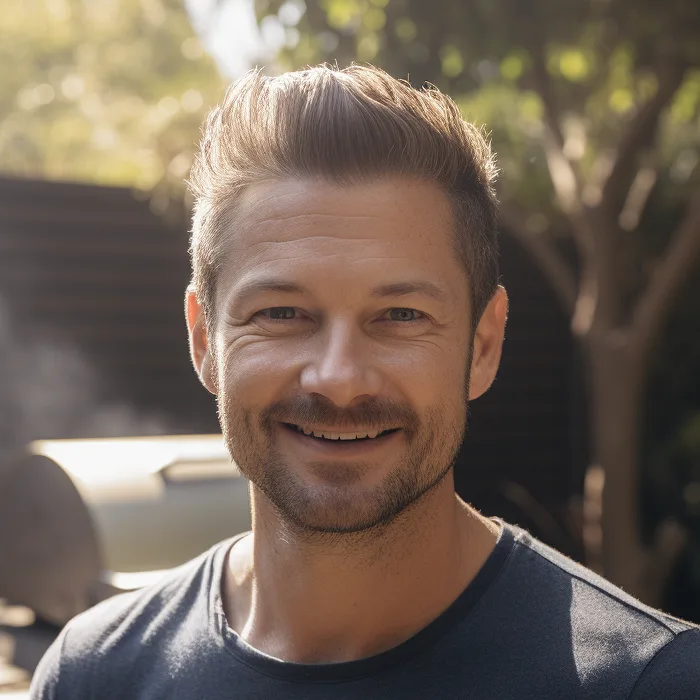 I have been smoking and grilling meat from an early age and enjoy sharing my knowledge and expertise through the hundreds of articles I have written about BBQ. I hope to make everyone's BBQ journey that little bit easier.