Believe it or not, natural gas grills are an excellent addition to your background. Unlike traditional propane grills, they have a lot of useful benefits.
Grilling with natural gas allows you to grill with unimaginable amounts of power.
Natural gas also eliminates the need to refill propane tanks constantly, and it burns cleaner than propane.
The only way you will run out of natural gas is if you forget to pay your gas pay.
Benefits of Natural Gas Grills
Consequently, natural gas grills function similarly to propane gas grills. Instead of using a propane tank, natural gas is derived from hydrocarbon-based fuels, which in turn powers the grill.
However, natural gas grills have more benefits. Natural gas grills tend to be more economical, convenient, and environmentally friendly.
Economical
Furthermore, it is a reliable source of fuel that is about a third of the price of propane gas. On the other hand, there are additional starting costs associated with natural gas.
Natural gas lines must be installed in your home to use the grill.
Luckily, it's relatively easy to find a company that can install natural gas lines in your home if you live near a gas main. Nevertheless, natural gas grills are an economic investment.
Convenience
Even though some individuals believe assembling a natural gas grill can be a pain, they are still convenient.
In addition to this, there are thousands of natural gas grill tutorials on the internet to make the assembly process much easier.
Natural gas grills are largely convenient due to the fact that you don't have to replace natural gas consistently.
More importantly, the natural gas will continuously heat the grill, which means you can cook as many steaks, shrimp, or whatever kind of food you desire for hours without the fear of running out of gas.
Bottom Line
A drawback of natural gas grills is that natural gas grills are not portable since they must be attached to a gas line.
Environmentally Friendly
Even though natural gas is a fossil fuel, the environmental impact compared to charcoal grills is far less. In addition to this, natural gas is more likely to be sourced locally.
On the other hand, propane and charcoal may be shipped from a different state or country, which increases its carbon footprint.
Air Quality
How many times have you attended a backyard BBQ and let smelling like smoke or, worse, covered in soot?
Natural gas has a cleaner burn than other fuel sources, which will generate less residue into the atmosphere.
In addition to this, you can attend as many BBQ parties as you want without leaving covered in soot or smelling like you were cooked on the grill.
Furthermore, smoke generated from other fuel sources can cause you to cough excessively.
Moreover, this is the very same smoke that has a negative impact on the environment. Therefore, natural gas is both healthier for humans and the environment.
What To Look For in a Natural Gas Grill
Before you run to your nearest grill store or search online for the perfect natural gas grill, there are a few factors you should consider.
Evaluating these factors will allow you to purchase the perfect natural gas grill.
Btus
The acronym BTUs stands for British thermal unit. BTUs shows the amount of gas the grill can burn.
On the one hand, some grills are designed to burn fewer BTUs while still being able to cook the food adequately.
Fewer BTUs can work in this instance, as too many BTUs can harm the burners and shorten the shelf life of your natural gas grill.
When evaluating BTUs, remember larger grills equals larger BTUs.
Number of Burners
Burners give the user more control. On average, a grill can be outfitted with 2-9 burners. However, most grills feature 4-5 burners.
When it comes to burners, it's best to consider how many people you intend to serve food to.
In addition to this, think about whether you will be using indirect heat or direct heat.
Ignition System
Different natural gas grills are designed with different ignition systems.
Hybrid ignition systems allow you to light all of the grill's burners at once instead of lighting each burner individually.
In contrast, individual burner ignition systems let the user manage each burner separately.
Ultimately, you should look for a natural gas grill with a push-button ignition system as they are an easy-to-use.
How To Start a Natural Gas Grill
Ising a natural gas grill is relatively easy once you get the hang of it.
First, you must open the lid before turning the grills knobs to the on position. Opening the lif will keep gas from accumulating and keep you safe.
Look for the grill's natural gas shut-off valve that is typically located behind or underneath the grill. Examine the natural gas line to see if there are signs of wear and tear.
If the natural gas line remains in good condition, turn the shut-off valve a quarter turn parallel to the pipe to switch the shut-off valve to the open position to allow the gas to flow to the grill.
To get the fire going, turn one of the grills burners to the high heat setting. The burner may ignite on its own, or you may have to push the ignition button to light the natural gas grill.
Alternatively, if the grill's igniter does spark, you can light the grill manually by using a wand lighter or a long match.
Either way, your natural gas grill should have a flame beneath the grills cooking grates.
Once the first burner has been ignited, turn the remaining burners to high heat. Place the natural gas grill's hood on the grill to allow it to preheat for 15-20 minutes.
Depending on what you are cooking, the ideal temperature for a natural gas grill is 500 degrees.
You can adjust the temperature of the grill once it finishes preheating if you need a lower temperature to cook your food.
The 5 Best Natural Gas Grills
Though looking for a natural gas grill may seem like fun, it can often become frustrating after you realize there are hundreds of grills to choose from.
Luckily your grill options have been narrowed down to the 5 best natural gas grills.
Weber Spirit 3-Burner Natural Gas Grill
Unlike most natural gas grills, the weber spirit natural gas grill has a 10 year, 100% weber guarantee. It even comes with a 10-foot flexible hose.
Featuring a Gs4 grilling system with enhanced infinity ignition and burners, this grill has porcelain-enameled flavorizer bars and a grease management system.
Boasting 3 burners, the weber spirit natural gas grill gives you 529 square inches of grilling space.
The open cart natural gas grill is equipped with six tool hooks for you to hang your grilling utensils on.
In addition to this, it also comes with two large wheels to help you move it around and a built-in lid thermometer to give you an accurate temperature of all your foods.
The cast-iron cooking grates are also porcelain-enameled coating. These cooking grates are reversible, which means one side is thinner while the other side is wider.
The thin side of the grilling grate is ideal for cooking delicate foods such as lobster, fish, shrimp, or scallops, while the wider grates are perfect for searing foods and infusing smoky flavor into steaks, burgers, and so much more.
Outfitted with a side-folding table, you can use the table to prep foods or keep sauces. However, you can also fold the table down to save more space if you have limited space in your backyard.
The weber natural gas grill is also equipped with a warming rack so you can keep your foods warm while you wait for the meat to finish cooking on the main cooking surface.
Overall, if you prefer quality over quantity, the weber spirit natural gas grill is the perfect grill for you. Featuring a sleek design, it will allow you to grill foods for years to come.
Napoleon -3 Prestige Pro Natural Gas Grill
Boasting 99,000 BTUs, the Napolean prestige natural gas burner is filled with loads of unlimited firepower.
With 5 stainless steel primary burners, you get a total of 1140 square inches of cooking space which means you can grill enough food for your neighborhood BBQ party.
Outfitted with LED spectrum night light control knobs as well as interior lights, there's no struggling to see what you are grilling in the dark or using a phone light, as you can monitor the progress of your food.
Interestingly enough, this natural gas grill can even shine a logo light on the ground.
In addition to this, it also features an infrared sizzle zone side burner, a lift easy roll top lid, and an infrared rear rotisserie burner.
The Napolean natural gas grill's infrared sizzle zone side burner can heat up to temperatures as high as 1800°F in 30 seconds as gas is fed through ports located in a ceramic plate and ignited in a record to sear your foods in no time at all.
You can also add more smoky flavor to your food by using the built-in smoker tray.
Overall, the Napolean gas grill screams high-quality excellence. Featuring all the bells and whistles, this natural gas will definitely be a conversation starter at your next BBQ party.
Monument Grills Convertible 4-Burner Natural Gas Grill
Featuring stainless steel burners, the monument grills natural gas grill has 4 primary burners crafted from 304 stainless steel.
In addition to this, it also has a side burner that can burn as high as 60,000 BTU to generate heat that allows you to sear your food in a matter of minutes.
With 723 square inches of grilling area, 513 square inches on the main cooking rack, and 210 square inches on the warming rack, this grill is perfect if you prepare large amounts of BBQ foods.
The grill's cooking grates are crafted from cast iron and coated with porcelain to distribute heat evenly.
The built-in clear viewing window allows you to monitor your food's progress without disrupting the grill's internal temperature, which is extremely important if you are smoking ribs or brisket on your grill.
Moreover, this natural gas grill has 4 heavy-duty front locking swivel casters that also lock into position to make sure the grill stays in position while it is in use and prevent accidents.
Designed with a removable grease tray, you do not have to worry about spending hours cleaning the grill after each use.
In general, the monument grills natural gas grill is convenient at its best. This natural gas grill is designed to cook large amounts of food in a minimal amount of time.
Blaze Premium Natural Gas Grill
This top-quality natural gas grill features patented triangle-shaped searing rods.
The searing rods not only give you the ideal grilling surface but, the rods also create the most beautiful grill marks.
Featuring a heat zone separator, you can grill several different foods simultaneously at different temperatures.
For example, you can cook seafood or vegetables on one side of the grill and steaks on the remaining side of the grill.
Boasting 14-gauge, full-width stainless steel flame tamers that spread over the entire cooking surface, you can expect flavor you have never tasted before.
Furthermore, the gauges also decrease the risk of a flare-up occurring and decrease cold spots.
The cast iron steel linear burners are durable and will remain in top working condition for a long time.
Designed with an LED illuminated control system and integrated hood lighting, you are no longer limited to grilling in the day. You can grill at night too.
The blaze premium natural gas grill comes with 5 304 cast stainless steel burners, you get 14,000 BTUs of cooking power, which adds up to a total of 70,000 BTUs on the grilling surface, and 10,000 BTUs on the rear infrared burner works great with the optional rotisserie kit for grilling versatility.
Boasting 915 square inches of cooking space, you can cook until your stomachs are full.
Featuring a double-lined 304 stainless steel grill hood, your grill will be safe from discoloration and remain in tip-top condition well past its 50th use.
Overall, the blaze natural gas grill is designed with class. With a lifetime warranty, you are getting a quality natural gas grill.
Dcs Series 7 Traditional Natural Gas Grill
This built-in natural grill features a patented grease management system, pulls the grease away from food, and decreases the chances that a flare-up will occur—designed with innovative ceramic radiant technology that heats the whole cooking surface evenly.
The double-sided cast stainless steel cooking grates can simultaneously grill vegetables and protein.
The smart beam technology lights up the entire grilling surface from the grill's exterior so you can grill foods at night.
Furthermore, you can add your preferred juice or wine to the secured smoke box that's powered by its own burner to infuse your foods with even more flavor.
This grill is highly efficient when it boasts 3 25,000 BTU U-shaped triangular stainless steel burners and has their own heat shields that pull heat towards the meat.
With 630 square inches of primary cooking space, the one side of the specialized cooking rods has a slight curve that makes it compatible for cooking vegetables and delicate foods such as fish.
The reverse side of the cooking grate is designed to handle bulkier items such as fish.
With a temperature that can range as low as 300 degrees Fahrenheit, this natural gas grill has 241 square inches of space to keep your foods warm.
All in all, the DCS natural gas grill is designed for those who want to bring the steakhouse and BBQ restaurant flavor into their homes.
What Should I Do Once I've Purchased a Natural Gas Grill?
Once you have removed the natural gas grill from its box and assembled it, turning the grill on and testing it out is natural.
However, there are a few steps you must take before you embark on your grilling voyage.
Natural gas grills are engineered to operate off of specific water column pressures (WCP). You can find the WPC in the instruction manual.
Do not test the WCP by yourself. Allow the gas professional to check the WCP at the supply line while they are installing the natural gas lines.
If your natural gas line requires fittings, use straight pipe nipples instead of flare fittings.
Flar fittings can have a negative impact on the end of the natural gas line and restrict the amount of gas going to the grill.
Make sure your natural gas grill is equipped with an indoor and outdoor shut-off valve.
When the grill is in use, ensure both valves are switched to the open position, and both valves are stiched to the off position when they are not in use.
Even though most natural glass grills include a 10-foot flex hose, some people connect more than one hose to the supply line. Nevertheless, it is not recommended to add additional hoses to the supply line.
Multiple hoses will affect the grill's performance.
If your grill requires a hose longer than 10-feet, it is best to research content on hard-piping your supply line to the grill, which is usually found in the instruction manual. However, you can also consult a gas professional.
FAQs About Natural Gas Grills
With all of this information about natural gas grills, there must be some pressing questions. These are the most popular natural grill questions.
Can I Use a Propane Tank With a Natural Gas Grill?
Unfortunately, you cannot use a natural gas grill with a propane tank.
The openings on a natural gas grill are different from those on a propane tank because it has to support the pressure of natural gas. However, you can use propane conversion kits to accommodate a propane tank.
Is Propane Gas or Natural Gas Better?
Propane grills are powered by propane gas and have more power than natural gas grills which allows the propane grill to heat up faster than natural gas grills.
On the other hand, natural gas grills have more benefits than propane gas, such as being cost-efficient and environmentally friendly.
Why Are Natural Gas Grills So Expensive?
Natural gas grills have start-up costs which means you have to connect the hose to your natural gas line.
The hose included with your natural gas grill is about 10-feet long, and your grill also includes brass fitting.
The longer the natural gas hose and brass fitting, the more money you will spend on the start-up process.
Do I Need a Plumber To Connect a Natural Gas Grill?
Yes, you need a plumber to connect the natural gas grill to your home. Gas lines can be extremely hazardous.
Unless you are a plumber, heating contractor, or licensed gas fitter, do not install a natural gas grill on your own. Consult a profressional. Is Natural Gas Safer Than Propane Gas?
In terms of safety, natural gas is the safer source of fuel.
Not only is it lighter than propane gas, but natural gas evaporates quicker than propane when it is discharged into the environment.
For this reason, most people believe natural gas is one of the safest sources of fuel.
Final Thoughts
Natural gas grills are a gift to the BBQ world.
They allow barbecuers to reap the benefits of using a gas grill without constantly replacing propane tanks that always seem to run out when you are in the middle of grilling your food.
Best of all, natural gas grills are environmentally friendly, cost less to operate than propane grills, and are a safe, efficient method of grilling food.
It's no wonder that you have gravitated towards purchasing a natural gas grill.
Now you have all of the information you need to make an informed natural gas grill purchase. Remember, details matter when it comes to natural gas grills.
It can be so difficult to choose a natural gas grill that fits your needs. Luckily you have the 5 best natural gas grills to help you get the job done.
Happy natural gas grilling!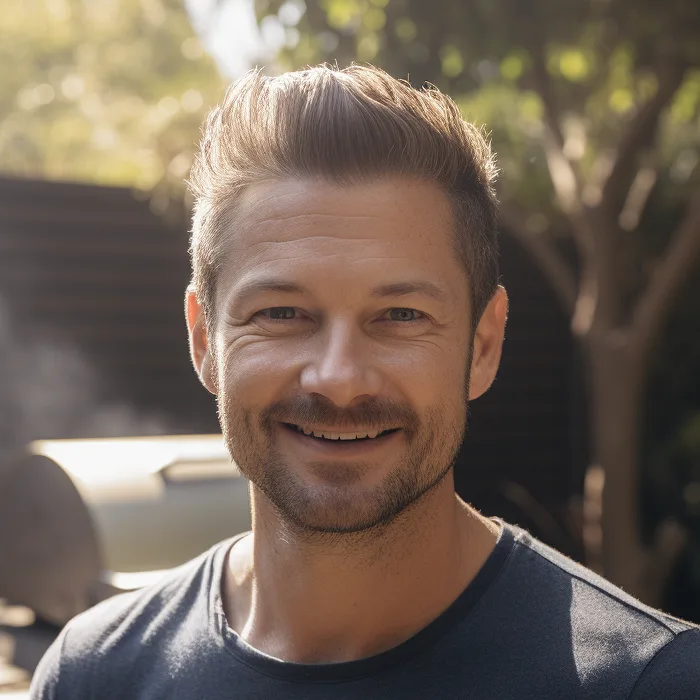 I have been smoking and grilling meat from an early age and enjoy sharing my knowledge and expertise through the hundreds of articles I have written about BBQ. I hope to make everyone's BBQ journey that little bit easier.