In the Northeastern United States, New Jersey, a state sees a constant flow of tourists due to the diverse culture, beautiful beaches, and phenomenal culinary experience.
Here you'll find a few BBQ gems that won several state awards.
So, if you're in the mood for some BBQ, here are our top 8 best BBQ picks in New Jersey that you should try.
Best BBQ in New Jersey
Mighty Quinn's BBQ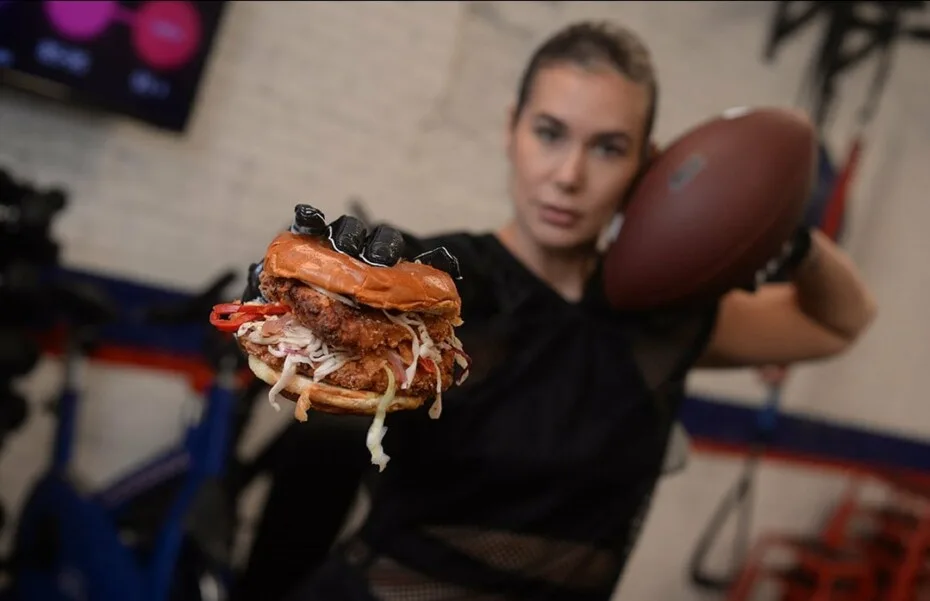 Mighty Quinn's BBQ is a place where you can sit back in your chair and enjoy the game while they take care of the food.
A rack of spare ribs, sandwiches, and mac and cheese are some of the things you can try here.
Everything is flavorful and tasty, and their secret to a fantastic and delicious BBQ is to source all ingredients locally and fresh.
It keeps the food tasty with bold local flavors.
850 NJ-3, Clifton, NJ 07012, United States
+1 9737778340
Sunday – Thursday, 11:30 AM 9:00 PM. Friday and Saturday, 11:30 AM – 9:30 PM.
Famous Dave's BBQ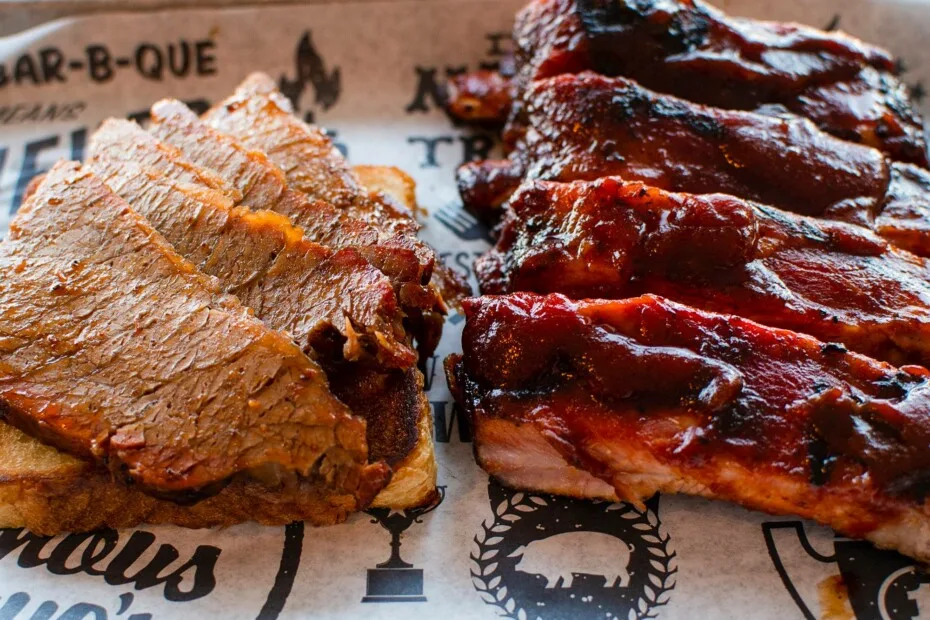 If you haven't had Famous Dave's BBQ once in your life, you're definitely missing out on some award-winning ribs, smoking appetizers, and their large barbeque combos.
Famous Dave serves authentic pit-smoked barbecue that will tantalize your taste buds and leave you wanting more.
Wood smoked meats in an American west setting, you're going to have a fantastic experience here whether you're with friends or family.
1443 US-22, Mountainside, NJ 07092, United States
+1 9082325619
Sunday – Thursday, 11:00 AM – 9:00 PM. Friday and Saturday, 11:00 AM – 10:00 PM.
Big Ed's BBQ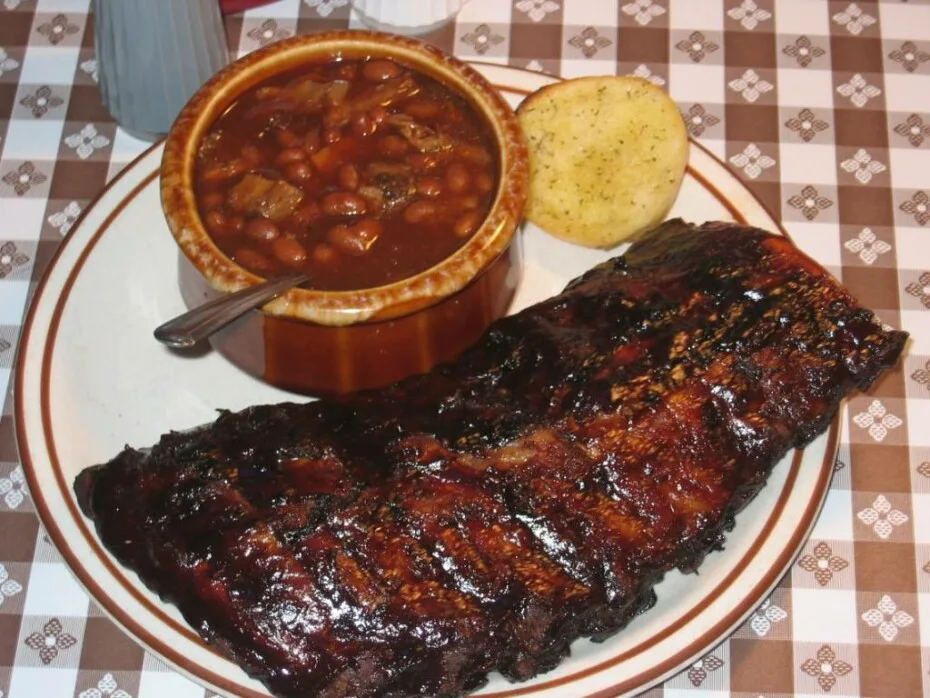 Big Ed's BBQ is a good place to get thick succulent beef brisket and pulled pork.
It's a classic BBQ joint located on Old Bridge with large indoor and outdoor seating.
They have a highly recommended rack of ribs which goes perfectly well with their sticky BBQ sauce.
There are several varieties in the platters and sandwiches too.
It's a great place to experience a barn-like setting with fall-off-the-bone slabs of ribs and craft beers.
305 NJ-34, Matawan, NJ 07747, United States
+1 7325832626
Monday – Sunday, 11:30 AM – 9:00 PM.
House of 'Que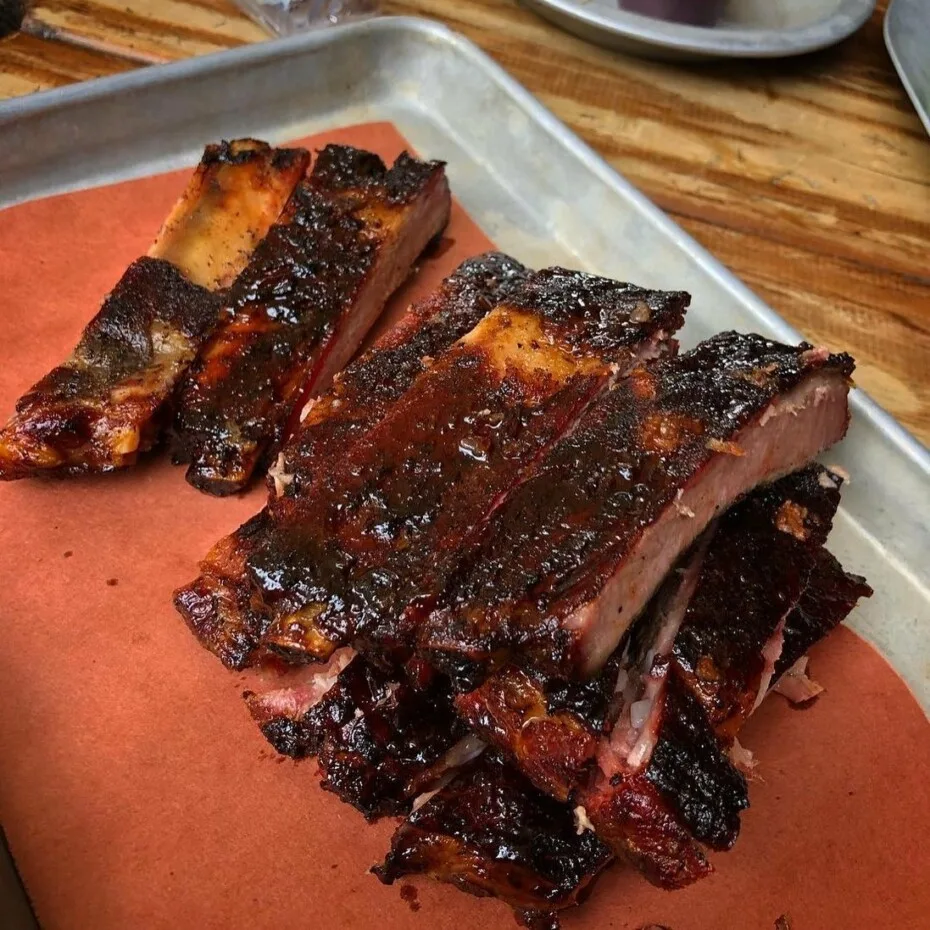 Looking for Texas-style BBQ in New Jersey? The House of 'Que has got it all. They only smoke the good stuff.
Their award-winning pitmaster is an expert in smoked chicken, pulled pork, ribs, and other BBQ essential dishes.
They even have a deliciously thick homemade BBQ sauce to go along with their meals.
4,000 pounds of succulent meats come out of their smokers each week.
They're rubbed with their proprietary dry dub and smoked over a blend of hickory and Oakwood.
Passing through this location will have you salivating in no time.
340 Sinatra Dr, Hoboken, NJ 07030, United States
+1 2017068755
Wednesday, 4:00 PM – 10:00 PM. Thursday, 12:00 PM – 11:00 PM. Friday, 12:00 PM – 12:00 AM. Saturday, 11:00 AM – 12:00 AM. Sunday, 11:00 AM – 10:00 PM.
McWhorter BBQ
McWhorter BBQ is one of those places that have a special place in your heart.
No matter what beef combo, pork steak, and other types of meat you get, you're in for a treat.
McWhorter BBQ is a Portuguese-style BBQ restaurant that not only excels in serving up some excellent BBQ but also takes pride in their homemade TresLeches, Flan, and Tarta de Santiago.
It's definitely a must-try place with your friends and family.
104 McWhorter St, Newark, NJ 07105, United States
+1 9733442633
Tuesday – Saturday, 11:00 AM – 10:00 PM.
Cubby's BBQ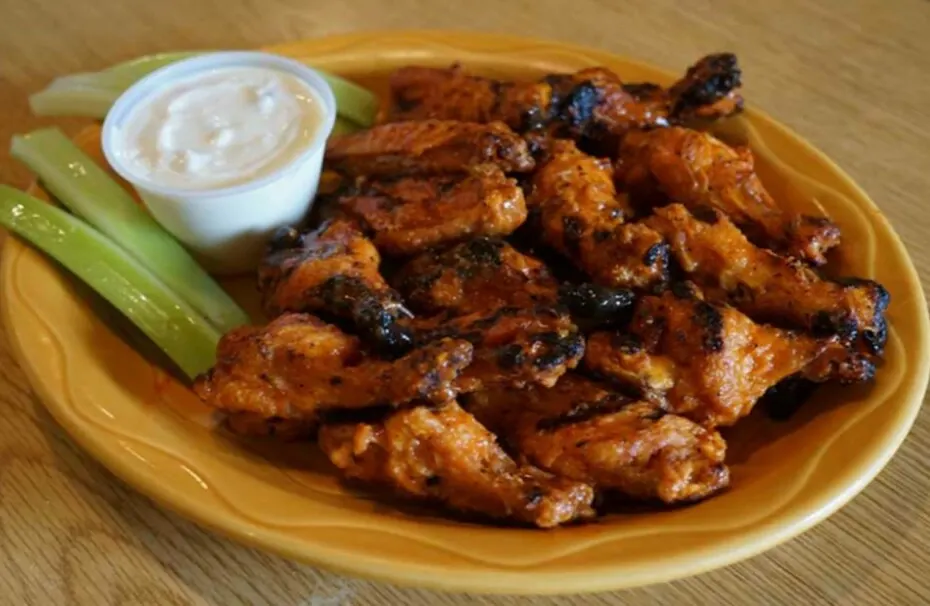 Cubby's BBQ has a homestyle cooking method with fresh ingredients, a casual counter-serve BBQ joint. Here you'll get good food and great prices.
The atmosphere and interior are warm and welcoming, and the staff is always there to provide you with sizzling hot meals.
They've got some killer baby back ribs, and smoked BBQ'd pork sandwich, among many other dishes.
Even their side menu is extensive and includes fries, chili, baked potatoes, BBQ beans, coleslaw, and many more.
249 S River St, Hackensack, NJ 07601, United States
+1 201 488 9389
Sunday and Tuesday, 11:00 AM – 9:00 PM. Wednesday – Thursday, 11:00 AM – 10:00 PM.
Whole Hog Cafe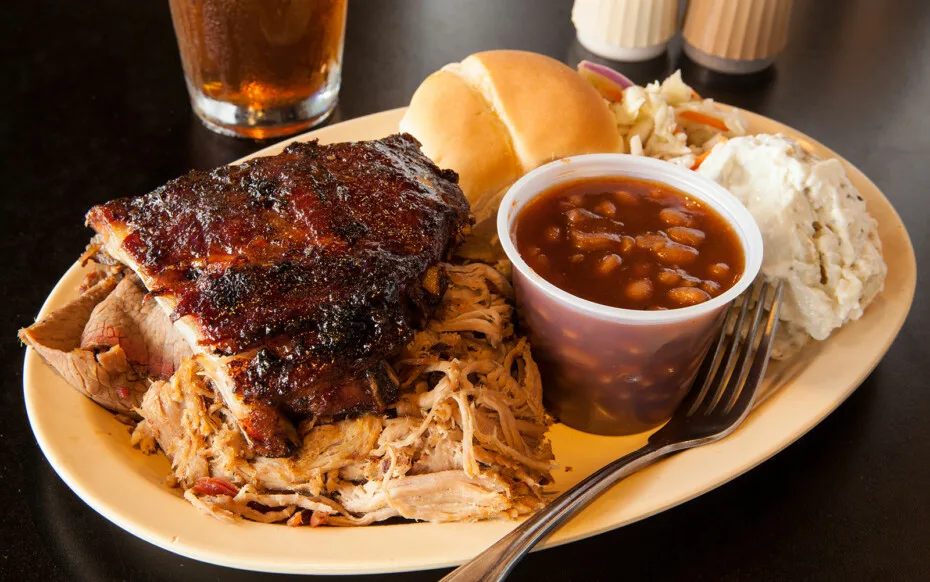 A local BBQ chain, the Whole Hog Cafe has the best tender pork meat with a crispy crust.
Dry rubbed and smoked to perfection, their meat made them famous for their World Champion BBQ.
They have a variety of sauces that go well with this tender meat.
You can choose between mild, tangy, and spicy, mustard and vinegar, sweet and bold, and many more different homemade sauces.
1811 Rte 70 W, Cherry Hill, NJ 08002, United States
+1 8569108060
Monday – Sunday, 11:30 AM – 8:00 PM.
Red White & Que Smokehouse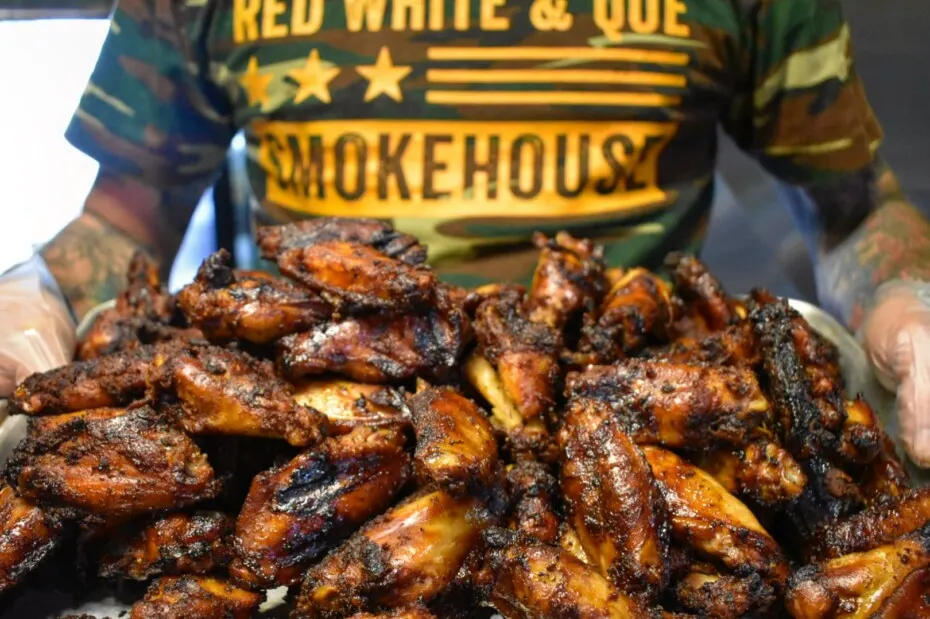 If you're a BBQ lover and haven't tried Red White & Que Smokehouse yet, you're missing out.
It is a classic Southern BBQ joint that sticks to old-school American traditions while embracing a rebellious spirit.
You can tell by simply tasting their BBQ.
With many awards to their name, Red White & Que Smokehouse has the best and most awarded pit masters making the most tender, juiciest BBQ you'll come across.
Buffalo wings, brisket, pulled pork, ribs, and pastrami are all great here.
Pair the meats with some classic sides such as smoked, baked beans, collard greens, pickled red onions, and more.
266 Davis Ave, Kearny, NJ 07032, United States
+1 2019982271
Wednesday – Sunday, 11:00 AM – 7:00 PM.
Jersey Shore BBQ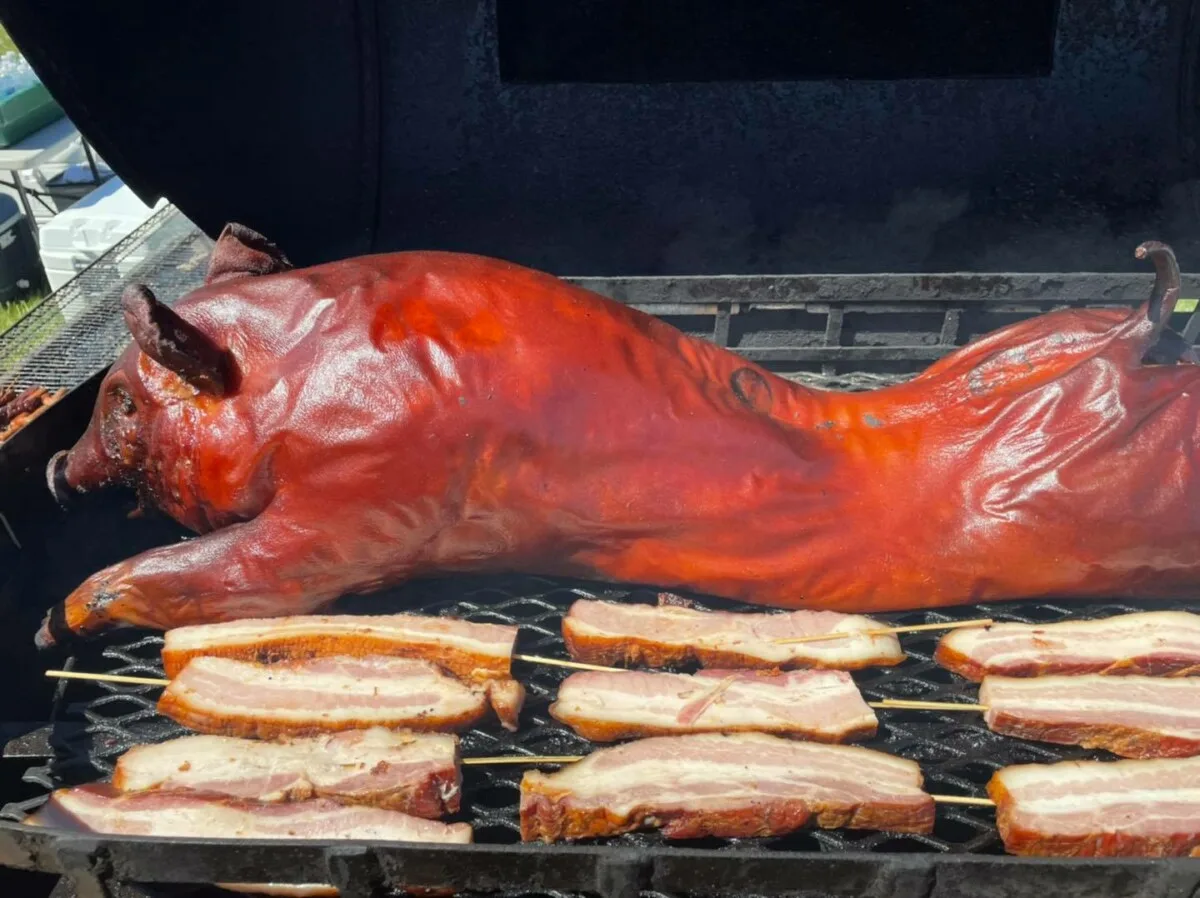 Combine great barbecue, a cool modern diner vibe, and a warm atmosphere, and you've got Jersey Shore BBQ.
For the best sampler, go big or go home with the Monmouth Trifecta plate – three choices of meat like the delicious chopped brisket, pulled pork, or kielbasa, all with the perfect light, smoky flavor.
Fill up on sides like ranch beans, classic collards, and tasty bacon potato salad.
With some of the best 'cue in these parts, you'll find lots of repeat customers here – and may become one, too!
710 Arnold Ave, Point Pleasant Beach, NJ 08742

Sunday – Thursday 12 – 8 PM; Friday & Saturday 12 – 9 PM

+ 1 732-899-4400
TST BBQ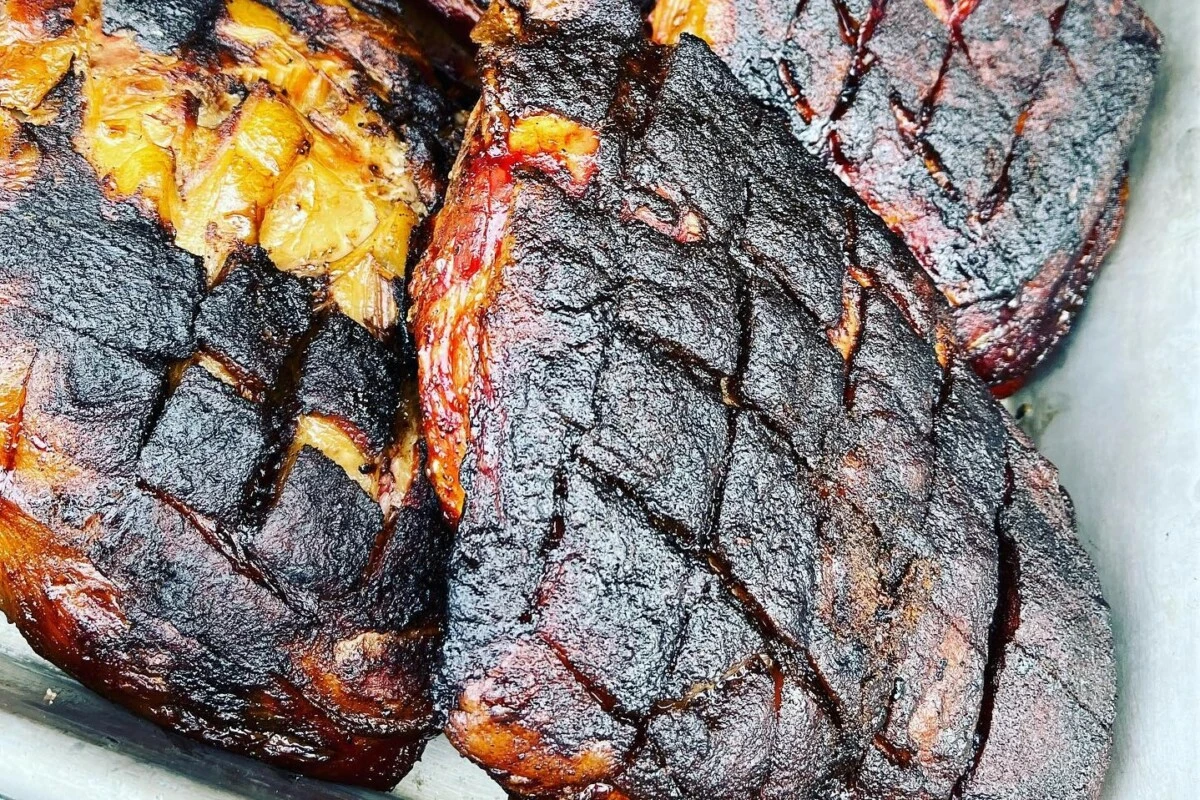 TST BBQ has two NJ locations: one inside the Holiday Inn in Hazlet and an awesome, seasonal BBQ + mini golf location.
Don't stress, as they both have delicious BBQ offerings, with 5 different rubs and 9 types of sauces to suit every taste bud!
From pulled pork and burnt ends to brisket and ribs, all the 'cue here is smokey and delicious.
Try out the Cherry Moonshine sauce for something extra unique, or turn it up with Nashville Hot.
910 NJ-36, Leonardo, NJ 07737

+ 1 732-335-8877
Local Smoke BBQ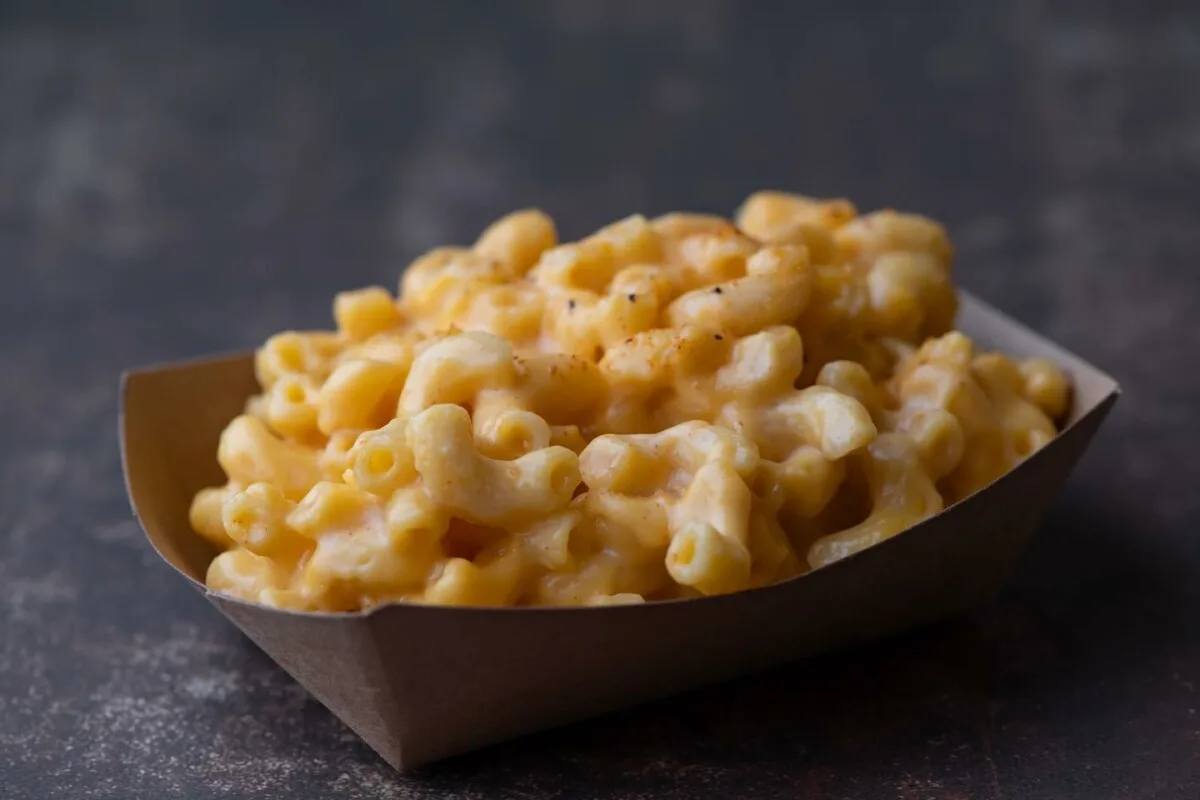 No stranger to competitions, Local Smoke BBQ has been racking up awards for its amazing BBQ since 2008.
The award-winning ribs get the first mention – hand-rubbed and slow-cooked till they fall off the bone.
The beef brisket is right behind it – smoky, tender, and served with just the right amount of sauce. Add on fresh cornbread and coleslaw for the perfect trio.
They've got a few locations around NJ; you've gotta make a trip and taste for yourself!
19 Wrightstown Cookstown Rd, Cookstown, NJ 08511

Daily 11:30 AM – 8 PM

+ 1 609-286-2298
You might also be interested in the following: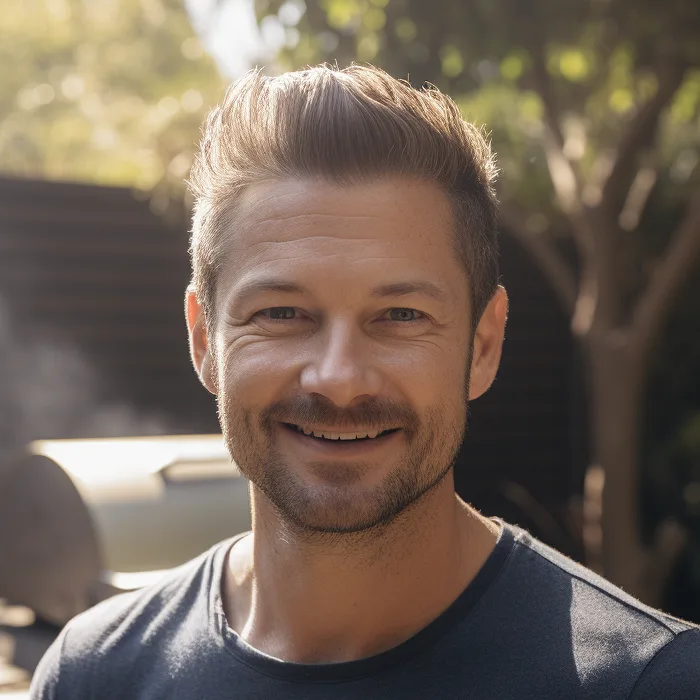 I have been smoking and grilling meat from an early age and enjoy sharing my knowledge and expertise through the hundreds of articles I have written about BBQ. I hope to make everyone's BBQ journey that little bit easier.