Toronto is the largest city in Canada, with a population of almost 5.6 million. It is the world's fourth most livable city, and the city has more than 8,000 restaurants.
If you are visiting Toronto and want to enjoy some delicious BBQ in the city, here are the top 10 BBQ in Toronto where you can satisfy your hunger and delight your taste buds.
Best BBQ in Toronto
Beach Hill Smokehouse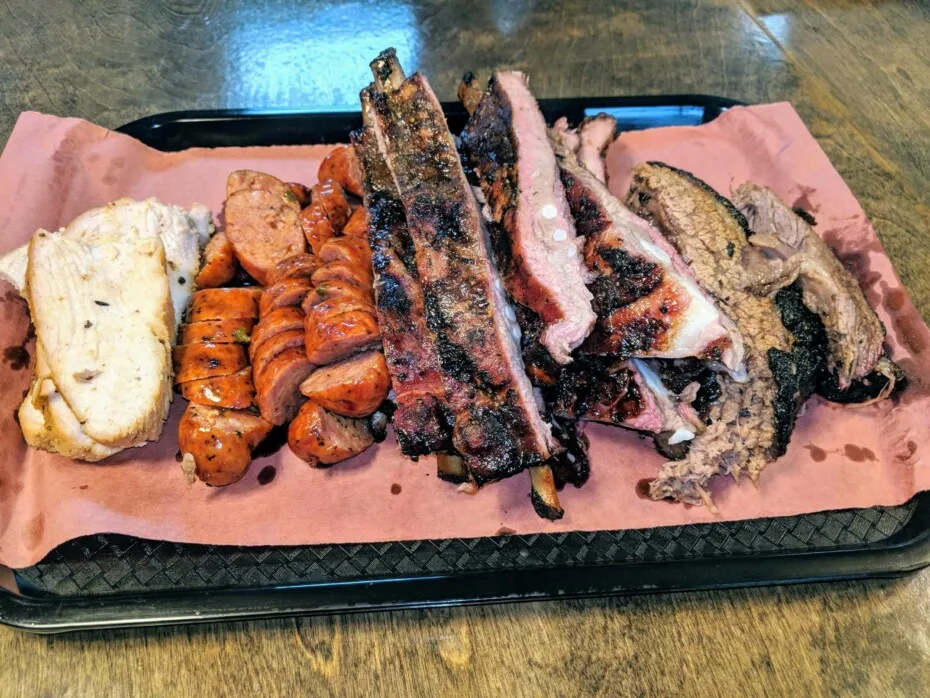 Beach Hill Smokehouse is a BBQ joint in Danforth Ave serving Texas-style BBQ in a beautiful indoor and outdoor setting.
At the Beach Hill Smokehouse, you can find a good collection of drinks to pair with your sizzling BBQ. The sides are wonderful, and they all complement the BBQ.
The outdoor setting is just outside the restaurant out front, with lots of picnic tables and sun umbrellas.
It gives you a very relaxed backyard feeling that most people enjoy.
Sometimes, they give out free brisket samples to the diners too!
429 Danforth Ave, Toronto, ON M4K 1P1, Canada
Wednesday, Thursday, Sunday, 12 PM –8 PM. Friday and Saturday, 12 PM –9 PM
+1 4165467633
Earlscourt Bbq & Patio
Earlscourt BBQ & Patio is a spacious, relaxed eatery that serves Southern-style BBQ meats with humongous sides, veggies, craft beer, and exotic cocktails.
The BBQ is smoked with passion, and it shows. The ribs, brisket, and fried chicken taste out of this world.
It is one of those places that you don't want to go anywhere else when you stumble upon them. The prices are also very affordable.
1278 Saint Clair Avenue West Lower Level, Toronto, ON M6E 1B9, Canada
Wednesday – Sunday, 5 PM –10 PM
+1 647-931-0904
Cherry Street Bar-b-Que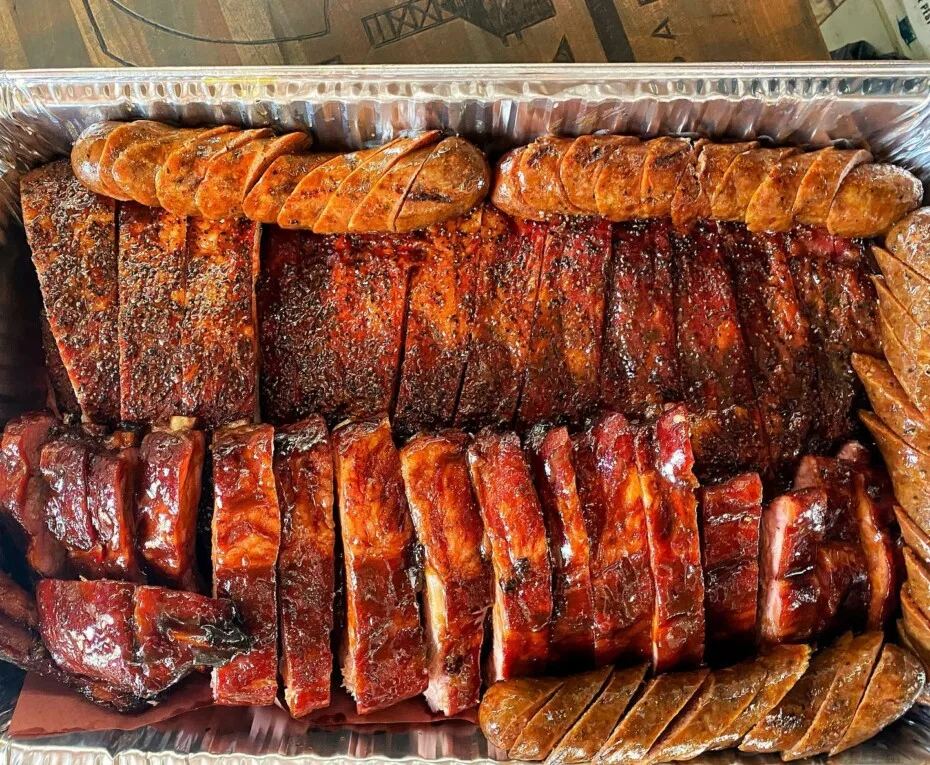 Cherry Street Bar-B-Que is a BBQ place set in a historic former bank with a patio. They serve delicious slow-smoked BBQ meat platters and classic sides in a rustic setting.
The sausage pulled pork, burnt ends, and ribs taste delicious.
The cornbread and mac n cheese are excellent sides that you don't want to miss.
They don't have a lot of wait staff, so you have to make an order at the counter, and they bring it to you quickly. The food comes out hot and delicious every time.
275 Cherry St, Toronto, ON M5A 3L3, Canada
Tuesday – Sunday, 11:30 AM – 8 PM
+1 4164615111
Greenwood Smokehouse Bbq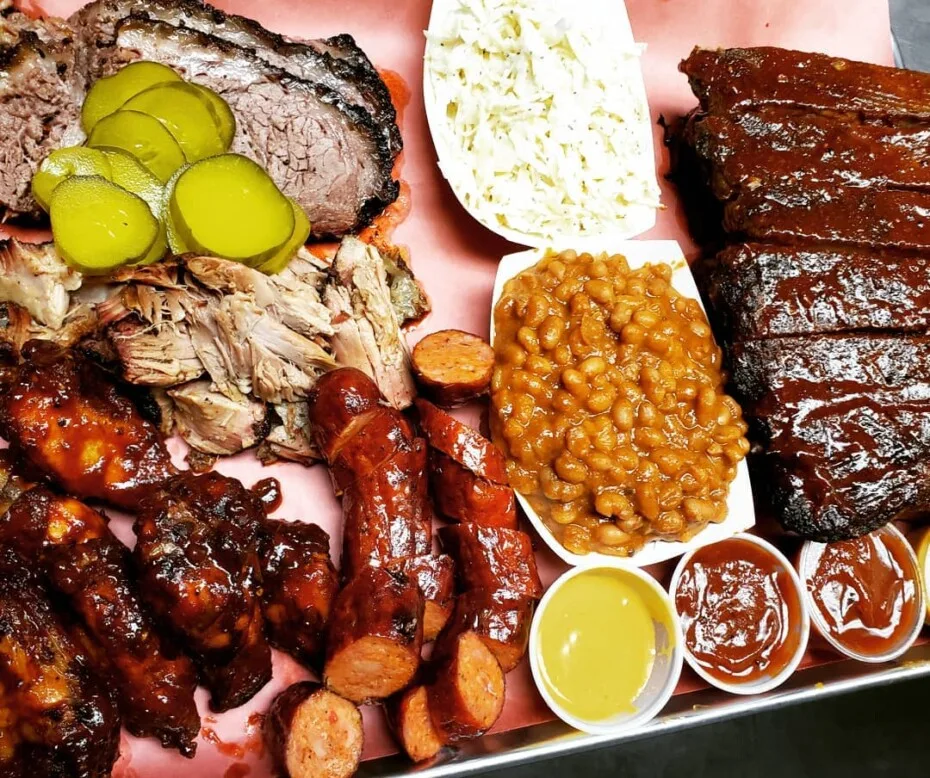 Greenwood Smokehouse BBQ is a rustic house of slow-smoked meats and veggies on the side served with bourbon.
If you are hungry and want to devour some delicious BBQ, you need to go to Greenwood Smokehouse.
The aroma as you enter the restaurant is everywhere. It is mouthwatering, and the BBQ that is served afterward just matches your expectations.
The atmosphere is very casual, perfect for visiting with homies. The patio is very small, and the tables are right beside the smoker, so be prepared to have your clothes smell of rich smokiness.
673 Danforth Ave, Toronto, ON M4J 1L3, Canada
Wednesday, Thursday, and Sunday, 4 PM –9 PM. Friday and Saturday, 4 PM –10 PM
+1 4164692270
The Stockyards Smokehouse & Larder
The Stockyards Smokehouse & Larder is a small diner counter that offers authentic wood-smoked BBQ meats and buttermilk marinated chicken.
The chicken is delicious and fried to perfection. The chicken and waffles is the best at The Stockyards Smokehouse & Larder.
They serve homemade sauce with the BBQ that makes it spicier and more flavorful. The sauce is the right sweet and spicy that gives a kick to the BBQ meats.
They have Beast Style Burger is iconic, filled with delicious BBQ meat.
699 St Clair Ave W, Toronto, ON M6C 1B2, Canada
Saturday and Sunday, 12 PM –7 PM. Tuesday – Friday, 11:30 AM –7 PM
+1 416 6589666
Breakwall Bbq & Smokehouse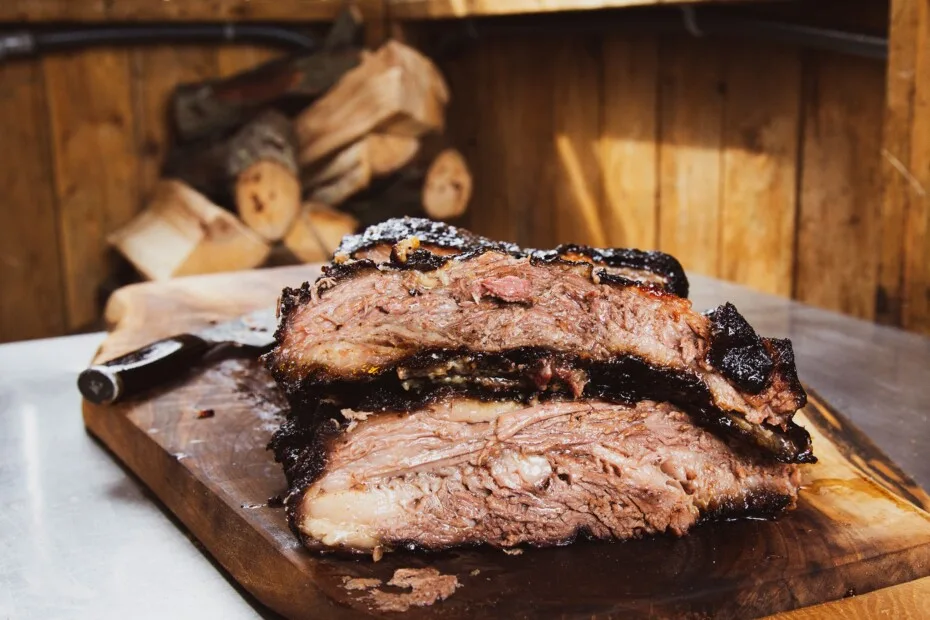 Breakwall BBQ & Smokehouse is a BBQ joint on Queen St that serves slow-smoked local meats, a full menu of comfort-food fare, and a variety of beer in rustic surroundings.
The BBQ is amazing and fall off the bone delicious. The service is exceptional, and the overall experience of dining at Breakwall BBQ & Smokehouse is great.
1910 Queen St E, Toronto, ON M4L 1H3, Canada
Monday – Sunday, 11 AM –12 AM
+1 4166994000
Gyu-kaku Japanese Bbq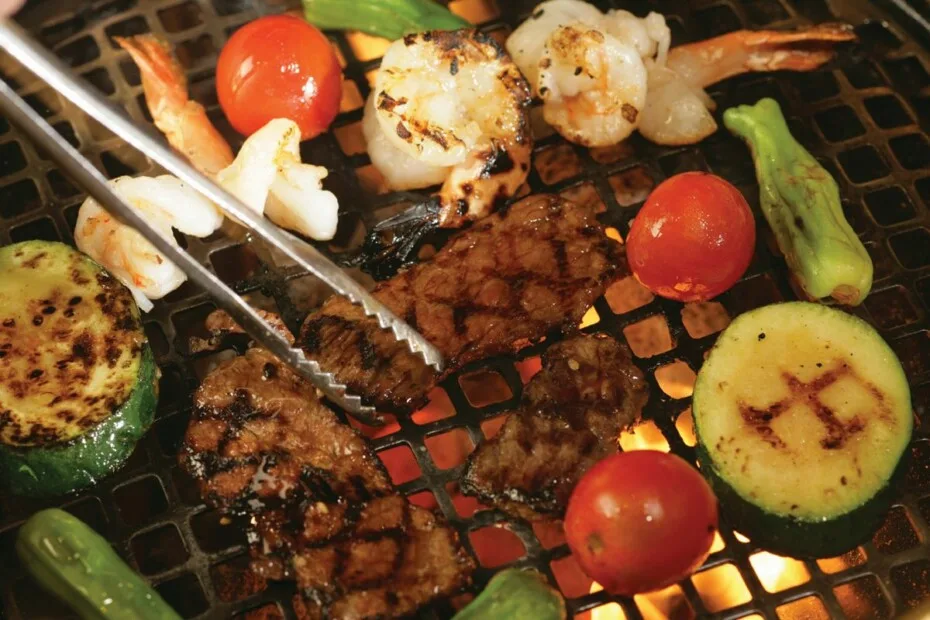 Gyu-Kaku Japanese BBQ serves authentic Japanese cuisine on Church St. They have a good selection of marinades and spices that they apply to the BBQ.
The waiters are very helpful and polite. They help choose the right BBQ dish and present a special Japanese drink.
There is nothing extraordinary about the restaurant, but the food is super delicious and the favorite of many locals who often come here for a special meal.
81 Church St, Toronto, ON M5C 2G2, Canada
Monday – Friday, 11:30 AM – 8:30 PM. Saturday and Sunday, 11:30 AM – 8:30 PM
+1 647 351 2378
Gyubee Japanese Grill (Bloor)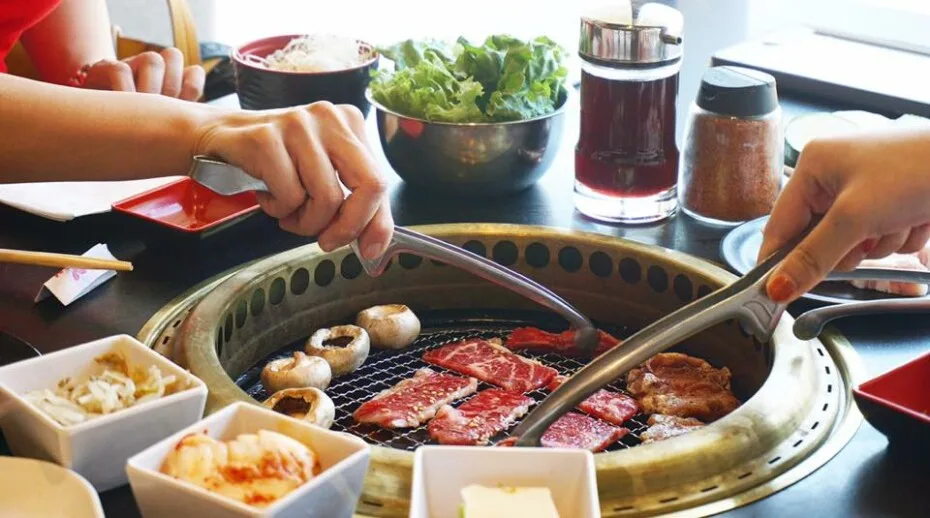 Gyubee Japanese Grill (Bloor) is a Japanese and Korean-style BBQ restaurant that lets the guests cook BBQ meat and seafood on table grills.
They have such mouthwatering food, and the BBQ restaurant is bustling with customers, no wonder.
They offer all-you-can-eat, and the meal portions are satisfying. The servers are great and check up on you from time to time.
It's very difficult to find a decent Korean BBQ outside Korea, and this one is it!
335 Bloor St W, Toronto, ON M5S 1W7, Canada
Monday-Sunday, 12 PM –11 PM
+1 4165519767
The Carbon Bar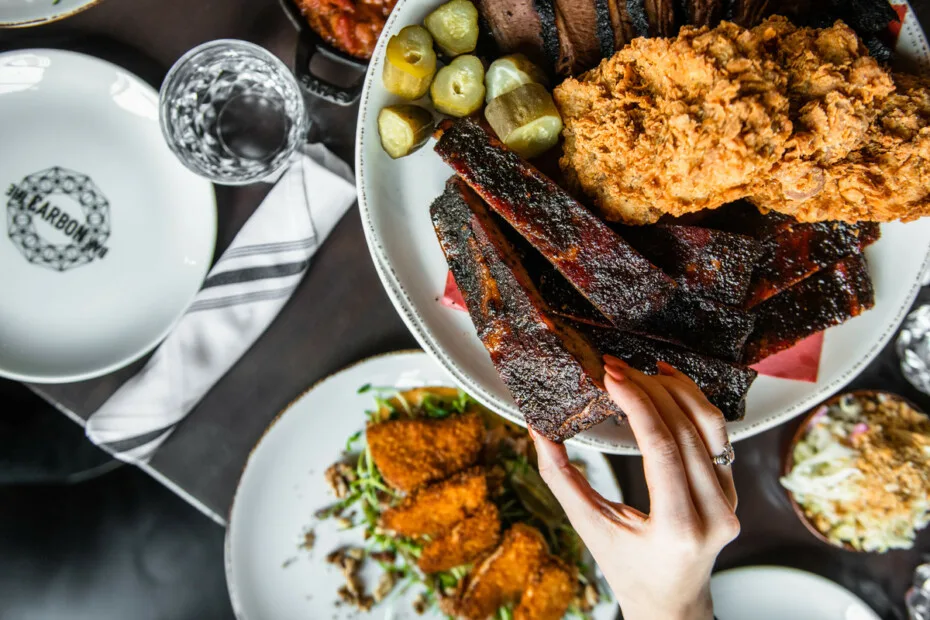 The Carbon Bar is a BBQ restaurant that serves Southern-inspired fare and cocktails in a casual setting.
The restaurant is very artsy, the décor is beautiful, and it has plush banquettes. The pitmaster platter is a must-try.
The BBQ ribs are fall off the bone good, and the meats are cooked to perfection. The burnt ends sandwich is humongous and delicious.
The portions are great, and two people can eat off of one.
99 Queen St E, Toronto, ON M5C 1S1, Canada
Thursday – Saturday, 4 PM –11 PM, Sunday – Wednesday, 4 PM –10 PM
+1 4169477000
Blackjack Bbq
Blackjack BBQ is a BBQ meat serving joint on Gerrard St that is famous for its gigantic BBQ burgers and delicious meat platters served with homemade sides and sauces.
The smoked chicken wings, ranger waffle fries, and the Lonestar burgers have an unforgettable taste. The ambiance of outdoor patio seating is great.
They play lovely music in the background, which is quite relaxing and enjoyable.
1044 Gerrard St E, Toronto, ON M4M 1Z8, Canada
Monday – Sunday, 4 PM –2 AM
+1 6473480088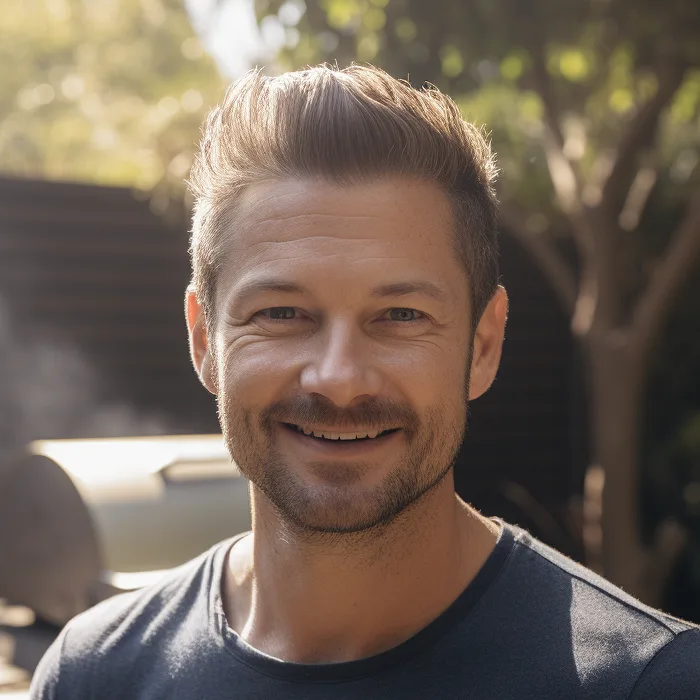 I have been smoking and grilling meat from an early age and enjoy sharing my knowledge and expertise through the hundreds of articles I have written about BBQ. I hope to make everyone's BBQ journey that little bit easier.