So, you have made your burger and possibly have a side dish. What will make the meal complete? Well, that's wine, of course!
Wine is something that truly does make a meal stand out. A glass of wine and a savory burger will give your taste buds the ultimate experience.
In this article, we'll break down the top 15 wines that go best with burgers.
Best Wine for Burgers
Zinfandel
Zinfandel is the poster child for California wine. It's grown all across California and is considered a medium-bodied red wine.
The taste of Zinfandel is bold and combined with a burger, it will add some oomph to your tastebuds, making it an unbelievable and tasty experience.
This red wine is very well known and is certainly not lacking fans. If you are unsure of what type of wine to drink with your meal, something that sounds familiar might be the way to go!
Pinot Noir
Pinot Noir is a light-bodied red wine that is thought to have originated in France. It is considered a dry wine with medium-high acidity.
Overall, it's on the strong, but not strong enough to be too much for those who aren't huge wine lovers.
When this wine is paired with a burger, it will do a great job of adding to the taste of meat.
Cotes du Rhone
Cotes Du Rhone means slopes of the Rhone. It describes an area in France (Southern Rhone, Rhone Valley, to be exact) where these types of wines were made.
The taste can be like Zinfandel. It's another bold red wine, and its robust flavor will taste great when paired with a burger, depending on the fixings you have.
Maremma
Maremma Wine is one of those that come straight from Italy—southern Tuscany, to be exact.
Several wines fall under the Maremma umbrella, but they all have a basic ripeness to them.
This modern Tuscan red does a great job of complimenting a burger.
Imagine the ripe taste of Maremma wine hitting your taste buds just as you take a bite of your burger. It's to die for… not literally, of course!
Bordeaux
Bordeaux is a modern-tasting wine that comes from Bordeaux, France. A good amount of these wines are made with Merlot and Cabernet Sauvignon.
They have a typical bold taste to them (as you expect with wines), but there also is a hint of sweetness to it.
So, this Sweetness paired with the savory flavor of a burger? Sign me up!
Merlot
The red wine Merlot is a very popular wine in America. The word means little blackbird in French but also can refer to a red grape.
Taste-wise, merlot is considered to be a bit diverse. It is usually dry and medium but can also be a full-bodied wine sometimes.
Pairing this wine with a burger is a great idea because they both help bring out the rich flavors in each other.
Cabernet Sauvignon
Cabernet Sauvignon is a dry red wine that is part of the duo that helps Bordeaux wine get its taste. However, this wine stands out plenty on its own.
It has a high concentration and is considered being a full-bodied wine with medium acidity.
When paired with grilled burgers, it will help bring out the rich flavors in the meat. Your meal will never taste better than with a glass of Cabernet Sauvignon at its side.
Rosé
Rosé wine doesn't have a long fermenting process like some wines do.
With these wines, the process only lasts a few hours, and once it's done, you are then left with Rosé wine, a type of wine that is very sweet.
There are different flavors out there, so look at them before deciding to pair them alongside your burger.
You want to make sure you get a sweet Rosé, which will complement the burger.
Beaujolais
Beaujolais wine, also known as Thanksgiving Wine, can be found in the Beaujolais region of France.
This wine is on the dry side with a medium red color. It has a very fruity and juicy taste. Some may describe it as having a bit of an earthy flavor as well.
Pairing this together with a burger will bring about a great combination of flavors.
Malbec
Malbec is another full-bodied wine that originally originated in France. Today it is mostly made in Argentina after being introduced there in the 19th century.
It's imported all over America, and given that it has a bit of a kick to it, it's no wonder it's so popular.
Drinking this alongside a burger will give you a double kick!
Chardonnay
Chardonnay is usually a dry white wine that can be found in a medium to full-bodied form.
It is created from green-skinned Chardonnay grapes, and the result is something that does taste mostly dry with a hint of sweetness to it as well.
The combination of the dry with a hint of sweetness will go great with a savory burger.
Cava
Cava is a sparkling wine straight from Spain. It specifically comes from the Penedes region, which is south of Barcelona.
This white wine will do a great job of adding a bit of zing to your meal.
If your burger already has enough zing to it, then this wine might not be for you. However, it is very affordable compared to some wines out there, so keep that in mind as well.
Shiraz
Here we have yet another full-bodied red wine. This one goes by the name of Shiraz or Syrah.
This wine is very bold and can be tasted in a variety of different flavors. It has a decent amount of acidity,so keep that in mind.
When paired with certain types of fixings on a burger, it could create more of a zing.
Montepulciano
This wine is a dark red wine made straight from the Italian town of Montepulciano around the area of Tuscany.
These wines can be on the dry side and have a bit of a fruity player to them. When it is paired together with a savory burger, it makes quite the combination.
Baco Noir
The last wine on our list is the Baco Noir. This is a red wine that is considered a French American hybrid. It's very popular in New York and other places in the Northeast, along with Canada.
It is a light to medium-body wine, which also is high in acidity.
This is more of a niche wine, given it's only popular in certain areas, but still, don't let that stop you from potentially trying it out.
Final Thoughts
And that's all she wrote—or drank burger and wine lovers. This is our list of the top 15 wines that go best with burgers.
If you are unsure of which one you'll like best, why not try them all out? It's truly the only way to figure out which wine and burger combo you like best.
You might also be interested in the following: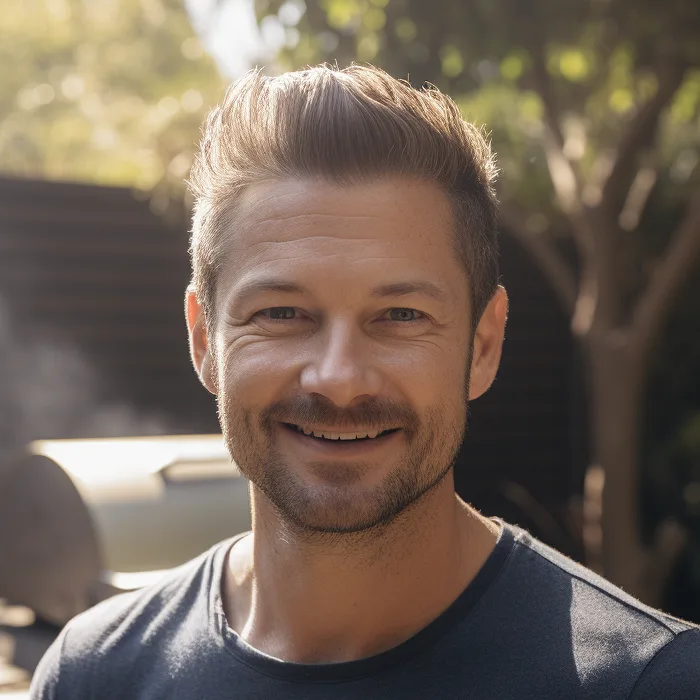 I have been smoking and grilling meat from an early age and enjoy sharing my knowledge and expertise through the hundreds of articles I have written about BBQ. I hope to make everyone's BBQ journey that little bit easier.