With food, you need to keep something called portion size in mind. The reason this is important is that it can help you plan how much you are going to eat for a particular meal.
If you don't use portion size, then what you will end up doing is either overeating or undereating.
Believe it or not, both of these can lead to excessive weight gain because even if you are undereating, you'll end up snacking between meals.
You can fix this problem by learning the correct portion size for the meals you are preparing.
One food people do this with is meat like pork shoulder, and in this article, you'll learn what it is, how much to give each person, if you can eat too much, and the benefits of eating it.
What Is Pork Shoulder?
Before we go into how much pork shoulder each person should get, we should first discuss just what it is because not everyone knows what type of cut pork shoulder is.
The pork shoulder comes from the thinner end of the pig's shoulder, about where it meets the leg.
This type of meat is fatty and tough, which shouldn't be surprising given it comes from an area where there are a lot of muscles.
Thankfully, you will find that pork shoulder is pretty inexpensive so if you want to get a pork cut and find yourself an affordable cut of pork out there, it's a great pick this one.
Pork butt is also pretty cheap so you can go with that one too.
Now that you know what pork shoulder is, we'll go into how much pork shoulder each person should get for their meals. As with all foods, there is a certain amount of pork shoulder you should eat.
How Much Pork Shoulder Does Each Person Get?
The amount of pork shoulder each person should get depends on the type of pork shoulder you have bought.
When the pork shoulder is bone-in, it's going to shrink a certain amount, and by the time it's finished, it will be smaller than it was once you bought it.
If you have boneless pork shoulder then you should get about 1/3 of a pound, and if it's bone-in consider getting about one-half of a pound.
Remember this is all per person so you want to get 1/3 of a pound of ½ of a pound per every person attending the meal.
Can You Eat Too Much Pork Shoulder?
If you eat too much pork shoulder or pork in general, you can put yourself at risk of certain illnesses and diseases. This includes:
One disease eating a lot of pork shoulder can cause is cardiovascular disease. This disease affects your heart and restricts flow to the heart due to a blood clot. Eventually, this could lead to you experiencing a heart attack in some cases, which can be life-threatening.
If you eat a lot of pork shoulder, then you could be at risk of gaining a lot of weight. Remember that pork shoulder is a cut of pork that has a lot of fat in it so by overindulging, you are at risk of gaining excessive amounts of weight.
Another issue that can come with eating a lot of pork shoulder is that it can cause you to have an increase in rectal, colorectal, and colon cancers. All of these cancers are very serious and sometimes don't showcase symptoms until the later stages so you do want to be careful about this.
Finally, if you end up eating a lot of pork shoulder you could put yourself at risk of diabetes. Diabetes is a disease that requires you to make huge lifestyle changes because if you don't then you can put your health at risk. Also, in some cases, you might have to use insulin which can be a hassle in itself.
There you have the biggest issues with eating a lot of pork shoulder.
A lot of these risks could seriously affect your health, so it's best to just eat pork shoulder in moderation and not risk your health at all.
What Are the Benefits of Eating Pork Shoulders?
Where there are risks, there are also benefits! Here are the top benefits of eating pork shoulder that we have found to be the most useful and interesting. They include:
One thing pork shoulder has a lot of is protein. Protein is very important for your body because it can help grow and repair not only your muscles, digestion, skin, organs, and cells.
Two minerals you will find in pork shoulder are zinc and selenium. Zinc can help with wound healing, immune function, and cell division. Now with selenium, it helps your thyroid and reproductive health.
Finally, you can find vitamins such as B vitamins in pork shoulder.B vitamins are very versatile and help you with a lot of things in your body. Some things that that they help with are the nervous system, general energy, heart health, skin, digestive system, and red blood cell production,
Here you have the three biggest benefits of eating pork shoulder. As long as you don't overindulge and eat it in moderation, you will be reaping every one of these health benefits.
Final Thoughts
And there you go all your pork shoulder lovers out there! If you decide to cook pork shoulder, then you know how much portion size to give out to people.
Pork shoulder, or pork in general, is one of those foods that many people can't get enough of.
Remember, it's on the inexpensive side so you won't end up breaking the bank if you decide to buy this particular cut of meat.
It does not matter how you cook it in the end. What matters is that you make sure to eat pork shoulder in moderation and not overindulge.
So, what are you waiting for? Get out there and purchase some pork shoulder. Your taste buds will thank you for it!
You might also be interested in the following: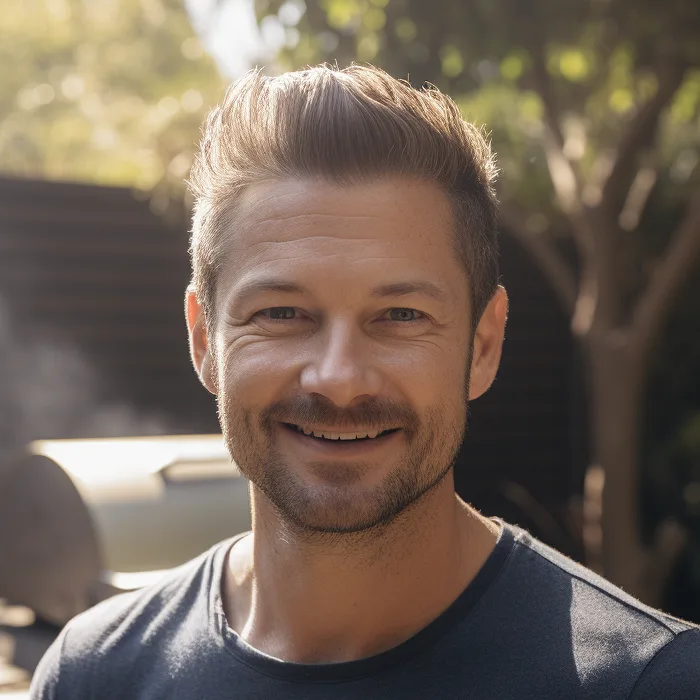 I have been smoking and grilling meat from an early age and enjoy sharing my knowledge and expertise through the hundreds of articles I have written about BBQ. I hope to make everyone's BBQ journey that little bit easier.