Even though it seems complicated, homemade hot dogs are not as complex as it seems.
Ultimately hot dogs are simply ground meat combined with flavorful seasonings. Once the preparation is done, you can create a batch of homemade hot dogs in no time.
Why Make Your Own Hot Dogs
Even though hot dogs are a popular food, many people are not aware of how or what ingredients are used to produce hot dogs.
Some people have no knowledge of why specific ingredients are used or featured on the label.
As you can imagine, commercial hot dogs have caused concern about the safety of commercially made hot dogs.
Therefore it is better to make your own homemade hot dogs.
After all, you will know exactly what is in your hot dogs, and you can customize the recipe to feature your favorite meats or spices.
Common Store-bought Hot Dog Ingredients
Non-meat ingredients added to meat products are approved by the Food and drug administration as well as the U.S. Department of Agriculture.
These additives are said to cure meat as well as prevent bacteria from multiplying. Some of these ingredients include additives such as sodium nitrate, hydrolyzed vegetable protein, and lauric arginate.
Sodium nitrate cures hot dogs, extends their shelf life, and gives them their signature color and cured taste. Sodium nitrate also prevents bacteria.
Sodium nitrate was used in past years; however, it has been replaced with nitrate. Nitrate is used to prevent the dangerous foodborne illness known as botulism.
As the name implies, hydrolyzed vegetable protein is a protein used to add flavor to hot dogs. It's created by boiling and breaking down cereals or legumes like wheat, soy, and corn.
Lauric arginate inhibits bacterial growth. Derived from lauric acid, this additive is found in coconut and palm kernel oils and the amino acid L-arginine and ethanol.
Sodium ascorbate and ascorbic acid speed up the curing interaction between sodium nitrate and the meat. This additive is not allowed to be used in uncured meat products.
Autolyzed yeast extract is used to savory, meaty taste in hot dogs and is made from yeast. Hot dogs are commonly produced from beef, chicken, or pork.
Beef pieces are cut carved from steaks or roasts, then ground and combined with concentrated forms of spices. Some hot dogs may contain organ meats or a variety of meats.
However, the specific organ has to be labeled on the package, and the package will also feature terms such as with various meats or with meat byproducts.
Hot dogs made with variety or organ meats are less commonly found.
Mechanically separated chicken or turkey is poultry that has been detached from the bone by using pressure created by specialized machines.
This type of chicken or turkey can have rich amounts of calcium. Due to this, the USDA demands mechanically separated chicken or turkey be featured in the ingredients list as mechanically separated.
Like beef, pork pieces are carved from larger cuts of pork such as the chop or tenderloin, ground and combined with concentrated spices.
If a variety of organ meats are used to produce pork hot dogs, it must be explicitly labeled on the package as with variety meats or with meta by-products.
Commercially made hot dogs may also be encased in a collagen protein derived from beef proteins.
They may also contain dextrose, a natural sugar derived from starch, honey, and fruits to boost flavor and browning while cooking.
The Meat
The attraction of making homemade hot dogs is that you get to select specific cuts or quality of meat that goes into it, which means no low-quality pieces of meat.
For example, you can use shank meat as it adds a robust, rich flavor to your hot dog.
However, your meat grinder may have a hard time processing the sinew. Luckily you can have your local butcher grind the shank and save time.
In contrast, you can use neck meat if you want to grind your own meat at home. It will be much easier for your meat grinder to process.
In addition to this, if you want your hot dogs to have an 80/20 lean meat to fat ratio, chuck is the perfect cut of beef for hot dog making.
You can also use a combination of different meats to make hot dogs. For example, pork butt and beef chuck are an excellent combination for hot dogs.
It gives your hot dog the perfect amount of fat and flavor.
You can also add pork fat-back or beef brisket trimmings to add extra fat to your meat. These types of fats are typically sold in the meat department of grocery stores.
However, they can also be sourced from your local butcher store if you cannot find fat-back or brisket trimmings in the grocery store.
You can also trim your own beef brisket and add it to your hot dog mix. Luckily we've got an in-depth guide that teaches you how to trim beef brisket.
Where Can I Find Hot Dog Casings?
Casings are just as important as the meat used to make hot dogs. Choose natural sheep casings rather than cellulose casings made from beef proteins.
Sheep casings snap when you bite into the hot dog and retain smoke better than cellulose casings which are removed after cooking.
Sheep casings can usually be obtained from your local butcher shop.
What Do I Need To Make Hot Dogs?
First, you will need a meat grinder. A meat grinding attachment can be fastened to your kitchen aid mixer if you do not have a meat grinder.
Make sure your meat grinder or meat grinding attachment has a coarse grinding plate and fine grinding plate.
Secondly, you will also need a sausage stuffer or a sausage stuffing attachment that can be fastened to your meat grinder.
Lastly, you need a smoker to cook the hot dogs. Rather than boiling the hot dogs, we choose to smoke them to increase their flavor depth.
How To Make Hot Dogs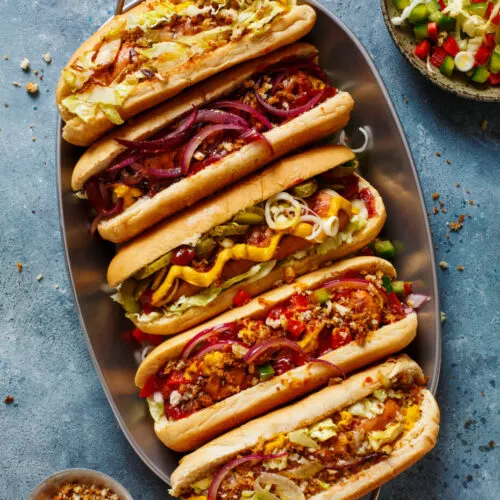 Homemade Hot Dog Recipe
Making homemade hot dogs is not as complicated as most make it seem. You will know the exact ingredients used to manufacture the hot dogs, and you will also develop an appreciation for hot dogs.
Equipment
Meat grinder

Smoker

Whisk

Food processor
Ingredients
3

lbs

beef chuck, cubed

2

lbs

pork butt, cubed

1½

lbs

pork fatback, cubed

2

tbsp

smoked paprika

2

tbsp

garlic powder

2

tbsp

onion powder

1

tbsp

celery powder

1

tbsp

cayenne pepper

1

tbsp

sea salt

1

tsp

curing salt

2

cups

ice water

Natural sheep casing (28–40 mm)
Instructions
Place your cubed chicken, pork butt, and fat back into the freezer for 30-45 minutes to allow the edges of the meat to harden or firm up.

Whisk the paprika, garlic powder, onion powder, celery powder, cayenne pepper, sea salt, and curing salt in a bowl.

Set your meat grinder on the medium-high setting and add the meat alternating between the meat and fat-back every 5-6 cubes of meat.

Once your meat is ground, quickly add the seasoning blend to it and mix it well. The key is to mix the meat quickly and thoroughly so it stays cold. The entire meat grinding and mixing process should be completed within a 5-6 minute span.

Transfer the meat to your food processor and blend it in small batches while adding small portions of the ice water. The ice water helps the hot dog meat emulsify, helping the meat mixture to blend together instead of separating.

Tightly wrap the hot dog meat with plastic wrap squeezing as much air out of the meat as possible. Tightly wrapping the hot dog meat prevents oxidation which can occur during the resting period. Place the hot dog meat into the refrigerator for 24 hours.

Attach the natural sheep casing to your sausage stuffer, make sure there are no air sacs, and gradually press the hot dog meat into the casing. Aim to get at least a few feet of meat.

Depending on how long you want your hot dogs to be, the standard size is 5-6 inches long. Twist the hot dogs into a shape. Twist each hot dog in the opposite direction to keep them from unraveling.

Heat your smoker to 250°F, then add the hot dog links. Cook the hot dogs for 45 minutes.

Remove the hot dog links from your smoker and cut them into hot dogs using a pair of kitchen scissors.
How To Serve Smoked Hot Dogs
Place your smoked hot dogs onto a bun and dress it with your favorite toppings.
You can also eat them as they are or with our Carolina BBQ sauce, homemade BBQ sauce, or a side of BBQ coleslaw. Now that the hard work's over, all that's left to do is enjoy your deliciously smoked hot dog.
Final Thoughts
Making homemade hot dogs is not as complicated as most make it seem.
You will know the exact ingredients used to manufacture the hot dogs, and you will also develop an appreciation for hot dogs. Once you make homemade hot dogs, you will never go back to the store-bought stuff.
After all, homemade hot dogs are better than store-bought hot dogs. Happy smoking!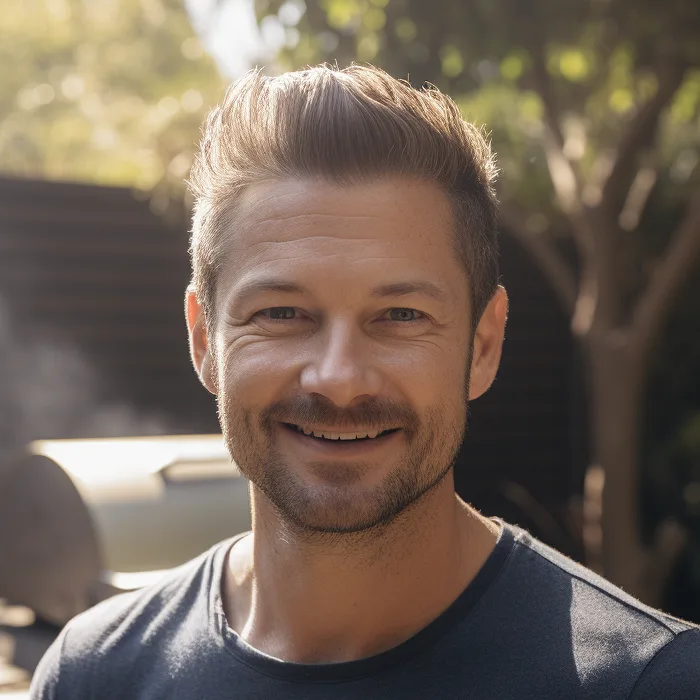 I have been smoking and grilling meat from an early age and enjoy sharing my knowledge and expertise through the hundreds of articles I have written about BBQ. I hope to make everyone's BBQ journey that little bit easier.