Who knew grilled foods could taste even better? Wondering how you can make your grilled foods taste better? Smoke them!
Smoking foods improves their flavor, leaving you with a sinfully smoky cut of meat with a crisp, smoky ring of deliciousness.
Propane smokers are the perfect cooker o smoke significant amounts of food effortlessly. They also allow you to generate a lot of heat even if you are in cold weather.
Propane smokers have many benefits; however, you must understand what a propane smoker is to fully comprehend its benefits.
What Is a Gas Smoker?
Gas smokers are outdoor smoking machines designed to smoke foods. Commonly called vertical propane smokers, these smokers are fueled by propane gas.
In addition to this, similarly to charcoal and offset smokers, propane smokers also use wood to infuse the foods with specific flavors.
However, these smokers do not use lump charcoal or charcoal briquettes. Moreover, propane grills are easier to use than their smoking counterparts. Gas smokers are easy to maintain and usually are crafted from cast-iron or stainless steel materials.
How Do Propane Smokers Work?
As mentioned above, propane gas smokers use liquid propane to smoke meat. Most propane gas smokers usually feature temperature gauge readings that indicate how much propane gas is in the tank.
The liquid propane gas is attached to a burner by a hose that is managed with a control dial. The ignition system is usually in proximity of the control knob.
Once the gas is on, the ignition switch lights the burner. The gas will continuously flow through the burner, which allows the flame to burn steadily and evenly, smokes the food.
Hot Tip
Some propane gas grills are also designed with a two-door system. This system allows you to insert and refill water and wood trays without opening the smoking box, which can cause significant temperature changes.
Parts of a Gas Smoker
Similar to their charcoal and electric counterparts, propane gas smokers are vertical. The smoking area is usually at the top of the unit, while the heating instrument is at the bottom of the unit.
Most propane gas smokers have stainless steel grill racks. Meat can be placed onto the grill racks, or you can place foods you intend to roast into a cast-iron skillet and place it onto the cooking rack.
Similar to their counterparts, propane gas smokers have attachments that connect the smoker to the propane tank. Typically, gas smokers, heating capabilities are measured in BTUs (British thermal units).
The lower region of a gas smoker is where the propane gas tank is situated, and the stainless steel burner generates fire used to heat the smoker.
The wood chip tray borders the burner and houses the wood chunks. Hardwood chips are usually preferred and burn to generate smoke.
The water pan is directly above the wood chip tray. It is filled with cold water and then added to the smoker to keep its internal temperature from escalating too quickly.
As the water becomes heated, it evaporates and generates steam, which is beneficial for convection cooking.
Fire is fed by oxygen, which increases the temperature. The flow of air controls the temperature of the propane gas smoker. Heavy-duty dampers are usually located at the bottom section of the gas smoker designed to aid air circulation.
As air is allowed to enter the gas smoker, oxygen stokes the fire, and the unit's internal temperature rises.
On the other hand, vents and dampers on top of the gas smoker are designed to let heat escape, decreasing the unit's internal temperature. In addition to this, there's also an outflow of heat when the front door of the gas smoker is opened.
Benefits of Propane Smokers
Propane smokers are like a hybrid of an electric and charcoal smoker. They allow you to prepare foods conveniently, and you can still replicate the smoky flavor of traditionally grilled or smoked foods cooked on a charcoal grill. Furthermore, gas smokers are also more affordable than pellet smokers.
Propane smokers leave a smaller carbon footprint than other smokers, and they are easy to store and move from location to location.
Moreover, you can use propane smokers in an electricity-free zone. Even though it is not recommended, some people have even used propane gas smokers in their homes without any issue.
They are also easy to use and heat up relatively quickly. Moreover, You do not have to babysit your food while it is in the propane gas smoker.
Depending on what you are smoking, you can set the temperature and relax in your backyard.
Drawbacks of Using a Propane Smoker
The major drawback of using liquid gas as a fuel source is that you will not receive an intensely smoky flavor as you would with charcoal.
However, this can be solved by adding wood chips to enhance the smoky flavor.
Another disadvantage of smoking foods with liquid gas is that you cannot cold smoke them. Electric smokers and, in some instances, charcoal smokers can achieve low enough temperatures to cold smoke foods.
Though it is not impossible to cold smoke food in your propane gas smoker, you would need additional equipment.
Propane Smokers vs. Electric Smokers
Even though both units are smokers, both propane and electric smokers have unique differences. For example, electric smokers do not give you the same flexibility that gas smokers do.
Propane gas smokers excel at achieving high temperatures, and they are easier to move from place to place.
However, gas smoker temperatures need to be monitored more closely than electric smokers that are designed to self-regulate.
On the other hand, electric smokers require a little more time to preheat, while gas smokers heat up much quicker.
Nevertheless, it is so easy to regulate an electric smoker's temperature that even a fool could do it.
Bottom Line
Electric smokers are highly regarded for their set it and forget it nature and can easily be transformed into a cold smoker. However, electric smokers do require an outlet in order to operate, so if the power goes out, the smoking process will drastically be affected.
What To Look For in a Propane Smoker
Purchasing a propane gas smoker on a whim without knowing what to look for is extremely risky. You could get stuck with a gas smoker you hate.
There are some characteristics you should consider before purchasing a propane gas smoker. These considerations will help you purchase the perfect propane gas smoker.
Cooking Surface
On average, the cooking space can range between 250 square inches to 2,000 square inches.
Even though the company will indicate the cooking surface, the ideal amount of cooking space is a decision that falls on the user.
For example, if you are single or have a family of 2-3 persons, less than 400 square inches of cooking surface may be enough to feed your entire family.
On the other hand, if you have a family of 8 or intend to cater to large parties, 2,000 square inches may be better than 200 square inches.
In addition to this, some companies also indicate the number of foods you can smoke simultaneously.
Cooking Space
Though cooking surface and cooking space seem like similar terms, cooking space refers to the internal height cooking volume. The cooking space is typically expressed in cubic inches or cubic feet.
Cooking space allows additional cooking and warming racks, space-efficient meat hooks, and extra burners to be inserted into the unit to cook large meats.
However, a larger cooking surface is not equivalent to larger cooking space.
Case in point, if a propane gas smoker has a cooking space of 915 square inches but a smaller cooking space of 5.025 cubic inches, you may not be able to add additional racks to create more space.
Cooking Grates
Several cooking grates afford you the ability to prepare larger amounts of food. In addition to this, it also allows you to cook multiple foods simultaneously, which minimizes time and effort.
You can customize each rack to be a different height or remove it to accommodate different foods such as ribs, potatoes, or brisket.
Some gas smokers also have warming racks that come in handy for tasks such as heating sandwich buns, sauces, or marinades.
Ensure your propane gas smoker has a minimum of 3 racks. Additionally, ensure your cooking racks are non-stick and coated with a chrome material to prevent rust and corrosion.
Burners
Search for a propane gas smoker that features dual burners. This allows you to generate more heat. Multiple burners can work together to cook foods simultaneously or cook them independently at different temperatures.
In addition to this, you can also prep different wood chips to infuse different foods with different flavors and switch between the burners without changing the unit's internal temperature.
Dimensions and Weight
The dimensions and weight of the propane gas smoker depend on how many people you are smoking food for. It also hinges on the volume of food being prepared and, more importantly, how much space the cooker has.
You should also consider where the smoker will be stored and if you intend to use it outdoors or travel with it.
Fortunately, vertical smokers are engineered to save space, which also lessens the unit's carbon footprint as it can fit into compact spaces.
Materials
Like any smoker or grill, gas smokers are consistently exposed to high temperatures, the weather, outdoor use, and prone to accidental spills.
For this reason, the materials used to craft a propane gas smoker must be durable while being able to conduct and disperse heat evenly without melting into a pool of metal or decaying.
Moreover, the materials used to build the smoker will also impact the weight of the unit.
Look for a gas smoker that can retain heat and is built from a durable, rust-resistant, corrosion-resistant material. Additionally, ensure the smoker can withstand the elements.
Easy To Assemble
Most propane gas smokers are shipped with detached components as it minimizes the size of the package and decreases shipping costs.
Although assembly is usually minimal, and the manufacturer provides instructions, purchasing a ready-to-use gas smoker may be best if you do not like assembling products.
Temperature Control
Propane gas smokers have a broad temperature range that can surpass other types of smokers.
Therefore gas smokes require greater heat control to prevent undercooked or overcooked meals.
That being said, make sure your propane smoker can maintain stable temperatures to cook foods low and slow to allow the smoke to infuse into the meat.
At the same time, ensure your gas smoker can smoke foods such as steaks or burgers quickly.
Convenient and Easy To Clean
Ensure your gas smoker has a water pan and water tray that is accessible without opening the primary cooking chamber.
Opening the main cooking chamber to replace these materials will result in temperature fluctuations.
Moreover, a propane gas smoker should not be too much of a hassle to clean.
Porcelain has become quite popular in the bBQ world for its ability to create a smooth polish yet remain relatively easy to clean.
Warranty
Warranty is important when it comes to any grill or smoker. Every gas smoker has different warranties.
However, if you intend to convert your unit to natural gas, ensure the manufacturer's warranty covers it before switching it over to natural gas.
Price
Propane smoke grills can range between $200 up to $700 or more. The size of the unit, specific features as well as the materials used to construct all play a role in the cost of a gas smoker.
If you are a novice smoker, it is best to stick with a cheaper gas smoker until you gain a little more experience.
In contrast, if you're a seasoned smoking expert, you may choose a pricier long-lasting propane smoker. Furthermore, you should also factor in the cost of propane gas tanks and wood chips.
How To Use a Propane Smoker?
Once you've purchased a propane tank, connect the tank to the gas smoker's gas line and switch the tank's valve to the open position.
Next, use the smoker's ignition button to light the flame and set the fire's level using the heat management knob at the base of the smoker.
Fill the water tray with water and the wood chip tray with wood chips and insert them into the gas smoker. Let the smoker preheat for 15-20 minutes until it has a temperature between 200-200 degrees Fahrenheit.
Once it comes to your desired temperature, add your food, and monitor the thermometer periodically to ensure the temperature remains stable throughout the entire cooking process.
Tips for Using a Propane Smoker
Always keep your propane gas smoker clean. One of the main reasons propane gas is so popular is because it burns cleaner than charcoal and pellets.
Do not increase the carbon footprint of your gas smoker by allowing food debris to accumulate in your smoker. Clean your gas smoker every time you use it.
More importantly, always smoke your meats to the correct temperatures.
Propane smokers are engineered to cook foods at a lower temperature as it helps create the tender texture, and smoky flavor smoked foods are associated with.
Therefore, you have to be cognizant of the extended cooking times of different meats. It can take 5-6 hours to smoke a rack of ribs and an entire day to smoke a brisket.
To calculate the cooking time of smoked meats, estimate 75 minutes per pound at the peak smoking temperature of 225°F.
Some vertical gas smokers feature built-in temperature gases and WiFi digital thermostats. However, it is best to purchase a meat thermometer o make sure your meats are cooked to the right temperature.
All gas smokers are not created equal, which means they may or may not come with a wood chip tray. Consequently, if they do this, give you the opportunity to test out different hardwoods to see which flavors you prefer.
If you are a smoking traditionalist, you may want to try out combinations such as apple and hickory or cherry and alder wood blends.
In general, chicken is not compatible with oak or maple wood. Beef pairs perfectly with all woods except apple wood.
In contrast, vegetables pair well with oak, pecan, mesquite, and hickory, while fish works best with mesquite, alder, and oak woods. Both pork butt and shoulder are not compatible with mesquite and oakwoods.
In addition to creating a custom wood combination, you can also develop your own marinades, seasonings, and basting solutions.
How To Maintain a Gas Propane Smoker
Maintaining a gas propane smoker is relatively easy. Always empty and clean your gas smoker's grease pan every time you use the unit.
If you do not clean the grease tray, the grease can accumulate and start a fire, ruining the entire smoking experience.
Furthermore, do not use chemicals to clean your gas smoker.
Harsh chemicals can cause the coating to deteriorate and leave behind a lingering unpleasant odor you don't want anywhere near your smoked foods, as it can impact the flavor of your foods.
Clean your propane smoker with warm water and soap. Alternatively, you can also add a little vinegar or baking soda to remove caked-on stains.
Examine your gas lines for leaks or blockage before you begin the smoking process.
The burner tube is the instrument that is predisposed to clogging on a propane gas smoker, which restricts gas flow. To clean your burner tubes, brush them from side to side and from center to outward to avoid adding more particles into the burner tube.
Hot Tip
Purchase a waterproof gas smoker cover to protect it from water and dust. Do not switch a propane gas system over to a natural gas system unless the manufacturer advises it. There's no point in ruining a propane gas smoker if it is not compatible with natural gas.
The Best Propane Smokers
Whether you are a novice or are unfamiliar with propane gas smokers, they are the perfect smokers to teach you how to smoke meat properly.
However, the issue most people run into with gas smokers is that they claim to be the best but are anything but subpar.
It can often become frustrating and overwhelming to find the best gas smoker, and often we end up settling for an average smoker.
However, there's no need to settle anymore as you now have access to the 5 best propane smokers.
Cuisinart Vertical Propane Smoker
Boasting 5.45 square feet of interior space, the Cuisinart vertical propane smoker gives you loads of room to smoke multiple types of meat and even a few racks of vegetables.
Furthermore, with dimensions of 19.3″ L x 18.1″ W x 38.6″ and weighing in at 69.5 pounds, this units' compact size makes it the ideal cooker for patios and BBQ kitchens.
Outfitted with four 14 by 14-inch removable stainless steel shelves, you can customize your propane smoker to smoke whole poultry or large cuts of meat such as pork butt and shoulder or brisket.
The smoking racks are also dishwasher safe making clean-up as easy as 1-2-3.
The built-in thermometer is located on the unit's front door, the perfect location to allow you to monitor your meat without jeopardizing your sweet smoke.
The adjustable gas supply provides you with precise control over the smoker's heat.
The back vent can be switched to the open or closed position to allow you to control heat and smoke levels within the cooking chamber.
In addition to this, you can access the smoker through two doors. You can seal your foods into the cooking chamber with a twist of the handle.
Featuring porcelain-enameled steel water and wood tray,s you can easily discard the mess and clean the trays in no time.
This propane smoker is compatible with wood chips, so you can infuse your smoked goods with delicious flavor.
Featuring a 40-inch propane hose and regulator, there's no need to panic about the connector being too short. You can simply attach it to a 20 lb. propane tank.
All in all, the Cuisinart propane smoker is a lean, mean smoking machine that is easy to use and clean and can smoke a good amount of food.
Masterbuilt Propane Smoker
Masterbulit is one of the most popular grilling and smoking brands in the BBQ world, and this propane smoker is no different.
The masterbuilt propane smoker features a patented temperature sensor control burner that helps you maintain stable temperatures throughout the entire smoking process.
Boasting a safety valve that turns off the burner if the fire goes out, this smoker is designed to give you 15,750 BTUs, thanks to its stainless steel burner.
There is nothing worse than running out of propane gas mid-cook. Luckily, this propane smoker allows you to monitor your propane usage with the tank-level fuel gauge, so you never run out of propane.
Overall, with 4 chrome-coated smoking racks and 961 square inches of smoking space, masterbuilt's propane smoker is a brand that speaks for itself.
Pit Boss Vertical Liquid Propane Gas Smoker
Though the term liquid propane may imply it is not propane, liquid propane and propane gas are identical.
Featuring a dual valve, dual burner system, the pit boss propane smoker has a temperature range of 100-350 degrees Fahrenheit.
Boasting 3 porcelain coated cooking grids and 800 square inches of cooking space, the pit boss gas smoker is outfitted with stainless steel burners that generate 12,500 BTUs of smoking power.
You can also access smoker's the wood chip drawer and grease tray externally.
This unit's high-temperature door seal with a large viewing window soo you can monitor the progress of your food without releasing a cloud of smoke.
All in all, if you wish to have a smooth sailing smoking process, it does not get any easier than the pit boss propane gas smoker.
Char-broil Vertical Liquid Propane Gas Smoker
Like masterbuilt, charbroil is another well-known smoker and grilling brand. This liquid propane liquid smoker boasts a 595 square inch cooking area along with 3 chrome-plated cooking grates.
In total, if you purchase this propane smoker, you will end up with 7,566 cubic inches of cooking space.
In addition to this, this also features a warming rack conveniently located on top of the gas smoker. Featuring a porcelain-coated wood chip and water pans, you can easily re-stock these pans.
With a temperature gauge mounted on the lid, you can ensure your smoker is generating consistent heat.
Designed with dampers to help you control the heat, you can transport your smoker without fear of burning your hands, as this unit features cool-touch handles.
In general, if you genuinely enjoy smoking meats or are looking for an easy-to-use, easy to transport propane smoker, look no further than the charbroil propane smoker.
Smoke Hollow Propane Smoker
The smoke hollow propane smoker is outfitted with stainless steel burners that churn out 15,400 BTUs. With 4 chrome-coated smoking racks, you can smoke as little or as many foods as you like.
Boasting a push-button ignition system, you can light your burners with ease.
With adjustable legs, you can customize the smoker's height so you can remain comfortable through the entire smoking process.
In addition to this, the adjustable air damper allows you to control the amount of smoke generated which allows you to infuse your meats with the perfect amount of flavor.
Overall, if you are on the hunt for a propane grill that does all of the work for you, the smoke hollow propane smoker is the ideal candidate.
With the ability to smoke up to 4 whole turkeys, 16 pork butts, 20 whole chickens, and 8 racks of ricks, what could be better?
FAQs About Propane Smokers
Let's be honest; this is a lot of information to digest about propane smokers. There must be a few pressing questions that were not answered by the information above.
These are the most prevalent questions about propane smokers.
Do I Need To Pre-season My Propane Smoker?
Though it requires a little more work, you must season your propane smoker. Seasoning your propane smoker eliminates any residual oils and substances created by the manufacturing process, and no one wants to eat residual oils or chemicals.
Seasoning your smoker is comprised of heating the unit to a specific temperature to burn off any residual particles.
How Do I Season a Propane Smoker?
Seasoning a propane smoker is extremely easy. Simply deep clean the smoker with mild dish soap and water, then wipe it with a damp cloth to remove any residual dish soap.
Cover the inside smoker with non-stick cooking spray, then slowly heat it to a high temperature and let the smoker run for 2-4 hours. Alternatively, you can use neutral-flavored oil to coat your smoker's interior.
Are Propane Smokers Worth It?
Contrary to popular belief, propane gas smokers are an excellent option compared to their electric counterparts.
It eliminates the need to worry about your smoked food going to waste if the electricity goes out mid-cook.
Moreover, propane smokers are highly transportable and give creates an intense smoky flavor that an electric grill cannot replicate.
Do Propane Smoker Use a Lot of Propane?
It is only natural to assume propane smokers use a lot of propane. After all, you do have to replace the tanks when they are empty.
Generally, propane smokers burn about 1-2 pounds of fuel if you are cooking food on the smoker's highest setting. This translates to 6-8 smoking sessions per propane tank.
Do I Have to Preheat My Propane Smoker?
Always preheat your propane smoker for a minimum of 10-15 minutes. If you add your food to a cold smoker, it will not cook evenly.
Preheat propane your smoker, modifying the damper trays as needed until the smoker maintains a consistent temperature.
Can I Use Wood Chunks in a Propane Smoker?
Of course, you can use wood chunks in a propane smoker. However, you can only use wood chunks if your propane smoker can hold the size of the chunks.
Most propane smokers feature a short depth tray, and this tray holds the wood, which is almost always wood chips.
Can I Use Wood Pellets in My Propane Smoker?
Never use pellets in a propane smoker. Pellets were designed for pellet smokers and grills.
In addition to this, pellets are extremely flammable. If you add them to the wood chip tray, they could catch on fire and destroy your food and your propane smoker.
Should I Soak Wood Chips for a Propane Smoker?
Soaking your wood chips in liquid before loading them into your propane smoker is pointless.
Soaked wood chips must be dried to eliminate any moisture before they can be added to the smoker.
The drying process can take days, and no one wants to wait days to eat delicious smoked food.
Furthermore, smoked wood chips will not generate a large quantity of smoke. Cut the stress and add your wood chips as they are to the propane smoker.
How Long Does It Take for Wood Chips To Begin Smoking?
The wait time for wood chips to start producing smoke is relatively short as it only takes 20 minutes and generating flavor.
How Often Should I Add Wood Chips to My Propane Smoker?
Would chips should be replenished every 5-6 hours. However, you should monitor the quality and quantity of smoke to determine whether you should or should not add more wood chips.
Can I Use My Propane Smoker in the Rain?
Technically propane smokers can be used in the rain since they do not operate on electricity.
However, not only will you be uncomfortable, but there may also be performance issues because gas smokers are not as insulated as their counterparts.
How Do I Get My Propane Smoker To Generate More Smoke?
Getting a propane grill to produce smoke is very easy; simply use the right type and size of wood chips.
Arrange your wood chips evenly on the tray and heat your gas smoker to a temperature between 225 and 250 degrees Fahrenheit.
Use the smoker's dampers to control the flow into the unit, and you will be generating more smoke in no time.
Can I Use a Gas Grill as a Gas Smoker?
Technically you can use a gas grill as a smoker; however, there are some limitations.
Gas grills were not designed to function as a smoker, which means you would not be able to maintain a low-temperature environment like the propane smoker was designed to smoke your meats.
Furthermore, some gas grills have a rift between the lid and the cooking grates, while smokers do not, which makes it that much harder to control the temperature.
Final Thoughts
Even though most BBQ experts turn their noses up at propane smoker's they are a reliable way to learn how to smoke meats. Furthermore, they are easier to use, maintain, and clean.
Now that you've decided to take the plunge into the world of propane smokers, you can purchase the perfect smoker and go forth and smoke delicious foods.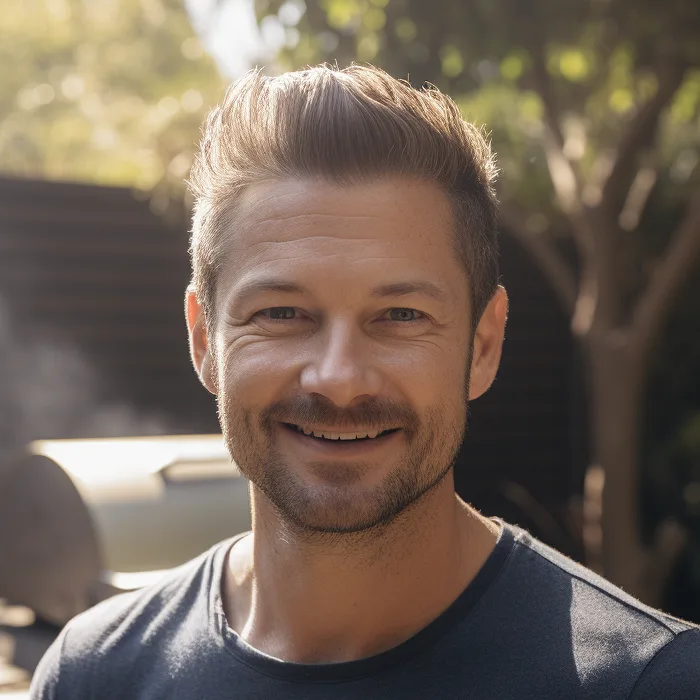 I have been smoking and grilling meat from an early age and enjoy sharing my knowledge and expertise through the hundreds of articles I have written about BBQ. I hope to make everyone's BBQ journey that little bit easier.