The people of St Louis love food. After all, it is the birthplace of gooey butter cake, cracker crust pizza, frozen custard, and so much more.
But did you know that the people of St Louis especially love barbecue? Continue reading to find the best BBQ deliciousness in the city.
Best BBQ in St Louis
Sharpshooter's Pit & Grill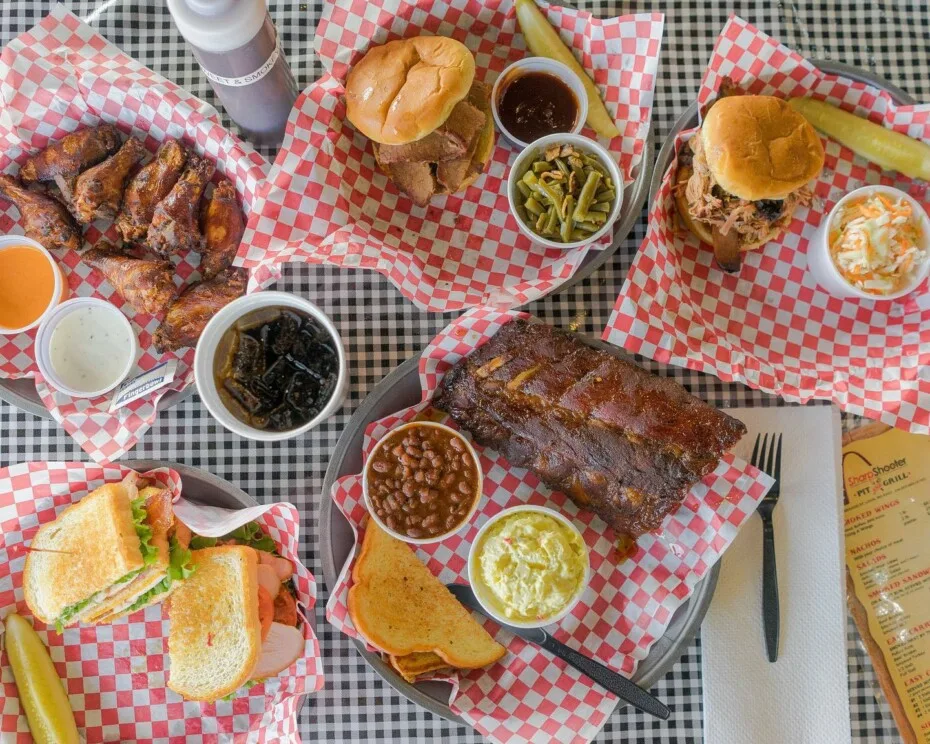 Who does not love smoky charred meat with an innovative twist? At Sharpshooter's Pit & Grill, succulent ribs and tasty briskets are served in an indoor shooting range.
The best part? Members get a 15% discount.
So head on to this spot to improve your shooting skills, and let's not forget to have a delicious hearty meal.
8135 Gravois Rd, St. Louis, MO 63123, United States
+1 3143534745
11:00 am – 7:00 pm, Wednesday – Saturday. 12:00 pm – 5:00 pm, Sunday. Monday and Tuesday are closed.
J Smug's Gastropit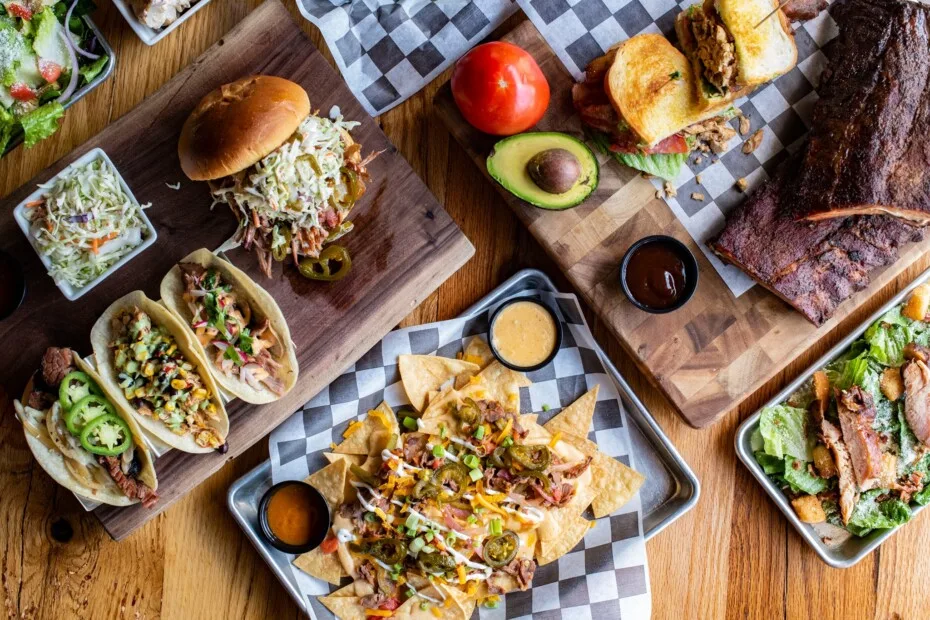 Inclusivity is the top priority for J Smug's GastroPit. From carnivores to vegetarians and even vegans, everyone can enjoy the delicacies here.
From plant-based burgers to smoky beef briskets slathered with cheese, this place has it all!
Their main highlight, however, is the ingenious starters like cheesy smoked meatballs and charred mushrooms.
4916 Shaw Ave, St. Louis, MO 63110, United States
+1 3144997488
4:00 pm – 10:00 pm, Sunday – Thursday. 11:00 am – 11:00 pm, Friday – Saturday. Mondays are closed.
Pappy's Smokehouse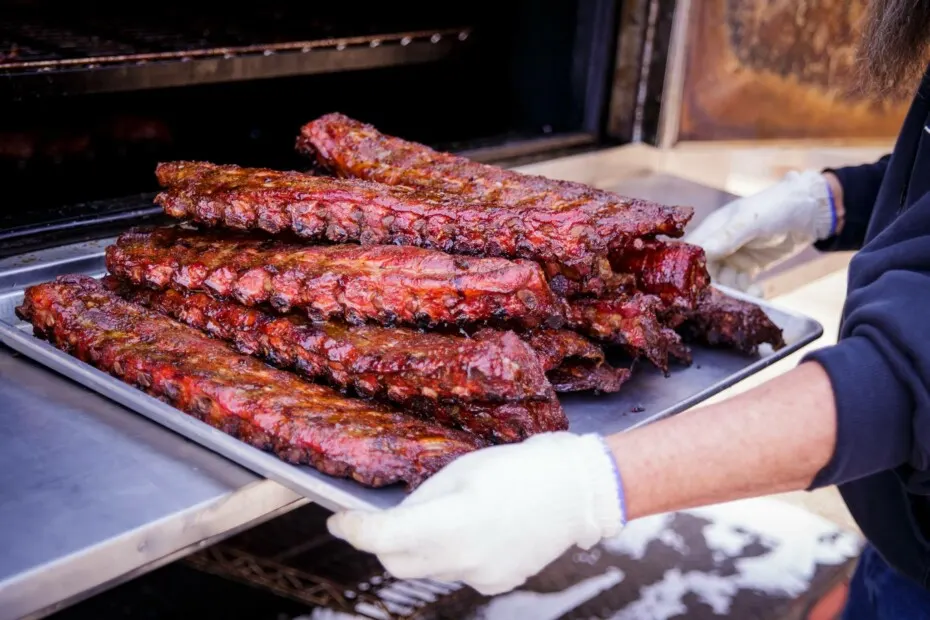 Known as the best ribs in America, Pappy's Smokehouse is not here to play as they are the true definition of St Louis- style sweet, spicy, and saucy ribs.
Pappy's is truly one of a kind. The best part, you can get them anywhere!
Their food truck flooded with juicy meat brings joy to all parties anywhere and everywhere. Yes, their services are amazing, but so is their food.
Never reheated, smoked with cherry wood for a whole day, and that is not all, they even have special sauces! It just does not get better than this.
3106 Olive St, St. Louis, MO 63103, United States
+1 3145354340
11:00 am – 4:00 pm, Wednesday and Sunday. 11:00 am – 6:00 pm, Thursday – Saturday. Monday and Tuesdays are closed.
Beast Butcher & Block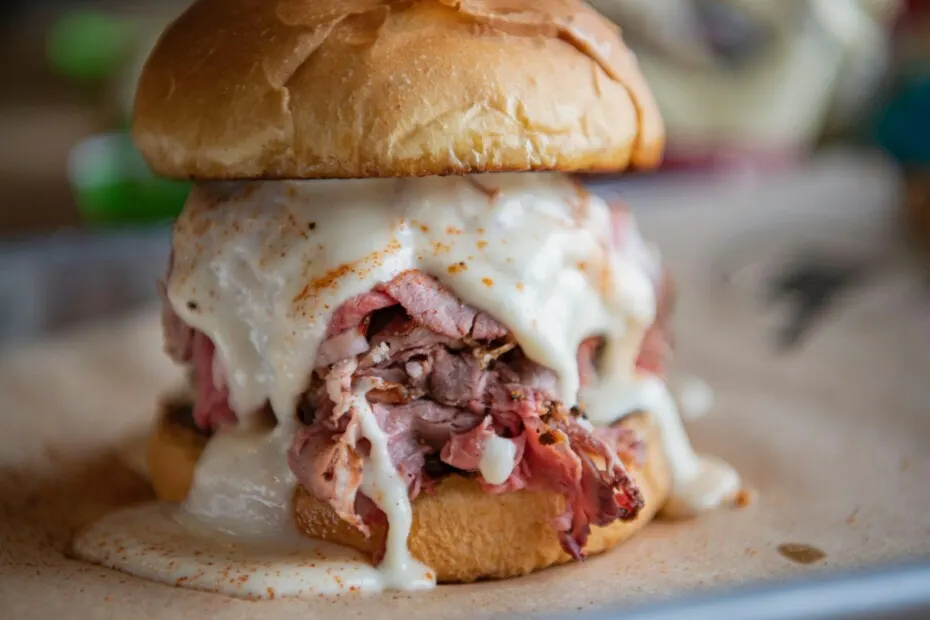 Barbecue merged with live interaction at the Chef's table is the delight BEAST Butcher & Block offers.
Known as "The Skullery', it is the only spot that offers a live kitchen while the Chef dons his culinary prowess.
BEAST, however, has other specialties as well, like fire-smoked rotisserie chicken and group meat carvings. BEAST is all about the meat experience.
From eating, carving, smoking to even learning about meat, one can call it the meat heaven of St Louis.
4156 Manchester Ave, St. Louis, MO 63110, United States
+1 314 9446003
11:00 am – 8:00 pm, Tuesday – Sunday. Mondays are closed.
BBQ Saloon
Live music and the best bourbon bar combined with a juicy barbecue are what BBQ Saloon is all about.
They serve beef, pork, and salmon but they also serve barbecued alligators. How cool is that!
We would not miss out on such a unique experience if it were up to us. It's the perfect BBQ spot for families as they also offer platters.
4900 Laclede Ave, St. Louis, MO 63108, United States
+1 314 8336666
3:00 pm – 1:00 am Sunday and Wednesday. 12:00 pm – 1:00 am Thursday – Saturday. Mondays are closed.
Smoking Barrels BBQ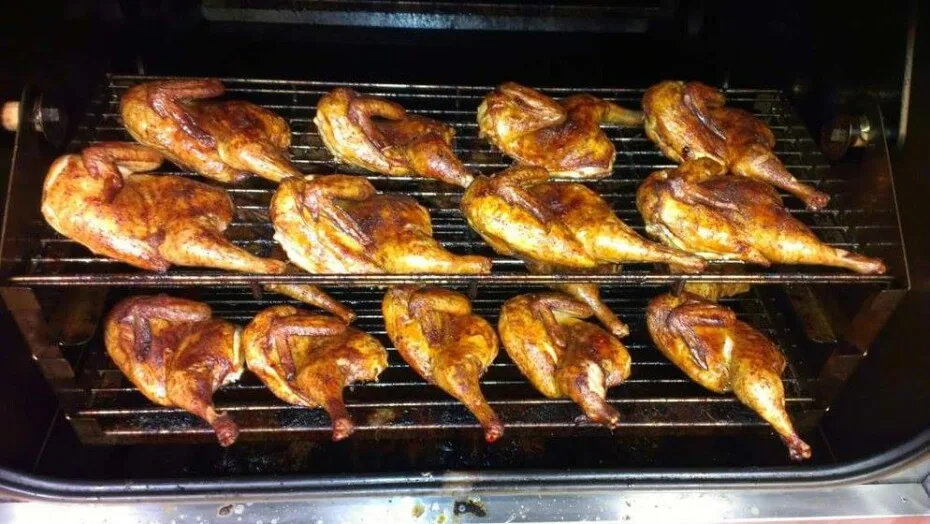 When you think of BBQ, what comes to mind? Beefy brisket, juicy ribs, scrumptious sides? Well, Smoking Barrels is the epitome of the most traditional barbecue out there.
With a cozy and humble interior topped with delicious barbecue. Plain and simple, they are one of the best barbecue spots in St Louis.
Nachos, pulled pork, wings, tenders, and potato skins are some of their best sides on the menu.
Don't forget to ask for extras as you're going to order some later anyways.
5641 S Kingshighway Blvd, St. Louis, MO 63109, United States
+1 3146699455
11:00 am – 9:00 pm, Monday – Sunday.
The Midwestern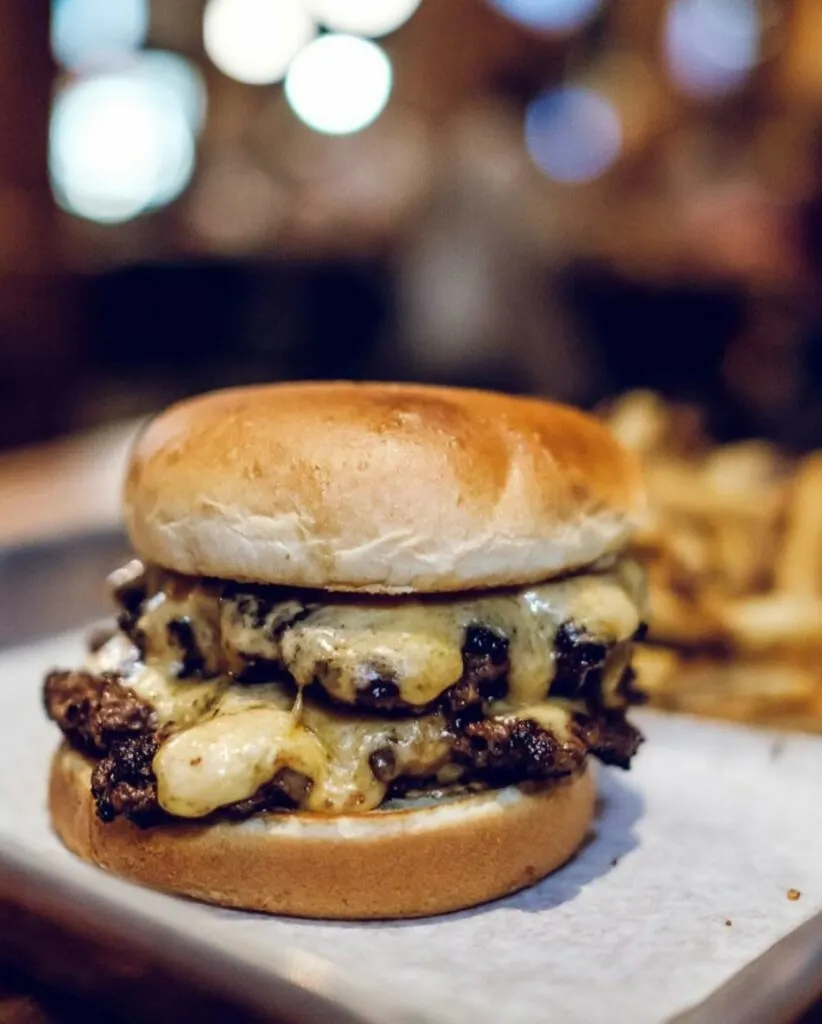 Charred chicken topped with cheese, Mac, and cheese loaded with brisket, nachos flooded with Queso, and sour cream and garnished with the meat of your choice.
Is your mouth watering just by reading about the deliciousness at The Midwestern?
Well, imagine eating it! It is a true treat for the taste buds.
Everything here is made with absolute love and care, so this should be on the top of your list for barbecue spots to try out.
900 Spruce St, St. Louis, MO 63102, United States
+1 3146962573
11:00 am – 12:00 pm, Thursday. 11:00 am – 12:00 am, Saturday. 5:00 pm – 12:00 am, Friday. Sundays – Wednesdays are closed.
Sugarfire Smokehouse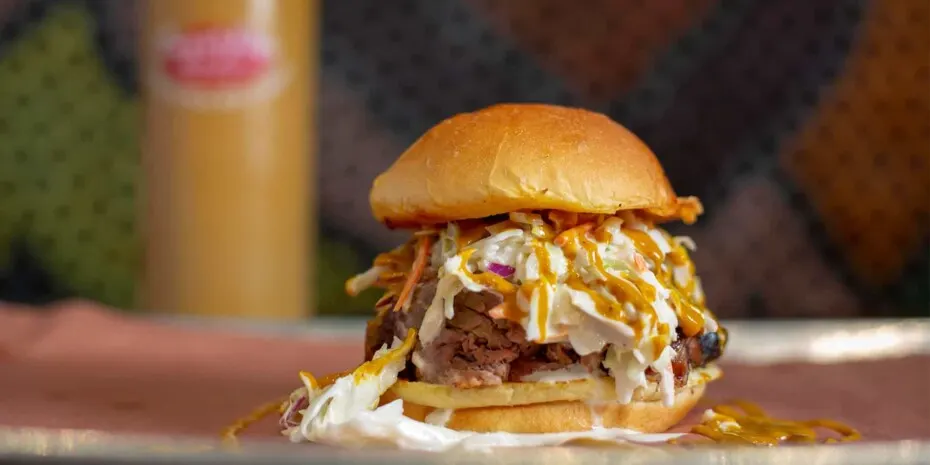 Their Cuban Reuben sandwich is the best not only in the state, not only in the country but the whole wide world!
Sugarfire Smokehouse is the home of out-of-this-world food, and they have proved it multiple times with the numerous awards they have.
Head on to Sugarfire to taste the heavenly award-winning Cuban Reuben sandwich.
9200 Olive Blvd #114, St. Louis, MO 63132, United States
+1 3149972301
11:00 am – 8:00 pm, Sunday – Thursday. 11:00 am – 8:30 pm, Friday – Saturday.
Salt + Smoke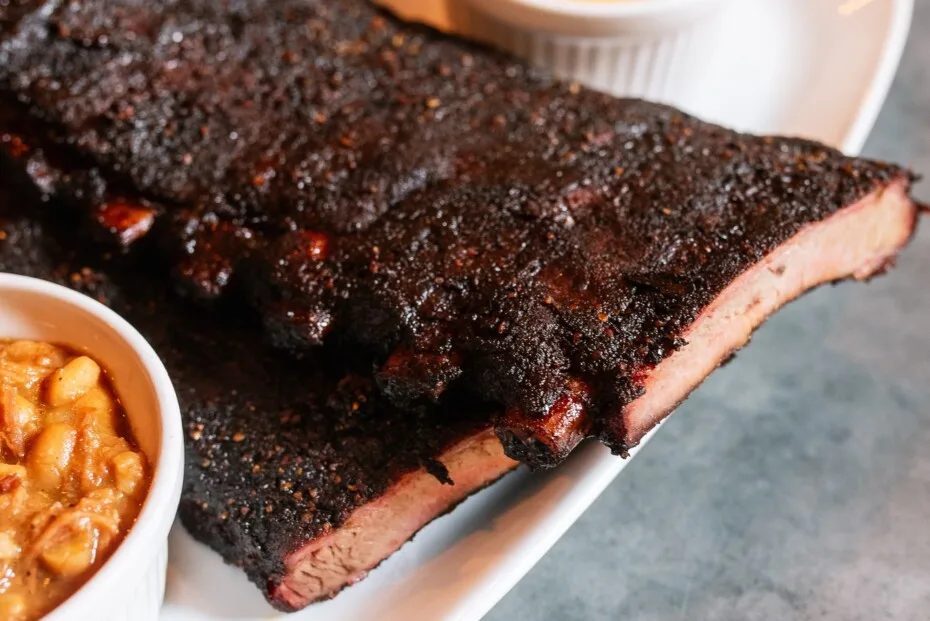 The three Bs of Salt +Smoke are what they believe makes them the best. You might be wondering what these 3 Bs are? Well, they are barbecue, beer, and bourbon.
The perfect combination of food and drink that floods the mouth with a tsunami of delicious flavors.
The main highlight is that they even have gluten-free options, and their wonderful cherry smoked salmon is one of a kind in St Louis.
6525 Delmar Blvd, St. Louis, MO 63130, United States
+1 314 7270200
11:00 am – 9:00 pm, Monday – Thursday. 11:00 am – 10:00 pm, Friday – Saturday. 11:30 am – 8:00 pm, Sunday.
Adam's Smokehouse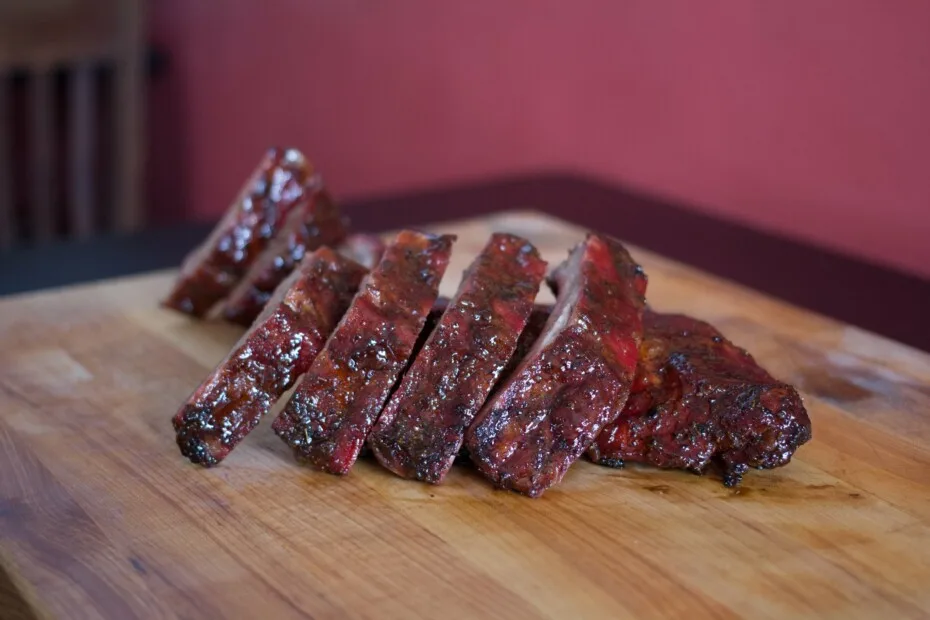 If you want great customer service and even greater barbecue, then head on to Adam's Smokehouse.
Popular in St. Louis for their delicious ribs, Adam's might look simple, but they can whip up a mean barbecue.
They are as traditional as it gets. Head on there if you like a good old serving of charred, smoky, meaty barbecue.
You'll spot the establishment from a mile away as they smoke their meats in the open.
2819 Watson Rd, St. Louis, MO 63139, United States
+1 314 8759890
10:30 am – 4:00 pm, Wednesday – Saturday. Sunday – Tuesdays are closed.
Bogart's Smokehouse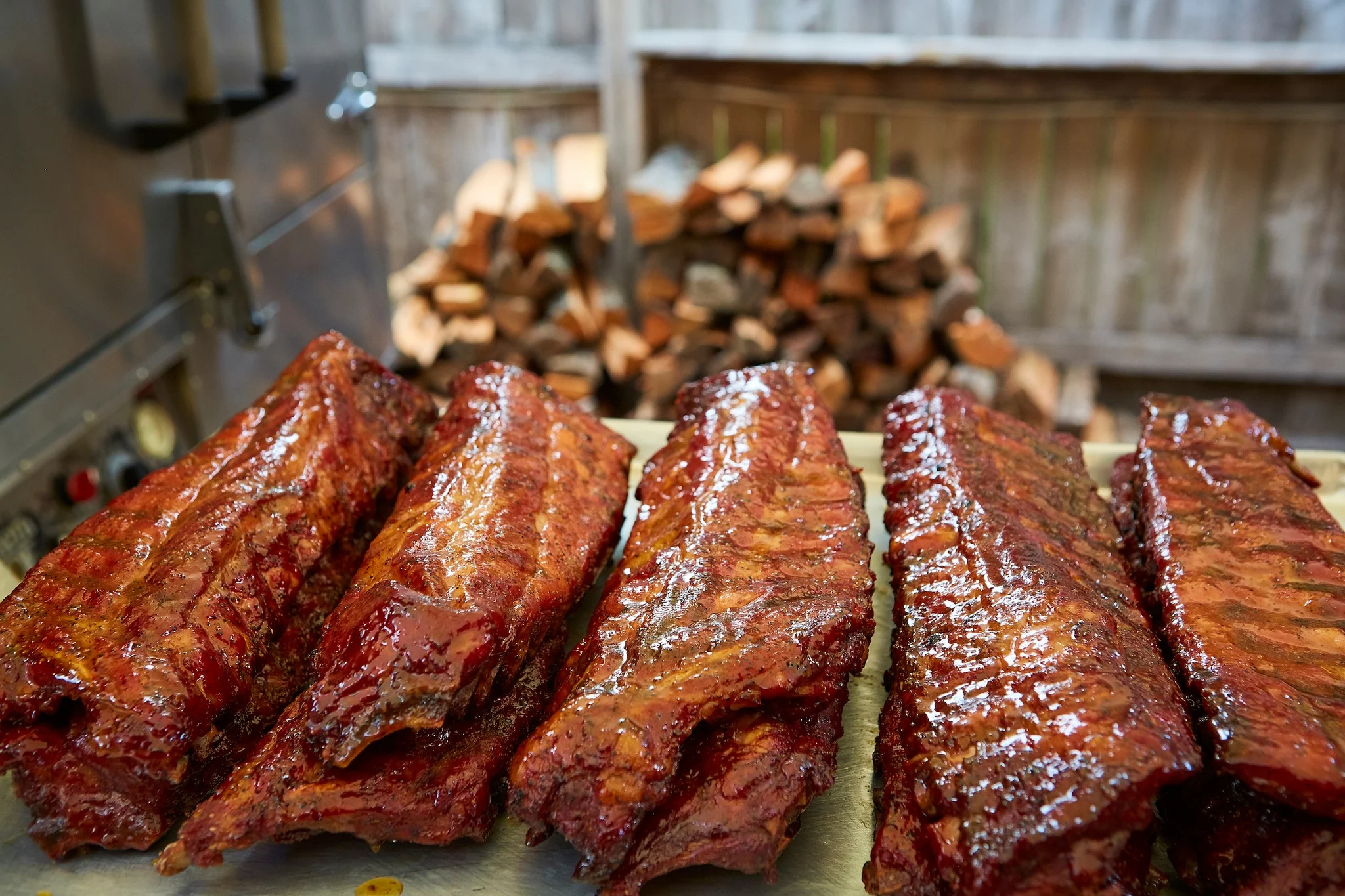 As part of the famous Pappy's Smokehouse family, Bogart's opened in 2011 and has served the area since.
Enter the bright yellow doors to dine inside or sit on the outdoor picnic tables to enjoy your meal.
Feast on meats like beef brisket, burnt ends, or fall-off-the-bone delicious ribs, and cool off with sweet & sour slaw or tangy fire & ice pickles.
The sauces here are buzz-worthy, too – try the Pineapple Express (and grab a bottle to go!).
1627 S 9th St, St. Louis, MO 63104
Tuesday -Saturday 10:30 AM-4 PM
+1 314-621-3107
The Shaved Duck Smokehouse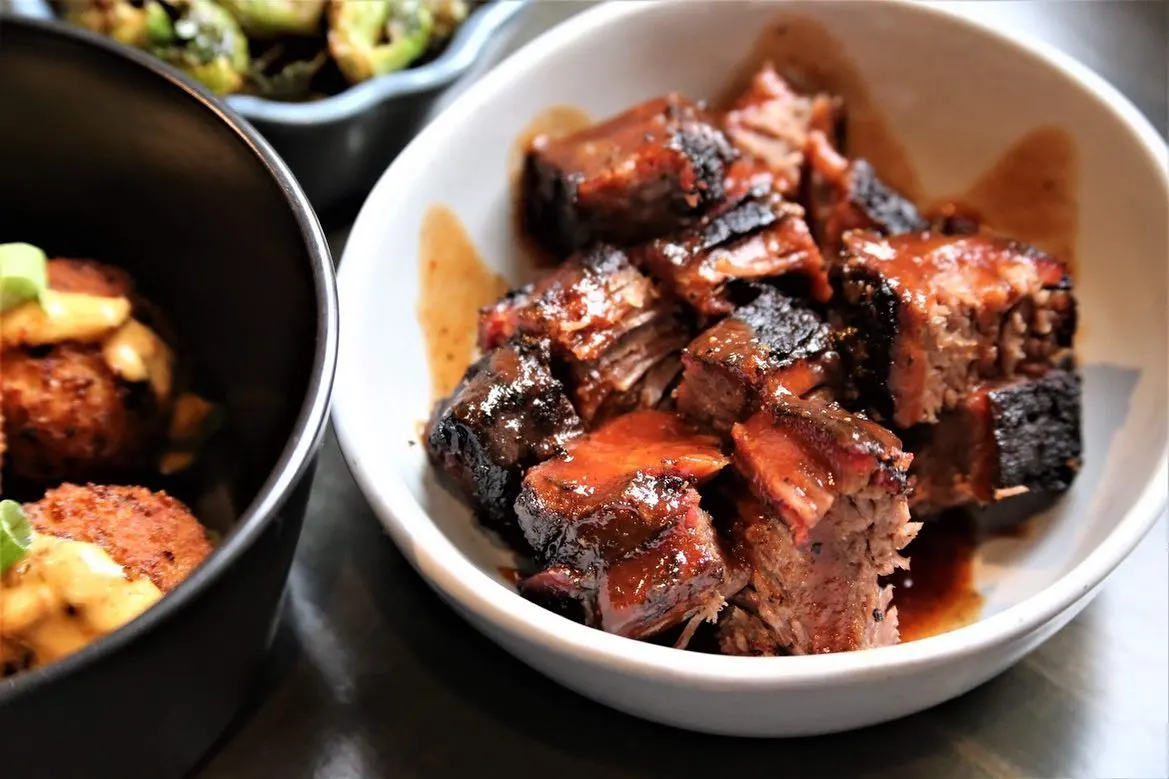 It's hard to forget a name like The Shaved Duck, but it's even harder once you sample their delicious food.
An extensive menu offers up appies like cheddar jalapeno hush puppies, burnt ends, or a mound of pulled pork smothered fries.
Smokehouse faves like the brisket burger and hickory smoked tri-tip sandwich with sides like baked beans and buttery smoked baby potato.
The food and atmosphere get two thumbs up – and of course, the quirky name, too.
2900 Virginia Ave, St. Louis, MO 63118
Tuesday-Thursday 4-9 PM; Friday & Saturday 12-9 PM
+1 314-776-1407
Smokee Mo's St. Louis BBQ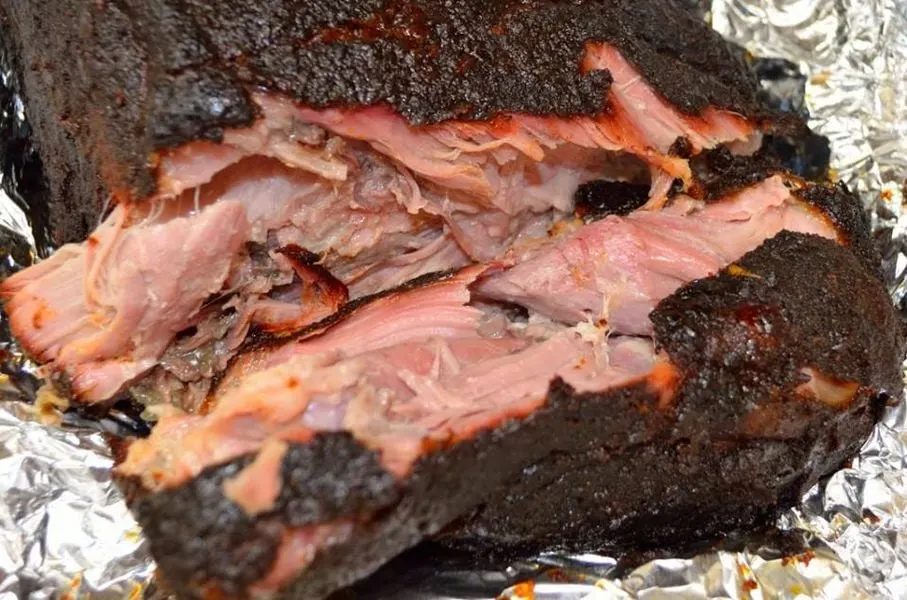 A sleek wooden building with high ceilings and clean interior, Smokee Mo's welcomes you with a comfy atmosphere and great BBQ.
Surprisingly, this is a spot where carnivores and vegans can sit under one roof and dine together. Jackfruit is the star of the vegan menu, smoked and smothered with BBQ sauce.
Meat lovers will rejoice in Smokee's baby back ribs, brisket, and smoked turkey, all full of flavor and cooked to perfection.
110 Old Meramec Station Rd, Manchester, MO 63o21
Wednesday-Monday 11 AM – 8 PM; Closed Tuesdays
+1 632-220-1227
The Stellar Hog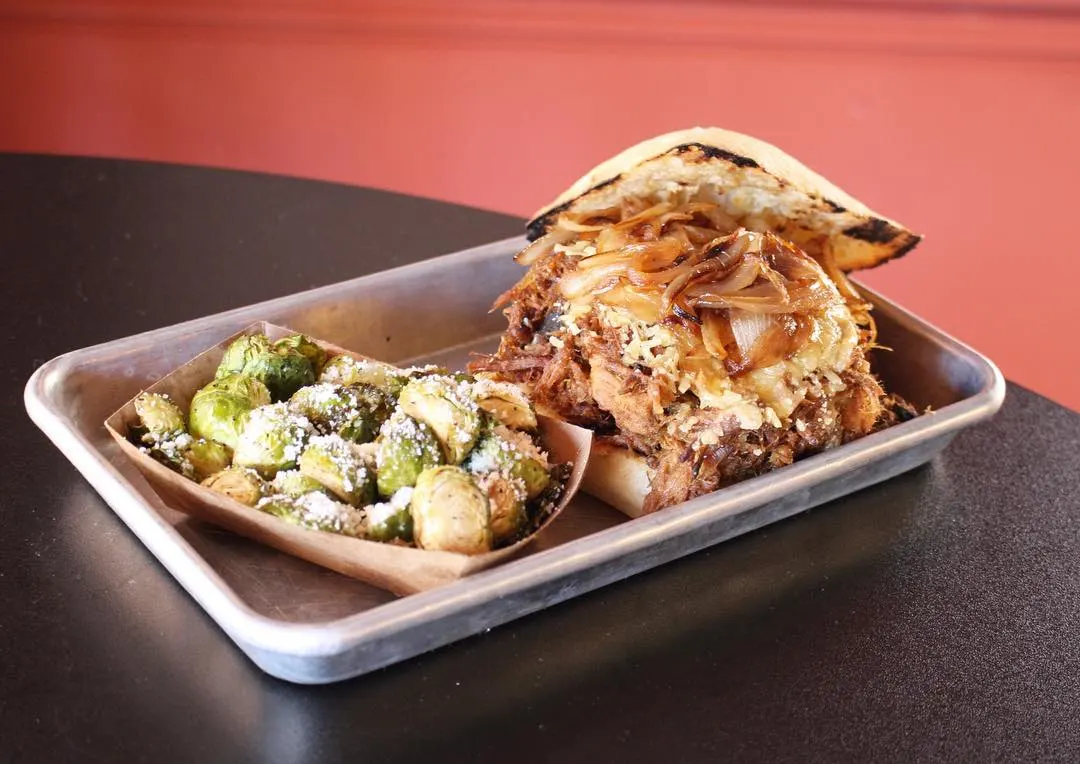 Get ready for some otherworldly BBQ from St. Louis's family-owned The Stellar Hog. A relaxed spot, they've got a classic feel, spacious outdoor seating, and some cool space-themed decor.
Top-quality meats, in-house rubs, and creative plates will have you coming back for more.
Customer favorites here are their Stellar Ribs, dry-rubbed and finished with a spicy-sweet honey chipotle glaze.
Smoky, salty corned beef brisket and classic beef brisket are all-stars, and their inventive S'more Bread Pudding is the perfect post-BBQ treat.
5623 Leona St., St. Louis, MO 63116
Thursday & Friday 4-8 PM; Saturday 12-8 PM; Sunday 12-6 PM
+1 314-481-8448
Dalie's Smokehouse
Another smokehouse in the Pappy's family, Dalie's Smokehouse serves up the West Country with quality items.
Switching it up a bit, they'll tempt you with dishes like the BBQ Ham n Cheese, Cuban Sandwich with chipotle mustard, and even a Smoking Vegan Sandwich using the mighty jackfruit.
The classic gang makes the cut, too, so you can dig into the beef brisket, pastrami, pulled pork, and sides like fried fire & ice pickles and Missoula slaw.
2951 Doughtery Ferry Rd, St.Louis, MO 63122
Tuesday-Saturday 11 AM-8 PM; Sunday 11 AM-6 PM
+1 636-529-1898
Dixon's BBQ
A pretty laid-back BBQ spot, Dixon's BBQ is a good place to check out for speedy service and a good BBQ meal.
If you love burnt ends, try out their popular sandwich or burnt ends plate with as much sauce as your heart desires.
Other standouts include chicken tips sandwiches and comfort foods like Mac N Cheese (Sundays only) and Chicken Moscacholi. Polish off some of their popular peach cobbler before leaving.
2549 Woodson Rd, Overland, MO
Thursday – Saturday 11 AM-7 PM; Sunday 11 AM-6 PM
+1 314-395-2855
Gobble Stop Smokehouse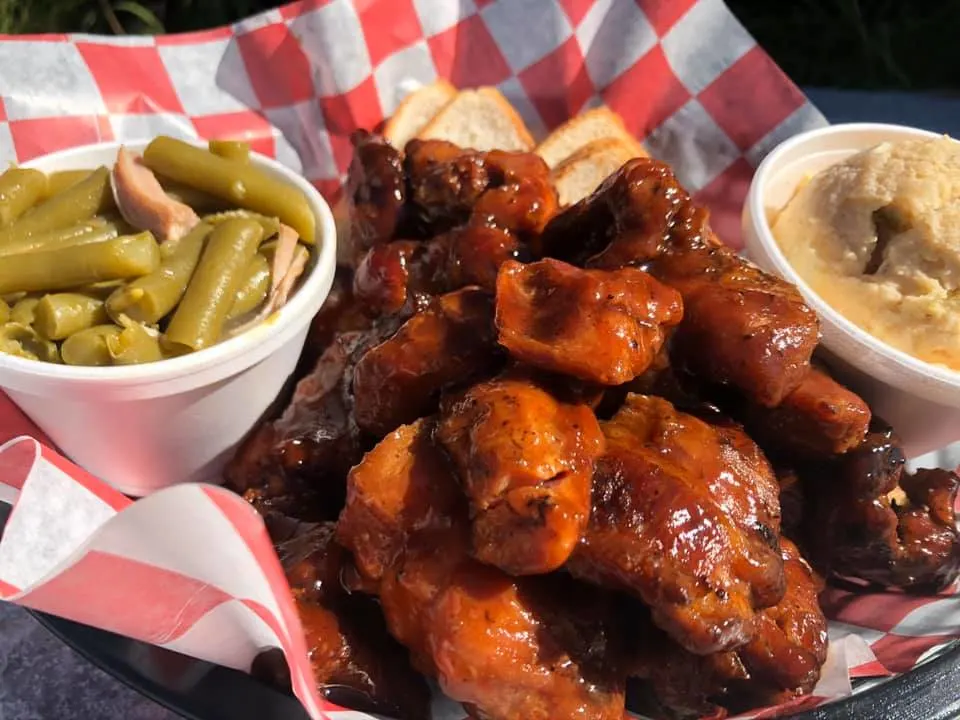 As they say themselves, Gobble Stop Smokehouse is "where the Bird is the word." For a little break from the classic BBQ, visit the friendly folks here for some of their many chicken and turkey creations.
Succulent and flavorful, they offer a wide array of options from buffalo pulled chicken sandwiches to fried turkey sandwiches and jumbo turkey legs served on Fridays.
Smother 'em with some of their signature sauces like hot mustard BBQ or the sweet 'n spicy glaze.
1227 Castillon Arcade Plaza, Creve Couer, MO 63141
Wednesday & Thursday 12 – 6 PM; Friday 12 – 8 PM; Sunday 12 – 6 PM
+1 314-878-5586
Smoke N Bones BBQ
Generous portions, friendly service, and finger-licking good food is the Smoke N Bones BBQ trifecta. Unassuming from the outside, this spot focuses its energy on quality dishes.
Try out popular items like the smoked pulled pork plate or smoked rib plate, and pile the sides up high with BBQ beans, potato casserole, and fried corn on the cob.
You can get sandwiches, lunch plates, dinner platters, or a la carte – whatever suits your level of hungry!
6417 Hampton Ave, St. Louis, MO 63109
Tuesday-Sunday 11 AM-9 PM
+1 314-932-1355
Hogtown Smokehouse
If you're in Dogtown, a visit (or two) to Hogtown Smokehouse is an absolute must. Customers who frequent this spot will rave about the wings, candied bacon, and some of the best frito pie around.
Get your BBQ fix of corned beef, brisket, ribs, and more by the tray, sandwich, or pound.
A few fresh salad options are available or go for the tried-and-true cool, creamy slaw or tangy mustard potato salad. Whichever you choose, you'll be back for more.
6301 Clayton Ave, St. Louis, MO 63139
Wednesday & Thursday 11 AM – 8 PM; Friday 11 AM – 9 PM; Saturday 12-9 PM; Sunday 12- 8 PM
+1 314-899-0550
Sawmill BBQ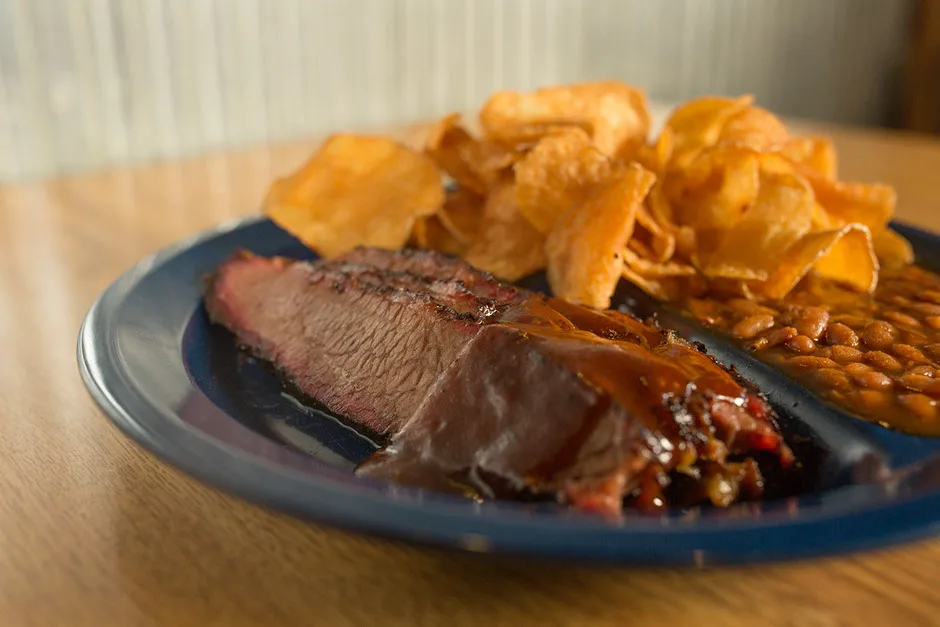 Located in the Cahokia RV Parque, Sawmill BBQ runs the show out of a wooden building with lots of character and a clean, simple dining room.
Whet your appetite with starters like toasted ravioli and fried pickles, then dive into the generous main platters of pulled pork, beef brisket, and turkey breast.
Each platter comes with two sides, but whatever you decide on, make sure one of them is the potato salad. Trust us on that one.
4060 Mississippi Ave, Cahokia, IL 62206
Monday-Saturday 10 AM – 8 PM
+1 618-332-3000
You might also be interested in: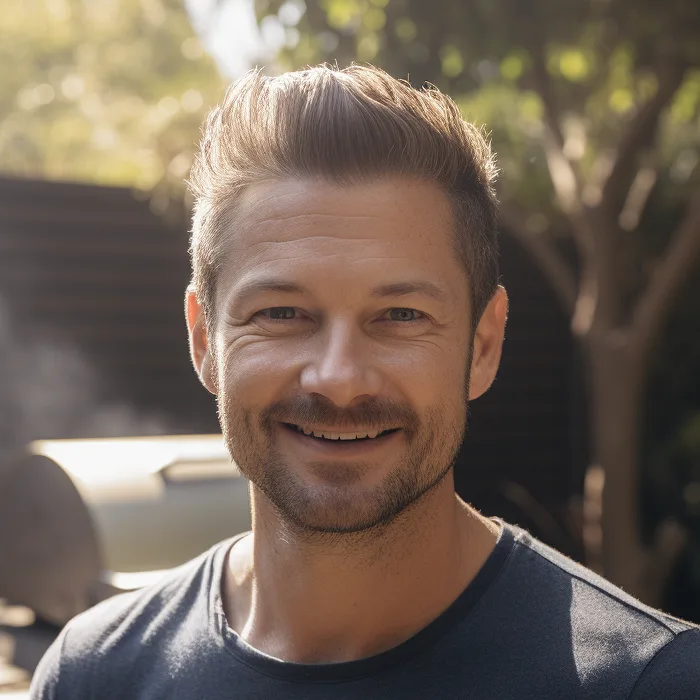 I have been smoking and grilling meat from an early age and enjoy sharing my knowledge and expertise through the hundreds of articles I have written about BBQ. I hope to make everyone's BBQ journey that little bit easier.