Los Angeles, as everyone knows, is the city of stars. You will find glamour, red carpets, celebrities, and a whole lot of gossip surrounding their every move.
But the one thing that you are missing in this city that deserves a similar recognition is BBQ.
You will want the paparazzi to take some shots of the deliciously charred meat coming off the grills. It is that good.
Take a look through our list of the top 10 best BBQ in LA to see where you can eat tonight.
Best BBQ in Los Angeles
Bludso's Bar & Que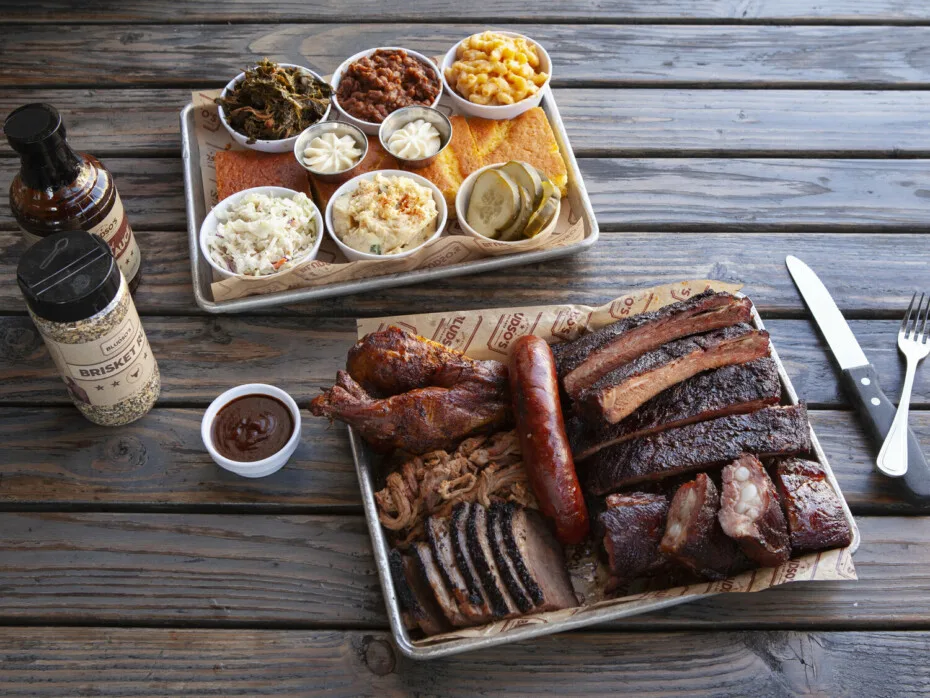 Bludso's Bar & Que has brought the traditional Texas-style BBQ into the city.
If you want the flavors of the messy beef ribs, charred chicken glazed with the smoky sauce, and briskets cooked over a slow flame, try out this eatery.
They have televisions to keep you busy while you wait for your order.
609 N LA Brea Ave., Los Angeles, CA, 90036
+1 323 9312583
11:30 am-3:00 pm, 5:00 pm-9:30 pm, Monday-Thursday. 11:30 am-3:00 pm, 5:00 pm-10:00 pm, Friday. 12:00 pm-10:00 pm, Saturday. 12:00 pm-9:00 pm, Sunday.
Ragtop Fern's BBQ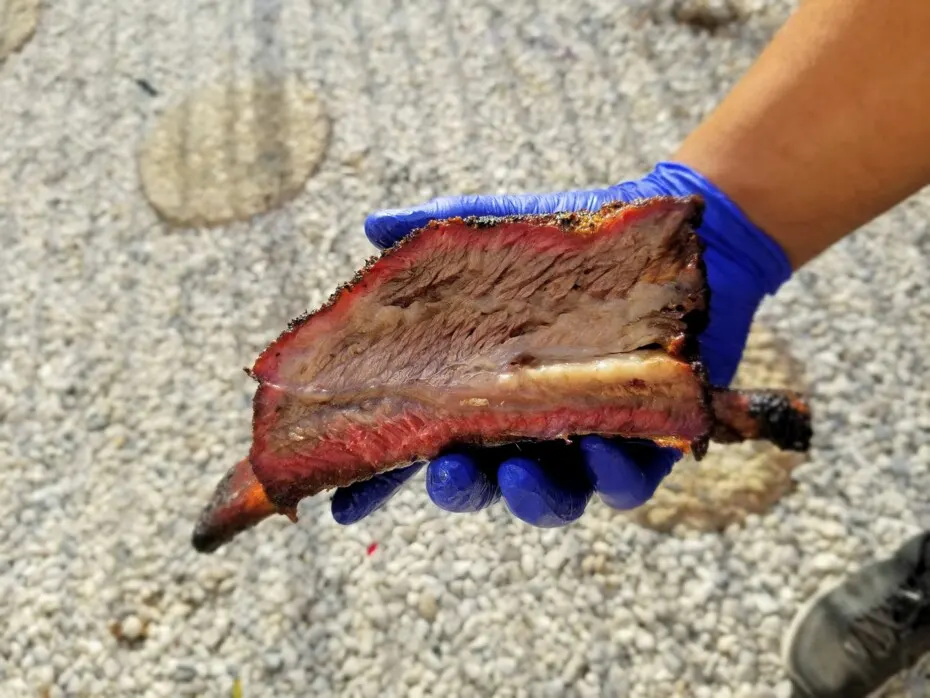 Ragtop Fern's BBQ has a very unique vibe about it. It is built in the form of a small place in front of an apartment building.
A guy serves different options of either smoked vegetables or glazed meat as per your choice.
The ribs are a standout with their crunchy crust, and brown meat dipped in a saucy BBQ glaze.
120 S. Westmoreland Ave, Los Angeles 90004
12:0 pm-3:00 pm, Saturday and Sunday. Monday–Fridays are closed.
Max City BBQ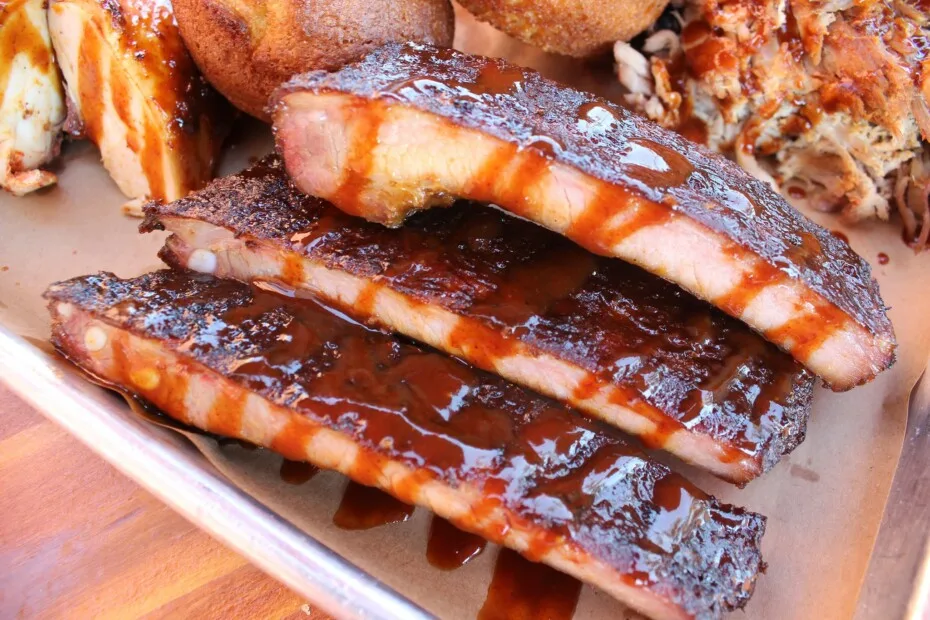 Max City BBQ is the place to go if you are in the mood for the traditional slow-cooked classics.
They have all kinds. The beef briskets, chicken, cooked over low-flame, and ribs are dipped in the tantalizing sauces.
We recommend getting your fingers sticky with some ribs, baked beans, and a side of cornbread. It doesn't get any better than this.
4729 Eagle Rock Blvd., Los Angeles, CA 90041
+1 323 2544227
4:00 pm- 8:00 pm, Monday and Tuesday. 11:30 am- 8:00 pm, Wednesday – Thursday, and Sunday. 11:30 am-9:00 pm, Friday – Saturday.
Woody's Bar-B-Q
When you are in the mood to get your hands messy, go visit Woody's Bar-B-Q.
They have the traditional southern-style meat cooked until just the right color and crust appears.
But the conventional taste of salt and pepper steaks has been replaced by dripping tangy and spicy sauces.
3446 W. Slauson Ave., Los Angeles, CA, 90043
+1 323 2949443
11:00 am-10:00 pm, Monday-Thursday. 11:00 am-12:00 am, Friday and Saturday. 12:00 pm-10:00 pm, Sunday.
The Park's Finest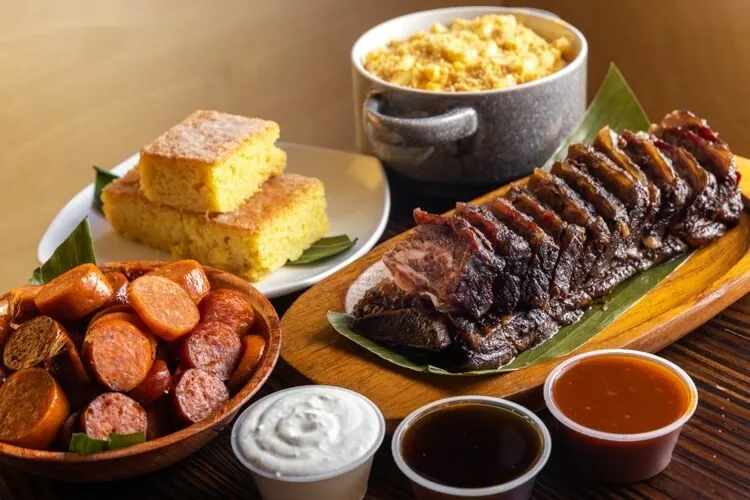 The Park's Finest is another restaurant that is part of the diverse culture in town.
They serve a Filipino-based infusion on the smoked meat that you have been craving for.
If you want to try the chicken cooked over pecan wood in a casual setting, do try taking your time out to eat here. It's unique and tasty!
1267 W. Temple St., Los Angeles 90026
+1 213 4812800
5:00 pm-10:00 pm, Monday. 11:00 am- 10:00 pm, Tuesday-Sunday.
Slab Barbecue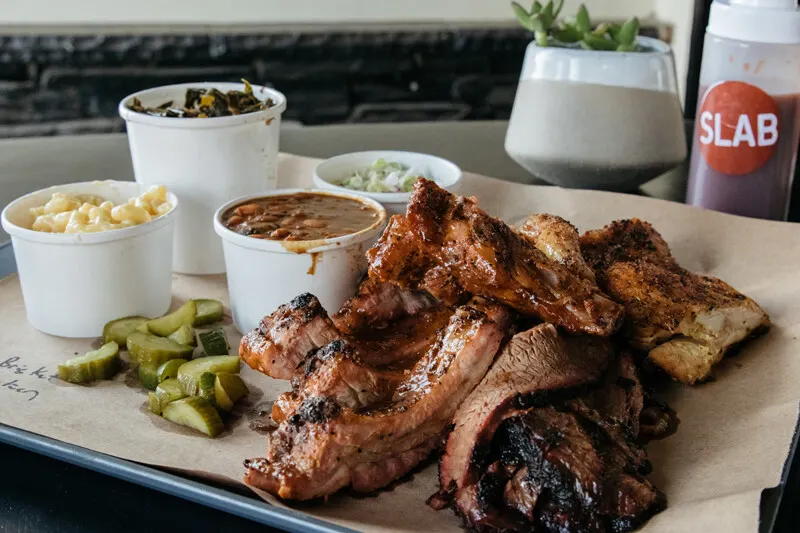 Slab Barbecue should be on your list if you are seeking the best briskets in town.
Served in the traditional form of BBQ, you will find the essence of the Texas taste in their meat. They usually take up orders until their stock runs out.
You can always try your luck because the dishes will be worth your wait.
8136 W, 3rd St, Los Angeles, CA 90048
+1 310 8557184
11:00 am- 9:00 pm, Monday- Sunday.
Apl Restaurant / Apl BBQ
The meat that is cooked over wood has a taste that the grill cannot provide.
Luckily, APL Restaurant / APL BBQ serves the best-smoked meat cooked over wood, which will make your mouth water.
The wood combined with the smoke gives off a beautiful flavor to their specialties and the briskets and ribs.
1680 Vine St., Los Angeles, CA 90028
+1 323 4161280
12:00 pm- 9:00 pm, Tuesday-Saturday. Mondays and Sundays are closed.
Phillips Bar-B-Que
Phillips Bar-B-Que is where you want to go when you are in the mood for great-tasting food but not so hyped about dining in.
They do not have a proper setup to entertain you, but they are available for takeaway services.
If you want a taste of the spicy wonders LA has to offer, this place will attract you.
The sauce-covered messy ribs, crunchy brown briskets, and chicken are covered in a smokey spicy sauce.
It will leave your eyes watering but your mouth wanting more of that spicy, wholesome treat.
2619 Crenshaw Blvd, Los Angeles 90016
+1 323 7314772
11:00 am-6:00 pm, Tuesday- Sunday. Mondays are closed.
Horse Thief BBQ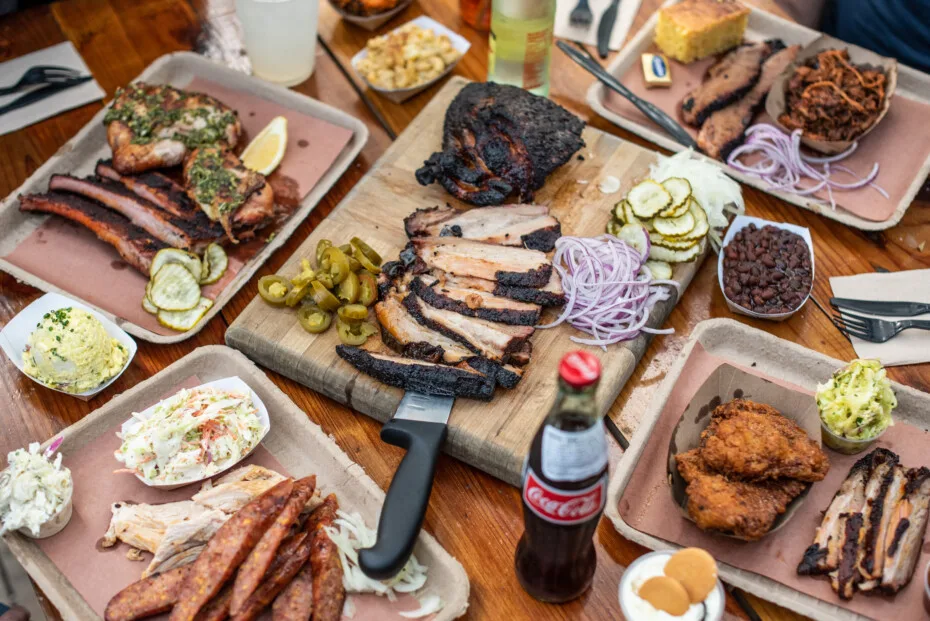 A BBQ meal is not complete if you have not tasted the fatty cuts of the meat.
Maintaining the calories is a loss here at Horse Thief BBQ, but for the right reasons, if you can, take it.
They have adopted the simple approach but have enhanced the taste of BBQ in its true essence, smoke, and charred richness.
The brisket has to be the most famous treat on their menu.
Legend has it that you can order any amount of white bread that you wish to eat. It is complimentary on their menu.
324 S Hill St., Los Angeles, CA 90013
+1 2136250341
11:00 am-9:00 pm, Thursday-Sunday. Mondays are closed.
Moo's Craft Barbecue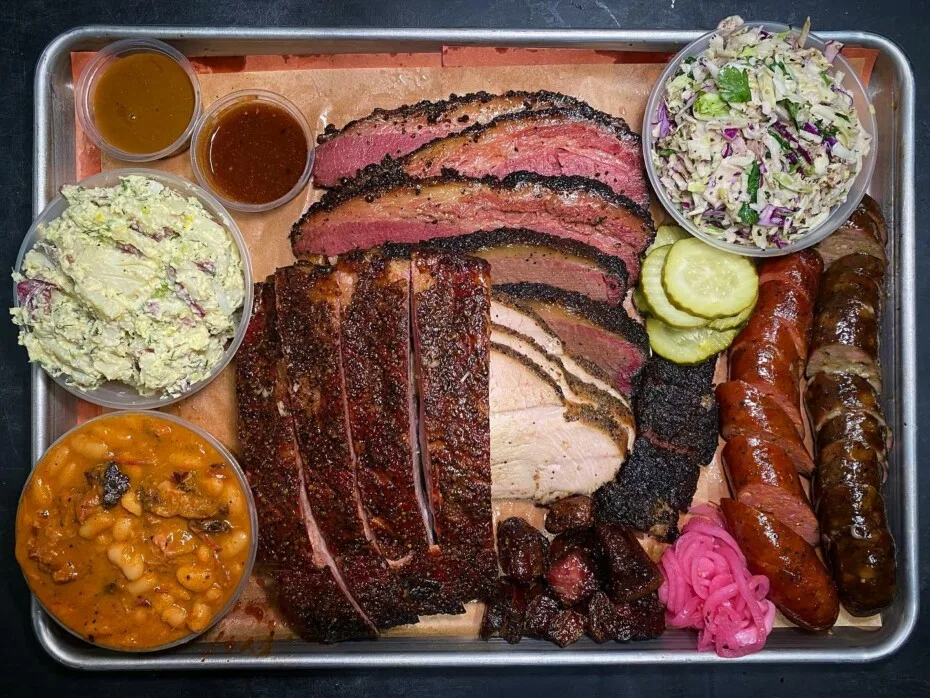 If you are planning on visiting Moo's Craft Barbecue, they are only open on Sundays for lunchtime.
But don't change your plans just yet. Even if they just serve one day, it is worth it to go and takeaway your order from this eatery.
You will find long lines from their place just to get a taste of the amazing southern-style BBQ.
They are big on sandwiches that have the smoky meat wrapped up in sauces and toasted bread to do wonders in your mouth.
777 S Alameda St., Los Angeles, CA 90021
+1 718 9286603
11:00 am-3:00 pm, Sundays. Monday-Saturday is closed.
You might also be interested in: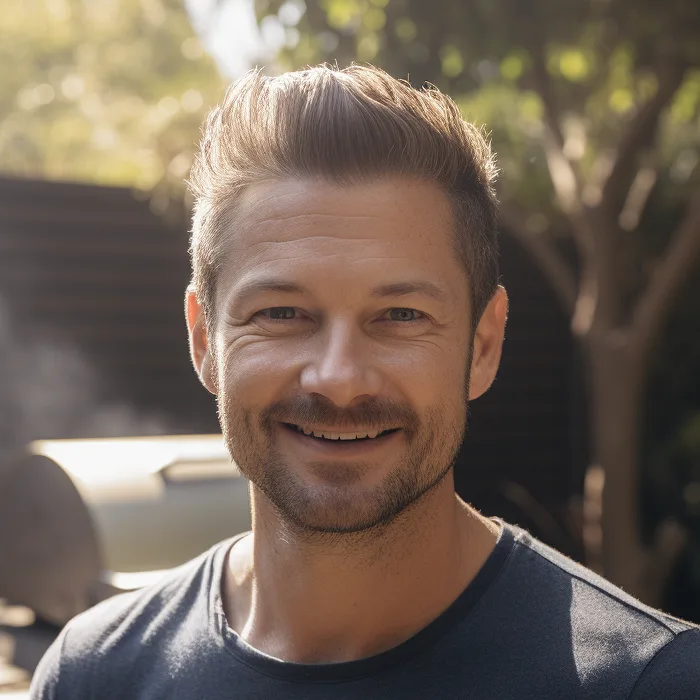 I have been smoking and grilling meat from an early age and enjoy sharing my knowledge and expertise through the hundreds of articles I have written about BBQ. I hope to make everyone's BBQ journey that little bit easier.