Orange County is well-known for Anaheim's Disneyland Resort, theme parks, surf beaches, surfing museums.
It has lively and dazzling towns which allure tourists all over the world. With its rich culture, there are a lot of things you can do.
The Orange County Fair is buzzing with activities, live entertainment, and fresh foods in Costa Mesa.
Restaurants and food booths are available in various places within the county, with unique flavors and recipes hard to find in other places.
If you are visiting or intend to visit Orange County and you happen to be a BBQ fan, below is a list of the 8 best BBQ places in Orange County that offer scrumptious BBQ.
Best BBQ in Orange County
Smoqued California BBQ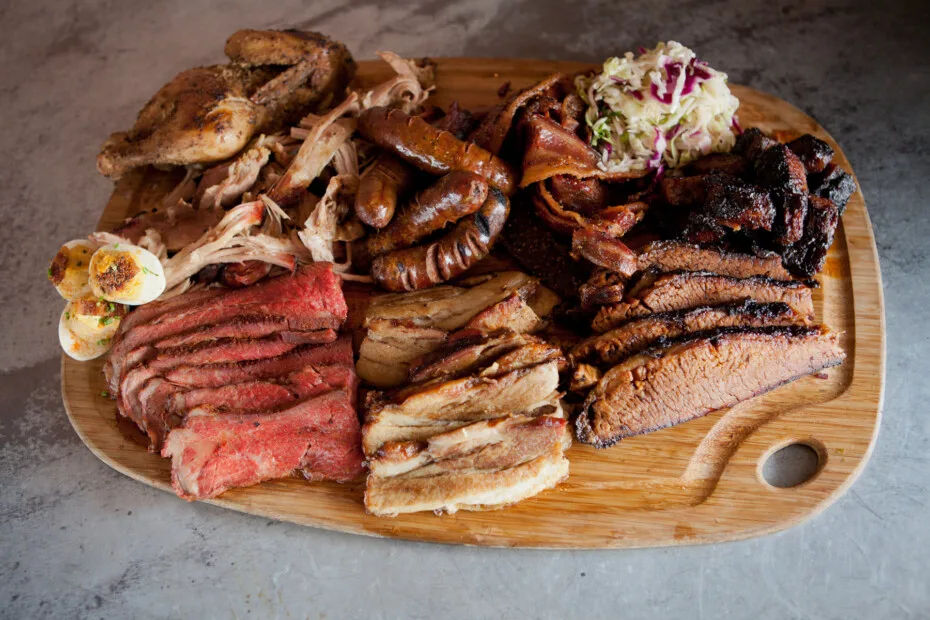 Smoqued California BBQ offers smoked in-house meats that are trimmed, rubbed, seasoned, and made spicy by hand. It is a change to some home staples. Meats are low and slowly cooked.
The establishment also offers a beer and wine menu to complement the meat.
The food is always delicious with large servings and lots of meat. The staff is nice and friendly, and they deliver great service.
You could try the burnt ends for appetizers because they taste out of this world.
You should definitely have their mac and cheese and pulled pork nachos as well. Trust us, you surely won't be disappointed.
128 N Glassell St, Orange, CA 92866, United States
Monday – Thursday, 11:30 AM – 10 PM. Friday – Saturday, 11:30 AM – 11 PM. Sunday, 11:30 AM – 10 PM.
+1 714 633 7427
Beach Pit BBQ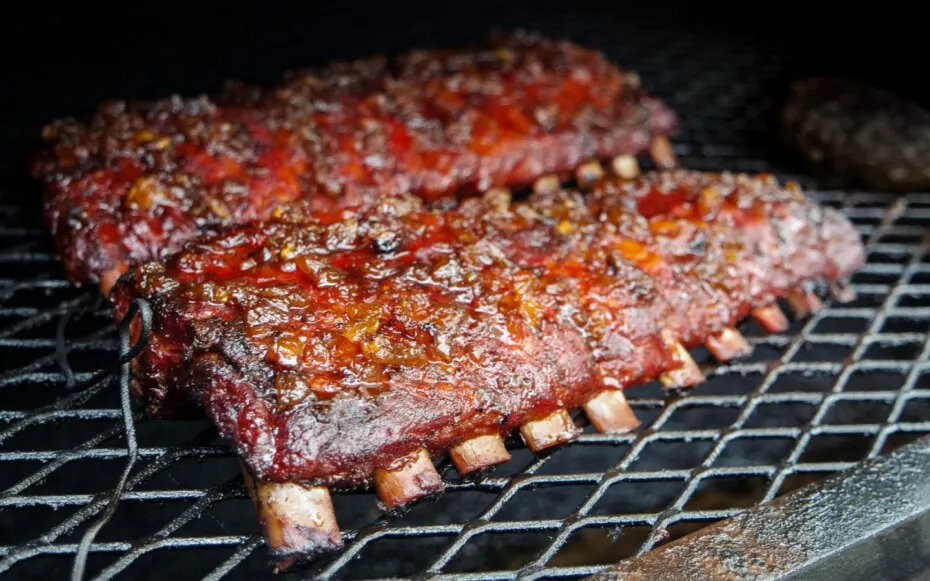 Beach Pit BBQ is now available in Costa Mesa and Laguna Niguel.
They offer different barbecue staples to enjoy, from beef brisket to pulled pork and sides like Blueberry Cornbread.
Recipes are homemade, and meats are slowly smoked to give it a charred and smoky taste.
It's a true gem of a place providing indoor and outdoor seating with awesome food.
There is a small cozy dining area with a big patio area. Food portions are great for the price, with a lot of choices to order from. They also offer takeout and reservations features.
BBQ beans and sauces are perfect, not too sweet nor too spicy. The St. Louis Ribs are smoky, tender, and leave a delicious aftertaste in the mouth.
1676 Tustin Ave, Costa Mesa, CA 92627, United States
Monday – Wednesday, 11 AM – 8 PM. Thursday – Sunday, 11 AM – 9 PM.
+1 949 645 7427
Meat Up BBQ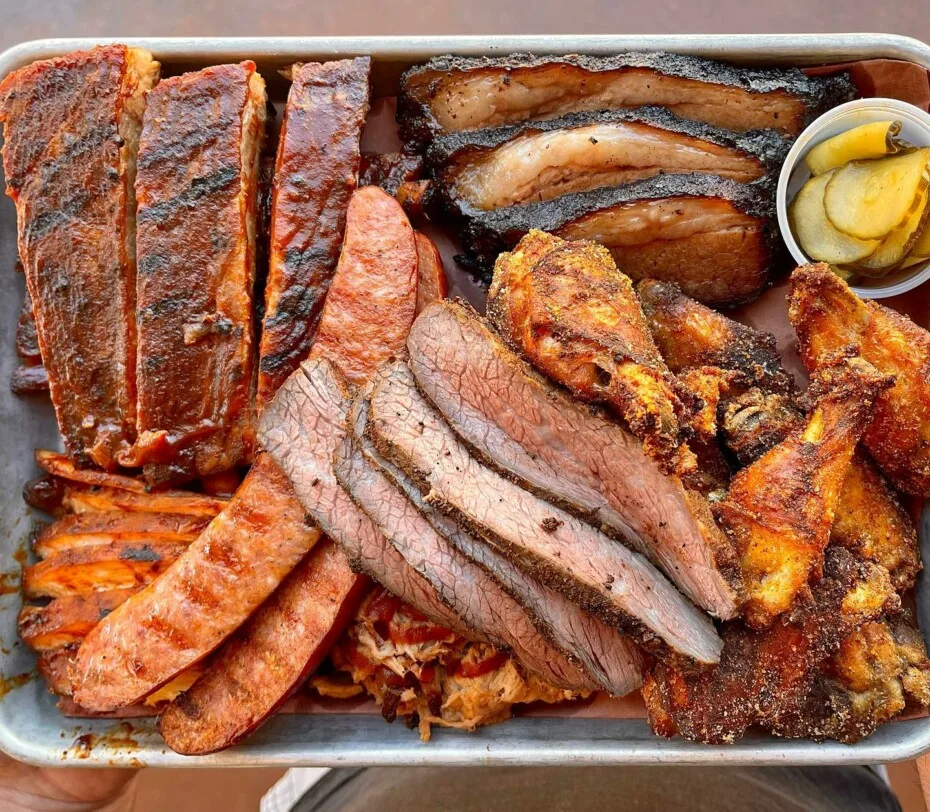 Meat Up BBQ is a West coast-style that offers counter-service joints with sandwiches, appetizers, burgers, and BBQ entrees like smoked chicken breast. You could also dine-in or Takeout.
Locally created craft beers are available on the beverage menu. It has an indoor and an outdoor dining area, and the atmosphere is nice and casual.
They offer great sides, and BBQ dry rub fries with a savory taste are an excellent choice.
Their half-rack ribs have a great smoky taste, leaving you wanting for more. You should try their tri-tip as they offer one of the best tri-tip and briskets in the area.
The food is rich in terms of quality and quantity. Meat Up BBQ is definitely a place that you should visit if you're looking for a great BBQ.
1450 N Kraemer Blvd, Placentia, CA 92870, United States
Sunday, Tuesday – Thursday, 11 AM – 8 PM. Friday, 11 AM – 9 PM. Monday Closed.
+1 714 983 7558
Tulsa Rib Company
Tulsa Rib Company is a neighborhood family-owned traditional BBQ. Here you will find all sorts of BBQ classics, zesty salads, homemade desserts, and delicious sides.
They have great decor and natural lighting that enhances the atmosphere.
Staff are extremely courteous (perfect southern hospitality in Orange County!) and offer awesome services. Food is tasty, and they give great-sized portions.
All side dishes are delicious and flavourful. If you have not tasted their Baby Back Ribs yet, you need to because it is coated in a mild and sweet sauce and very tender leaving a heavenly taste in your mouth.
220 E. Katella Ave, Orange, CA 92867, United States.
Monday – Thursday, 11 AM – 8:30 PM. Friday, 11 AM – 9 PM. Saturday – Sunday, 12 PM – 9 PM.
+1 714 633 3760
The Smoking Ribs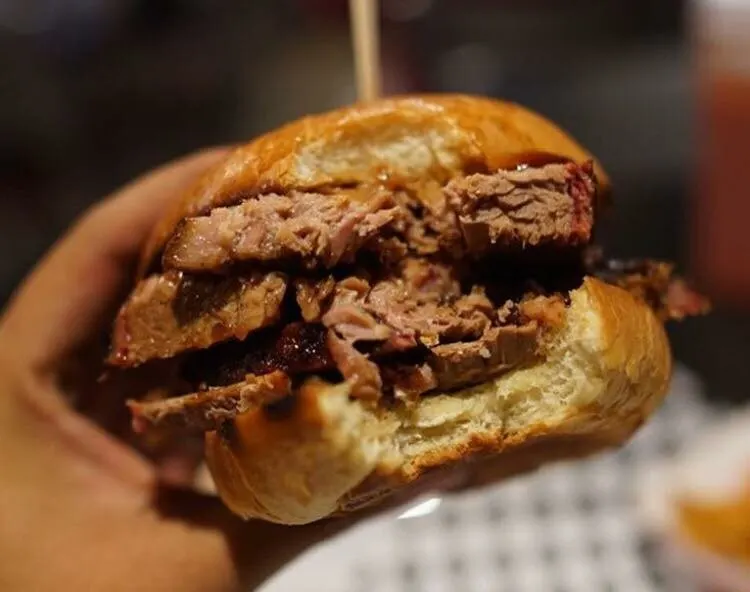 The Smoking Ribs is a strip mall in Garden Grove with characteristic traditional BBQ plates.
They offer super good-sized portions. It's a small restaurant which is quite busy, but the staff is sweet, efficient, and prompt.
Their smoked ribs are very meaty and well smoked. Their sides are absolutely delicious, and the blueberry corn muffin tastes super good.
You should visit this place if you love great barbecue and awesome service.
They have spicy, delicious BBQ sauce, which you can have with your ribs and brisket to give you a yummy and spicy taste.
The food is flavourful, and the brisket is so phenomenal, one of the best you can get in the city.
14211 Euclid St D, Garden Grove, CA 92843, United States
Monday, Wednesday, and Thursday, 11:30 AM – 7:30 PM. Friday – Sunday, 11:30 AM – 8:45 PM. Tuesday Closed.
+1 714 867 6057
Leadbelly's Barbecue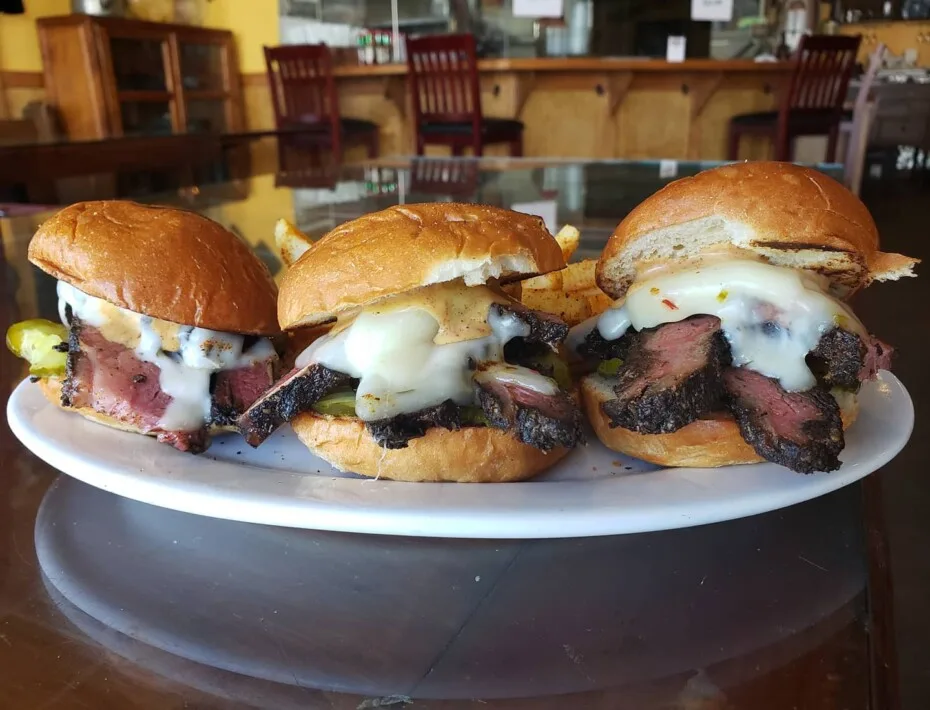 Leadbelly's barbecue is a BBQ joint serving house-smoked meats and Southern sides in a casual and cozy environment. Their service options include dine-ins, takeaways, and delivery.
Their meals are huge and filling. Fries are crispy and well-flavored.
Their signature loaded pork fries have the pork belly well cooked with a great quantity of cheese. Employees deliver promptly and are really lovely to interact with.
You should try out their chorizo slider. It is very flavourful, and the taste is unforgettable. Cornbread and hush puppies taste perfect too. BBQ taste is exceptional, and their sides taste even better.
711 N Placentia Ave, Fullerton, CA 92831, United States
Sunday – Thursday, 11 AM – 8:30 PM. Friday – Saturday, 11 AM – 9 PM.
+1 714 646 9560
Beale's Texas BBQ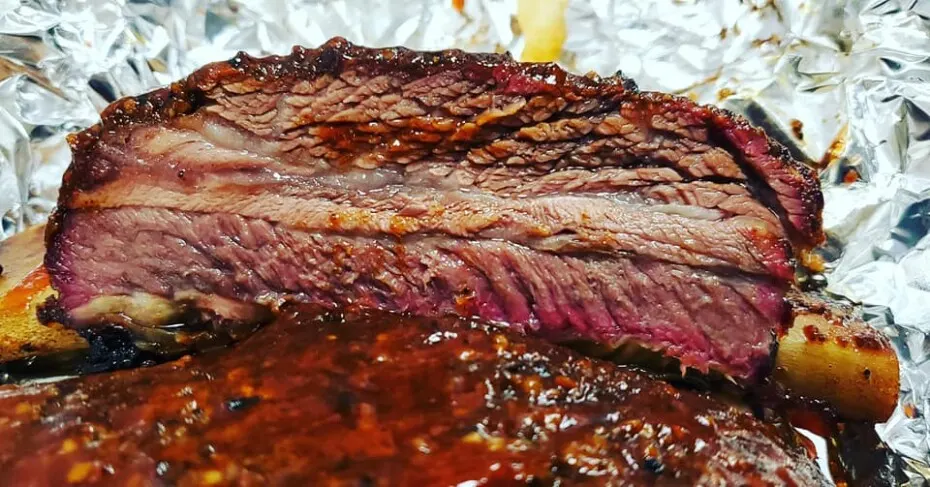 Beale's Texas BBQ is a simple eatery offering desserts, Texas-style BBQ, and traditional Southern sides with takeaway and dine-in service options.
Meals served taste excellent. The banana pudding is the height of them all as it's the best creamy and not overly sweet pudding out there.
You should definitely try it out. Don't forget to also order their pulled pork and smoked brisket. It tastes so great with just the right amount of spice needed.
If you have decided to try their meals here, it's definitely worth it.
There are lots of meat and sides to choose from. Mac and cheese have great texture and are well flavored.
If you're looking to experience Southern hospitality in Huntington Beach, this is the place to be.
16400 Pacific Coast Hwy, Huntington Beach, CA 92649, United States
Sunday – Thursday, 11:30 AM – 7 PM. Friday – Saturday, 11:30 AM – 8 PM.
+1 562 588 3070
Jav's Bar-B-Q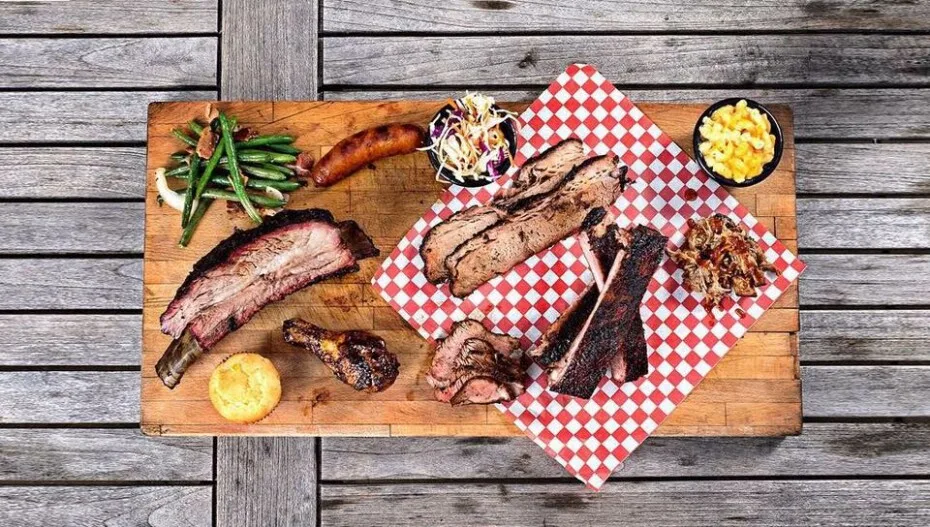 Jav's Bar-B-Q uses a special kind of wood to BBQ their meats to give it a unique flavor.
The brisket has the right flavor and tastes like melting meat butter. Coleslaw is good and tastes unique.
Their meats are well flavored, tender, and perfectly slow smoked. The pulled pork tastes excellent too. The spicy BBQ sauce will leave you with a satisfactory feeling.
The restaurant has good vibes and is a lively place to visit with family or friends.
Worthy of note is their side dish, Honey-glazed Brussel sprouts. We guarantee you haven't had anything like this before. It's worth the visit!
500 S Anaheim Blvd #D, Anaheim, CA 92805, United States
Monday – Thursday, 11 AM – 8 PM. Friday – Saturday, 11 AM – 10 PM. Sunday, 12 PM – 6 PM.
+1 714 844 2680
Heritage Barbecue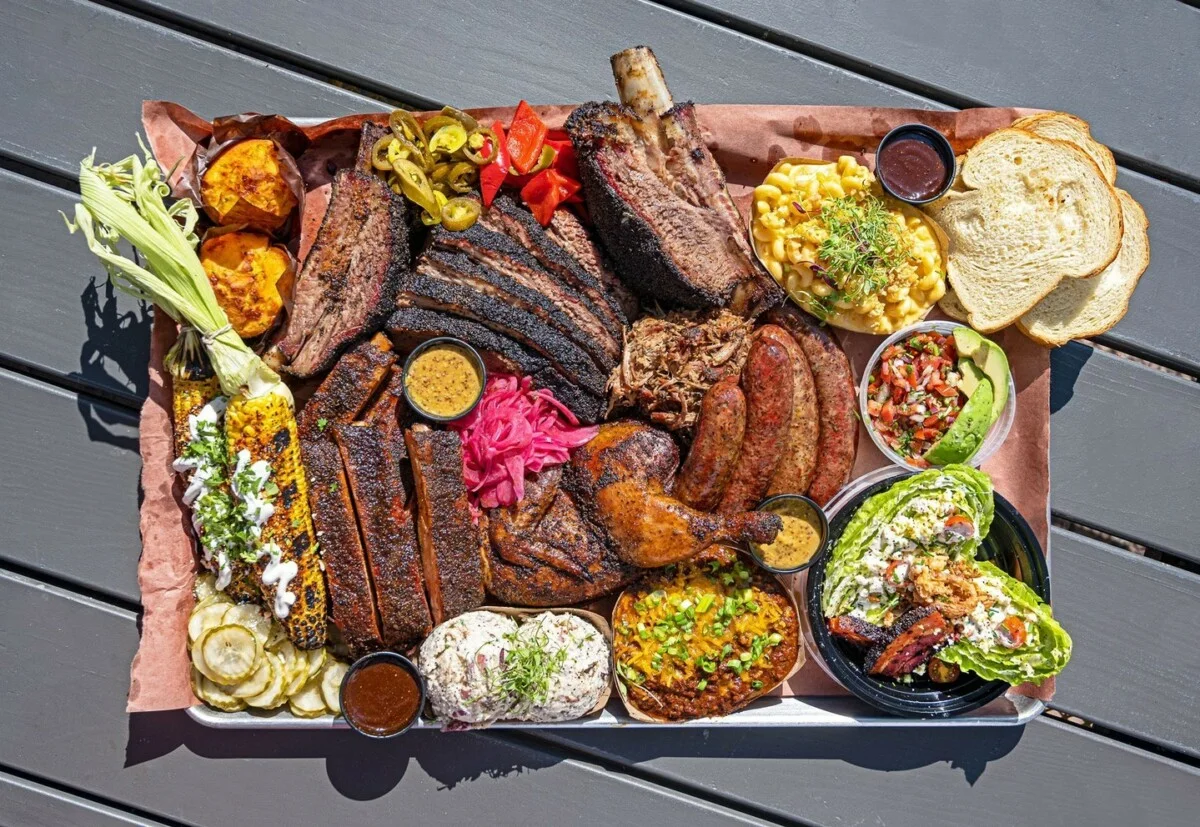 Heritage Barbecue serves up tasty Texas-style BBQ in the historic San Juan Capistrano.
Cut to order and weighed out to your liking, they've got tender ribs, brisket, pulled pork, and juicy sausage links.
Char Siu pork belly is worth the visit alone, as well as the tri-tip and brisket beans.
Try their hatch chile potato salad for a creamy, spicy play on the old classic. Make sure to check out their daily specials while you're there!
31721 Camino Capistrano, San Juan Capistrano, CA 92675
Wednesday – Sunday 11 AM – 6 PM
Bad to the Bone Barbecue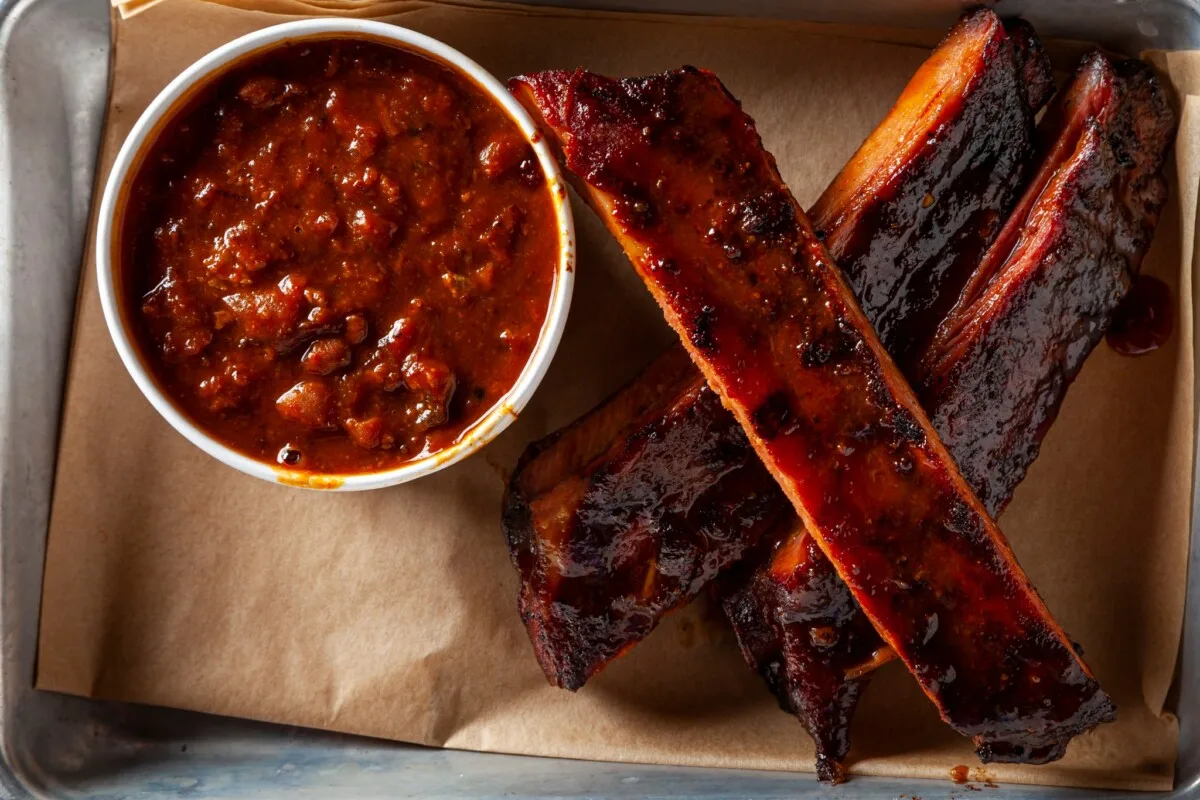 Warmly lit with modern decor and long wooden tables perfect for big groups, Bad to the Bone BBQ is an awesome spot to share a meal with family and friends.
Dig into their drool-worthy beef brisket with house-made rub, smoked for 16 hours!
Angus beef Tri-tip and Carolina pulled pork are full of smoky, delicious flavor, and the BBQ half-chicken is crispy and succulent.
The dinner plate is a great option to test it all out!
31738 Rancho Viejo Rd, San Juan Capistrano, CA 92675
Sunday–Thursday 11 AM – 8:30 PM; Friday & Saturday 11 AM – 9:30 PM
+ 1 949-218-0227
Wood Ranch
Wood Ranch has a few locations around OC, so you have multiple opportunities to stop in.
Quality food and delicious BBQ is served in a family-friendly setting, with menu options for everyone.
Juicy tri-tip and smoked brisket are popular items, both well-seasoned and super tender.
If you want a taste of it all, try "The Ultimate" Sandwich with brisket, kielbasa, pulled pork, and all the fixins on a toasty, fresh brioche bun.
501 Spectrum Center Dr Suite 501, Irvine, CA
Sunday – Thursday 11 AM – 9 PM; Friday & Saturday 11 AM – 10 PM
+ 1 949-337-4850
Sauced Bbq & Spirits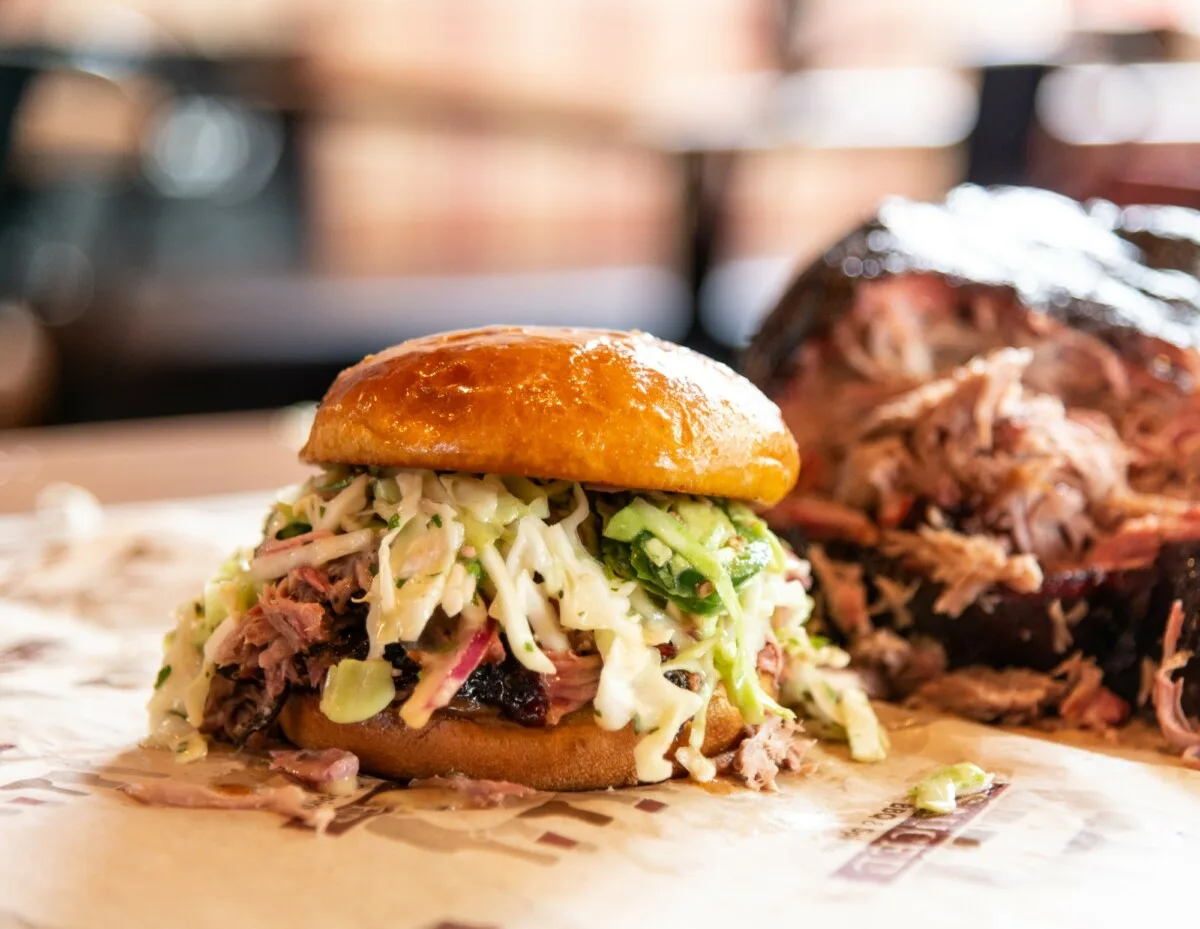 Looking for somewhere social with great BBQ, indoor and outdoor seating, big screen TVs, and even some axe throwing?!
Sauced BBQ & Spirits is a lively joint with friendly service and a great atmosphere.
Pig out on plates of juicy brisket, smoky pork belly burnt ends, and perfectly sauced spare ribs.
The menu here is extensive, including an impressive list of cocktails and brews to make your meal that much better.
1535 W Katella Ave, Orange, CA 92867
Sunday – Thursday 11 AM – 10 PM; Friday & Saturday 11 AM – 12 AM
+ 1 714-639-9104
Blake's Place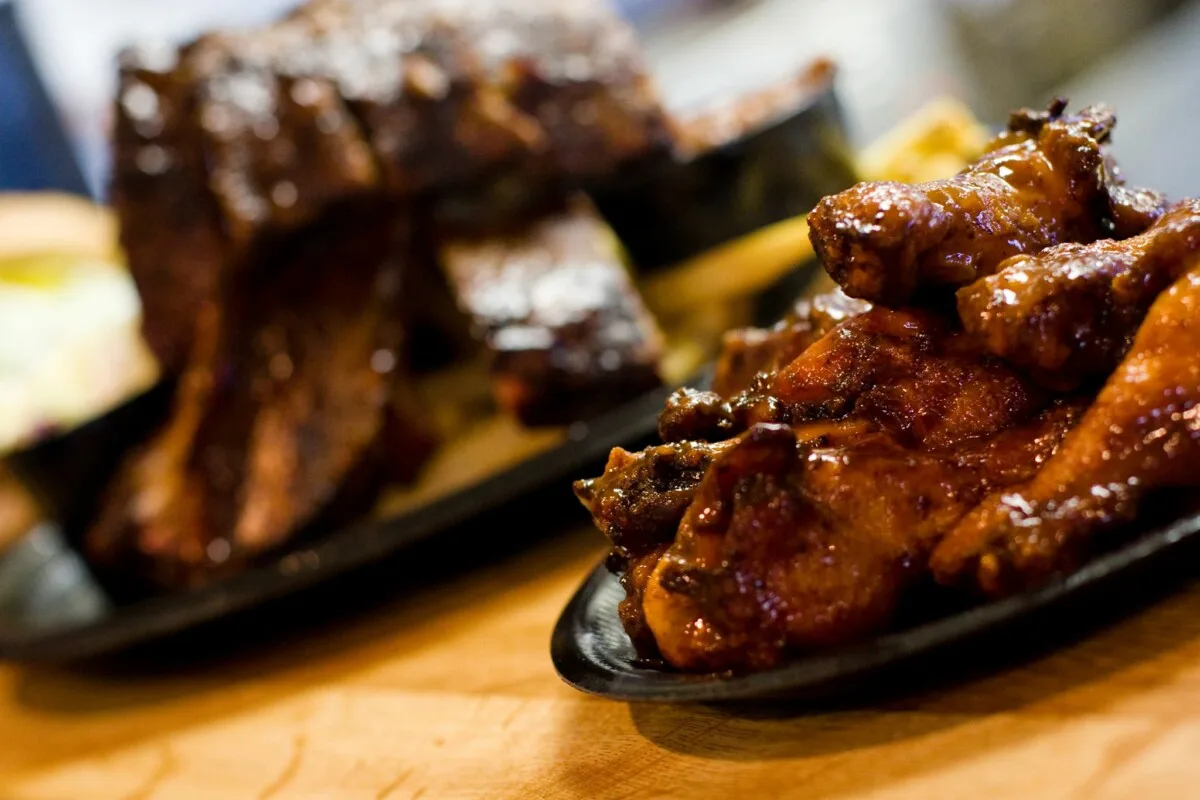 Tucked away in an industrial area, Blake's Place is a rustic spot well worth seeking out.
The brisket sandwich is piled mile high for endless bites of tender, flavorful meat, crispy onions, and fresh bread.
If you're extra hungry, try "The Beast," a behemoth sandwich stuffed with all the offerings only for the bravest (and hungriest!).
Don't worry; you can also get your regular BBQ fix on a plate with some extra delicious garlic bread on the side.
2901 E Miraloma Ave, Anaheim, CA 92806
Monday – Thursday 11 AM – 7 PM; Friday & Saturday 11 AM – 8 PM
+ 1 714-630-8574
Ribbro BBQ
RIBBRO BBQ is a great little spot in OC for tasty BBQ that will keep you coming back for more.
Juicy, fresh Andouille sausage and pork ribs are crowd-pleasers and their flavorful pulled pork sandwich.
Sauces here are also a highlight – give the spicy Korean BBQ sauce a try for a spicy, sweet kick.
They also offer group packages for 5-15 people, so you can grab some friends and try all their awesome items.
2300 SE Bristol St C, Newport Beach, CA 92660,
Tuesday – Friday 11 AM – 3 PM, 5 PM – 9 PM; Saturday 11 AM – 8 PM
+ 1 949-681-0108
Craft by Smoke and Fire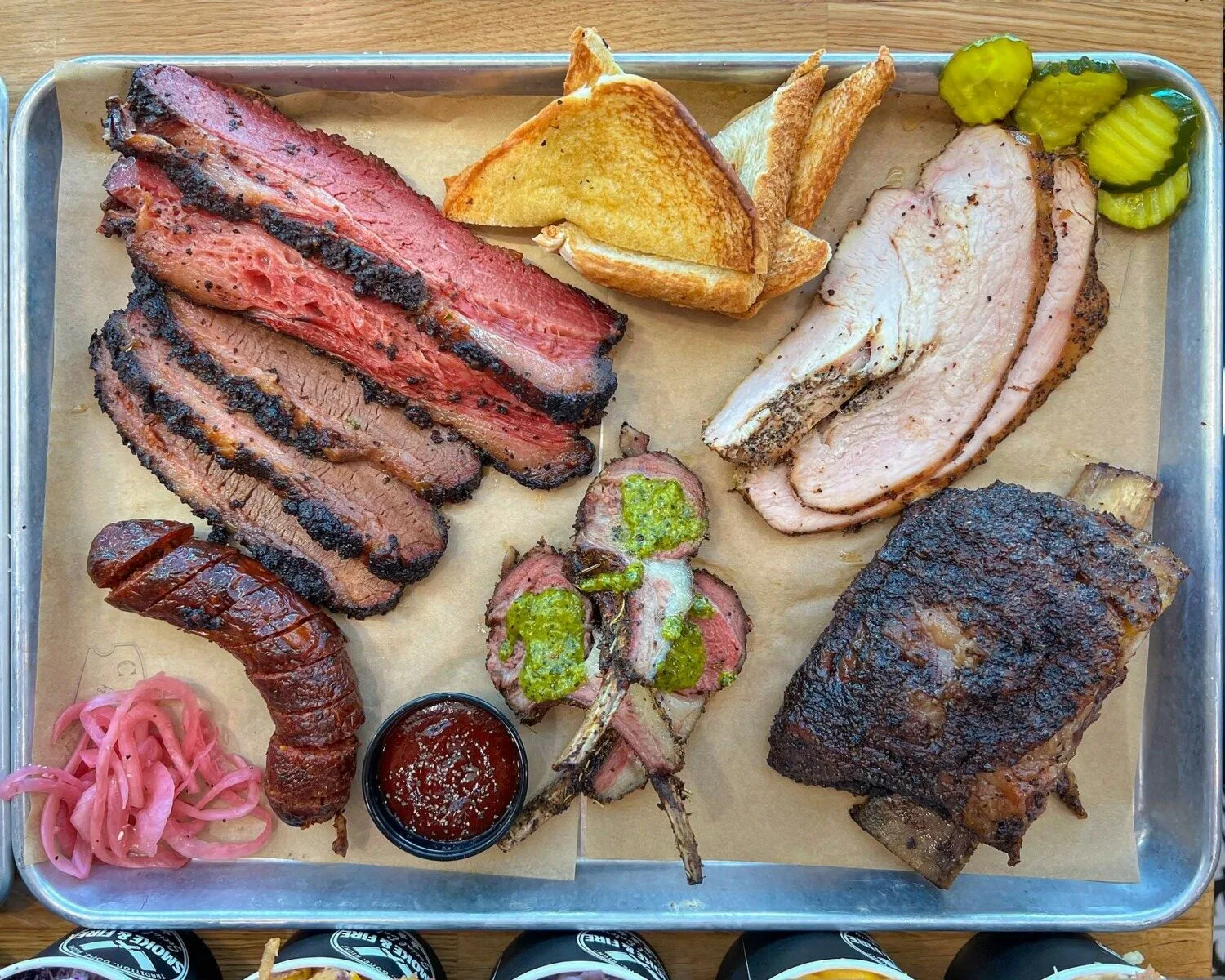 Switch up the vibe a bit and visit the trendy joint Craft by Smoke and Fire, complete with live music and creative cocktails.
You'll be converted by their 1/2-pound smoked pastrami or the loaded brisket Texas chili tacos.
They have a crafty twist on classics like creamy blue cheese slaw, brisket, grits, and some of the best mud pie around.
195 W Center Street Promenade, Anaheim, CA 92805
Monday – Thursday 11 AM – 10 PM; Friday 11 AM – 12 AM; Saturday 10 AM – 12 AM; Sunday 10 AM – 10 PM
+ 1 714-603-7194
You might also be interested in: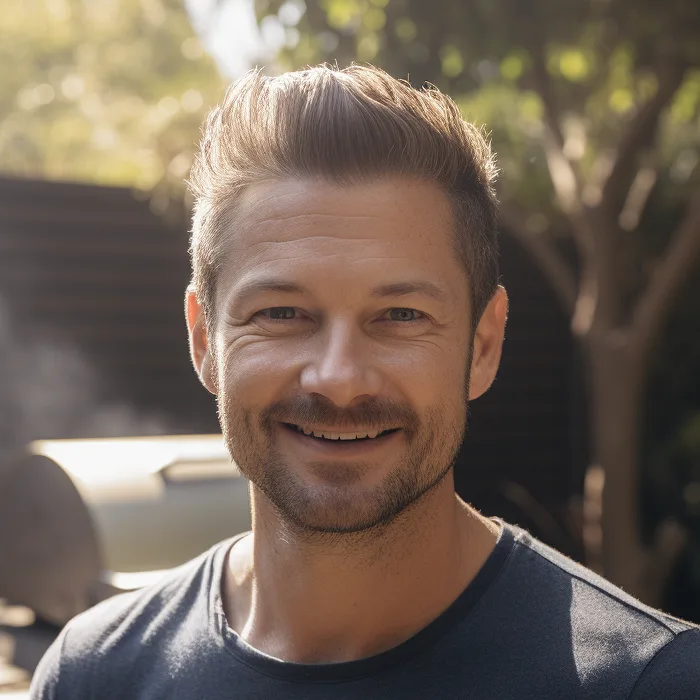 I have been smoking and grilling meat from an early age and enjoy sharing my knowledge and expertise through the hundreds of articles I have written about BBQ. I hope to make everyone's BBQ journey that little bit easier.