There are lots of attractions ranging from Children's Fairland to the Black Panther tours and more.
Apart from the attractive sights for the eyes, this city also has lots of mouth-watering foods to make one feel on top of the world.
Barbecue joints in Oakland are never hard to find as the delicious aroma fills the streets all day long.
Here, we will go over the 10 best BBQ in Oakland.
Best BBQ in Oakland
Horn Barbecue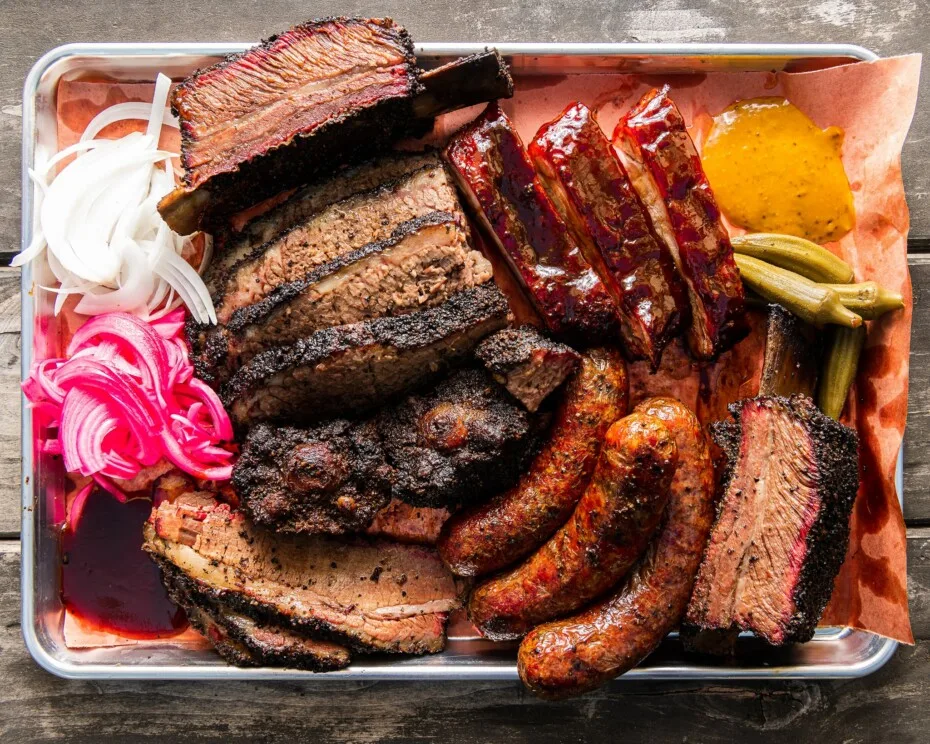 Horn Barbecue started with a humble beginning in a farmer's market outlet.
It is now making strides as it is a recognized barbecue joint featured in Forbes as the hottest barbecue spot in Oakland.
Meats are well and perfectly smoked over traditional wood to give the enjoyable aroma that lingers near the nose.
All the menu offered here is really palatable and delectable. If you're a lover of good BBQ, horn barbecue should be your next stop.
2534 Mandela Parkway, Oakland, CA 94607, United States
Monday – Wednesday, Closed. Thursday – Sunday, 11 AM –4 PM.
+1 5102256101
Everett & Jones Barbeque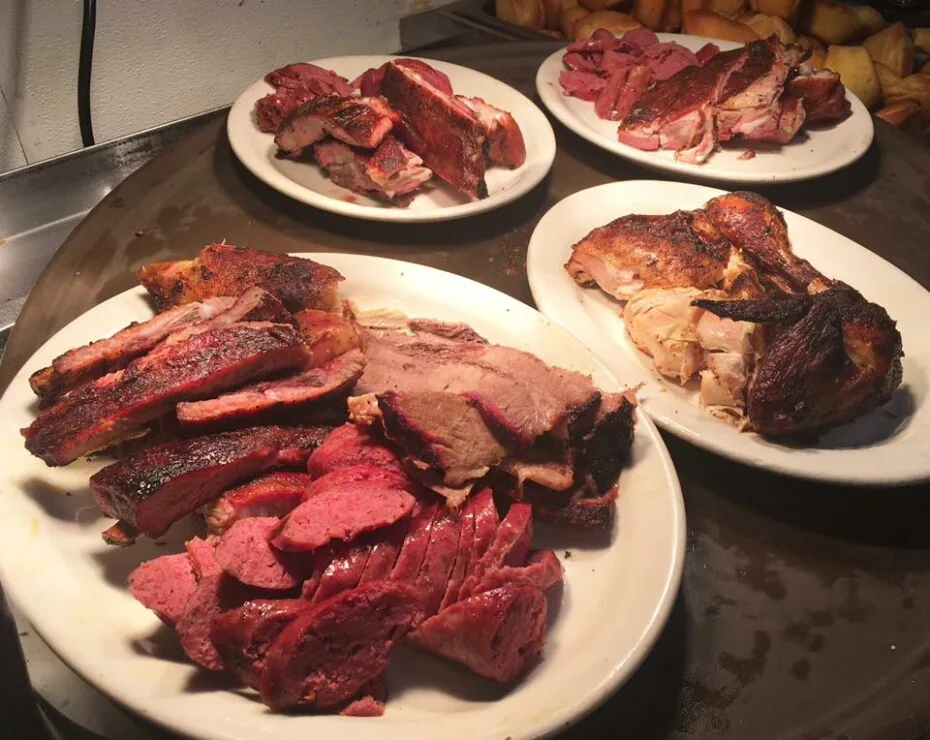 Everett & Jones Barbecue is a family-owned BBQ outpost founded in 1973.
With various meat selections, sides and desserts, this place offers the absolute best to their customers.
While at this place, try their smoked chicken, pulled pork ribs, and beef brisket, you'll be glad you did.
The food here tastes so yummy and is enjoyable. But as they say, it's all in the sauce, so slather that meat potion all over your meats.
126 Broadway, Oakland, CA 94607, United States
Tuesday – Sunday, 12 PM –8 PM.
+1 510-663-2350
Ruby Q Smoke Fusion
Located in Fruitvale Ave, Ruby Q Smoke Fusion is a family-owned and operated restaurant.
A vegan menu is available for customers who have vegan preferences.
Lots of sides with carefully and freshly prepared meats are being served daily.
The baked BBQ beans here are always on point alongside the brisket, which is very tender and juicy.
954 Fruitvale Ave, Oakland, CA 94601, United States
Wednesday – Sunday, 12 PM – 10 PM.
+1 510 253 2270
Ohgane Oakland
Ohgane Oakland offers some of the best Korean BBQ in Oakland.
This unique restaurant's worthy attraction is Korean BBQ cooked on mesquite grills tabletop.
Self-grilling services are available, giving you the chance to grill your own meats to your satisfaction.
Service here is fast and top-notch, the staff is always welcoming and pleasant.
You should try some of the special delicacies like pork neck, beef tongue, and other exotic dishes.
Some complimentary appetizers are also served here and meats in this BBQ spot.
3915 Broadway, Oakland, CA 94611, United States
Monday – Sunday, 11 AM –10 PM. Saturday – Sunday, 11 AM –11 PM.
+1 5105948300
Roderick BBQ
Operating out of a food truck, Roderick BBQ is located on 98th Ave and is a Pop and Son spot that provides meaty and well-flavored BBQ.
BBQ sauce is so delicious it lingers on the tongue minutes after you've had it, sticky, sweet, and tangy.
We recommend indulging in the four-piece combo if you don't know what to order.
The combo is a type of platter with lots of different meats to give you a flavor of everything on a plate.
There's an expansive menu list, and no matter what you settle on, you'd surely get the best taste!
2708 98th Ave, Oakland, CA 94605, United States
Wednesday–Saturday, 12 PM – 7 PM.
+1 5105644648
Smokin Woods BBQ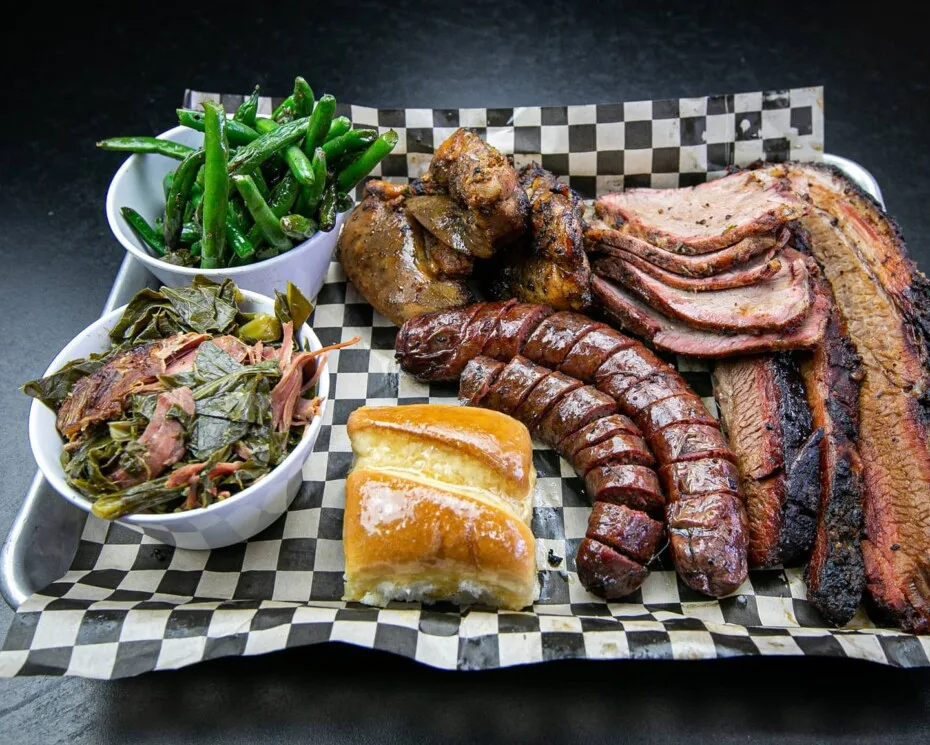 Smokin Woods BBQ gives a relaxing feeling with a cool atmosphere alongside nourishing food and drinks.
The fragrance and savory taste here is difficult to forget as meats are smoked over a mixture of 100% natural cherry, apple, pecan, and oak woods.
Who said good food has to be expensive. The Smoking Woods BBQ is the perfect place to be if you're on a budget.
4307 Telegraph Ave, Oakland, CA 94609, United States
Wednesday, 12 PM –8 PM. Thursday – Saturday, 12 PM –9 PM. Sunday, 10 AM –8 PM.
+1 5104238634
Stay Gold Deli
Stay Gold Deli serves delicious BBQ with homemade seasonings made from special recipes.
Baked beans and pulled pork are rich, and the rib meat is juicy and tender to chew.
Their signature beef brisket is well seasoned, dry-rubbed, and slowly smoked for about 12 to 14 hours to give the impeccable, ever so delicious Texas Style taste.
Pulled pork with slaw is so mouth-watering delicious you might end up ordering for more.
2635 San Pablo Ave, Oakland, CA 94612, United States
Sunday – Thursday, 10:30 AM – 11:00 PM. Friday and Saturday, 10:30 AM – 12 AM
+1 510 350 8729
MZ Kettle's BBQ
Mz Kettle's BBQ serves scrumptious Texas-style barbecue. If you love a nice indoor dining experience and great food, Mz Kettle's is the place for you.
The BBQ here is fantastic, but let's talk about the sides and dessert that complete the whole meal.
Sweet potato pie and banana pudding are a great combination as they taste heavenly together.
The right quantity of cheese and spices are added to the Mac and cheese, and it tastes rustic and rich.
Homemade links and yams are also carefully and nutritiously prepared here. 2676
Fruitvale Ave, Oakland, CA 94601, United States
Thursday – Friday, 4:30 PM –9 PM. Saturday, 11:30 AM –9 PM. Sunday, 1:30 PM –9 PM.
+1 510 500 3349
Smoakring Smoakhouse & BBQ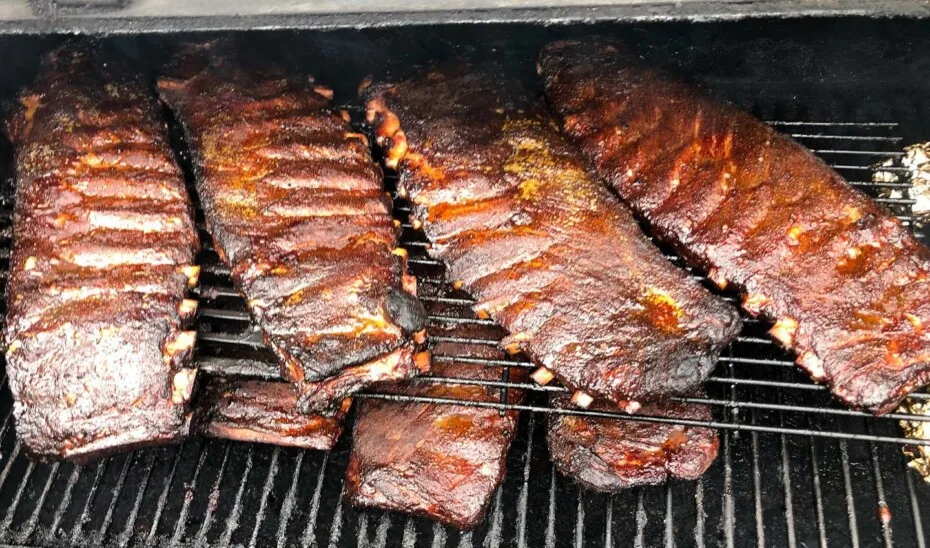 SmOakRing Smoakhouse & BBQ is situated on MacArthur Blvd and is a hidden gem waiting to be discovered.
The staff is super friendly, courteous, and polite. The prices here are extremely reasonable and highly affordable.
Available are unique and palatable BBQ sauces.
SmOakRing Smoakhouse & BBQ pride itself on serving high-quality and top-notch meals.
Visit this restaurant for a second-to-none food experience. They even have BBQ seafood!
2020 MacArthur Blvd, Oakland, CA 94602, United States
Wednesday – Thursday, 11 AM–7 PM. Friday – Saturday, 11 AM – 8 PM. Sunday, 11 AM – 6 PM.
+1 5105854774
Ilava Hawaiian Barbeque
iLava Hawaiian Barbecue is a Hawaiian barbecue joint in Oakland. Barbecues here are so delicious, enough to blow your tastebuds away.
They serve large portions of food so make sure you've built your appetite before dining here.
In addition to their mouth-watering and palatable meals are their famous smoothies.
They are hygienically and nutritiously prepared without losing the necessary tang and flavor.
Order some great BBQ and a refreshing smoothie to wrap up your meal.
1446 High St, Oakland, CA 94601, United States
Monday – Sunday, 11 AM –8:30 PM. Tuesday, 11 AM –9 PM.
+1 510 2619888
You might also be interested in: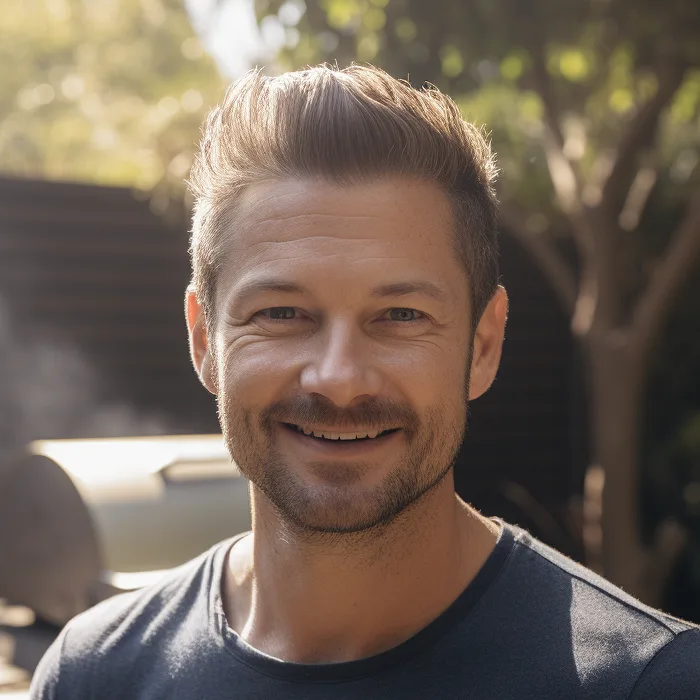 I have been smoking and grilling meat from an early age and enjoy sharing my knowledge and expertise through the hundreds of articles I have written about BBQ. I hope to make everyone's BBQ journey that little bit easier.