Without a doubt, brisket is associated with moist meat and a crispy bark. It just isn't brisket unless it has juicy meat and a good bark.
Unfortunately, most of us have been exposed to tough, dry briskets that did not pass the quality taste test.
That's why I started smoking my own brisket. While there is nothing wrong with getting brisket from your favorite local BBQ joint, there is something magical and satisfying about smoking your own brisket.
However, the trouble with brisket is knowing when exactly to pull brisket off your pellet smoker. Sometimes, I'd end up with brisket that was undercooked or totally overcooked.
Neither option was ideal, so I kept cooking brisket until I got it right.
I also realized that knowing the answer to this critical question could be the difference between a tough and chewy brisket and juicy and moist brisket.
Can You Leave Brisket on a Smoker Too Long?
Just like you can overcook tri-tip, you can overcook brisket in your electric smoker. Although most people believe it's hard to overcook brisket, however overcooking brisket is just as easy as overcooking ribeye steak.
If you overestimate the cooking time, you will end up with a dry brisket that literally contains no moisture.
Therefore, you must remove the brisket from the propane smoker at the right time.
Tips for Smoking Brisket
It makes no sense to talk about when to pull brisket off the smoker without discussing useful tips or showing you how to smoke a brisket.
Temperature
Whether you are smoking a pork butt or brisket, it's important not to constantly open your smoker lid or door.
Every time you open your propane smoker, the ambient temperature will drop.
Ultimately, the more you open the smoker's door or lid, the longer it will take to cook and the more unevenly it will cook.
Therefore, you must make sure your smoker maintains a stable temperature throughout the entire cooking process.
Fat Side Up
Although there is a brisket fat side up vs. fat side down debate that's been brewing for years in the BBQ world, brisket is almost always cooked fat side up.
However, if your smoker's heating instrument is beneath the brisket, you should cook the brisket fat side down. This will prevent the brisket from drying out.
Moisture
In addition to this, make sure you position the point part of the brisket closer to the smoker.
Furthermore, you must make sure your brisket remains moist during the smoking process.
To keep your brisket moist, you can spritz it with water, beef broth, or apple cider vinegar to prevent it from drying out.
Alternatively, you can also mop the brisket to prevent it from drying out. Essentially, mopping is a technique that entails "mopping" a seasoned broth onto the meat.
Wood
Choosing the right wood for smoking brisket can be overwhelming and difficult. Oak, apple, cherry, hickory, apple, and pecan all pair perfectly with brisket.
Ultimately, it will come down to the desired flavor you want your final product to have.
Resting
You must let your brisket rest once you remove it from your smoker.
I know; it's tempting, but you must resist the urge to cut the brisket immediately after it comes out of the smoker.
Resting brisket helps meat's juices redistribute back into the center of the brisket. Wrap the brisket in a towel, butcher paper, or foil paper before resting it in a food-safe cooler.
It's best to rest brisket for a minimum of 1 hour. However, you can rest your brisket for 2-4 hours.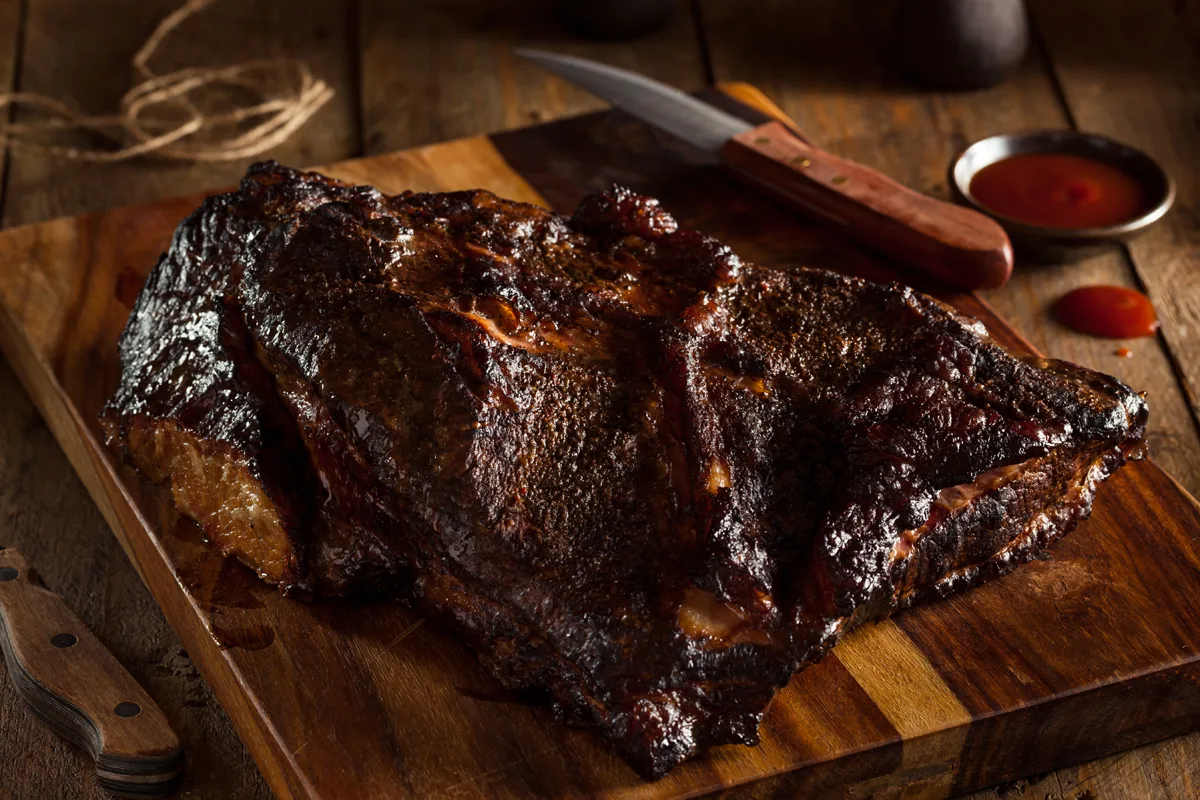 When To Pull Brisket off the Smoker
Asking the question when to pull brisket off the smoker is like asking a steak expert what their favorite steak is and why?
Either way, it can be confusing since you will end up with a myriad of different answers.
Because each BBQ expert has a specific way that they prepare their brisket, it's difficult to determine when to pull brisket off the smoker.
Some experts recommend using the meat's internal temperature as an indicator of doneness, while others recommend the cooking time or the look and texture of the brisket to determine doneness.
Texas Crutch
Most BBQ experts recommend using a technique called the Texas crutch. Essentially, you would remove the brisket from the smoker as soon as its internal temperature stalls.
The stall is when the brisket's internal temperature does not rise. It plateaus.
Essentially in the stall, the brisket will start to sweat and lose heat due to evaporation. The stall happens when the brisket's temperature reaches 150°F, and it may last for hours.
The brisket stall can cause you to panic, especially if this is your first time cooking brisket.
However, there's no need to panic. The brisket stall is inevitable, and there's nothing you can do about it.
Most people try to increase the temperature of their smoker because they think it's not performing adequately, but I advise against it since it's pointless and can dry out the brisket even faster.
Next, you wrap the brisket with foil and place it back into the smoker.
Wrapping the brisket will help it preserve moisture. It's best to check the brisket, including the point and flat, every 35-45 minutes after it enters the stall until it achieves the recommended temperature.
Appearance and Texture
Brisket is ready to come off your offset smoker when it has a dark mahogany-colored bark.
The meat should be tender enough that a toothpick or thermometer probe should easily slide in and out of the brisket as though you were sticking it into a stick of softened butter.
Alternatively, you can also use the pull test to tell whether or not brisket is done.
Simply cut a small slice of brisket and let it hang from your fingers. The brisket should not fall apart like a rack of overcooked ribs. However, when you pull on the brisket, it should break apart.
The hang test is not seen as an accurate way to determine when to pull brisket off the smoker since it is performed once the meat is already cooked.
Cooking Time
When it comes to the cooking time, it can be challenging to estimate when brisket is finished cooking.
I never go by the cooking time since so many variables impact the cooking time. For example, the size of the brisket and the temperature can impact the cooking time.
The general equation for cooking time for brisket at 225°F is 1 hour and 30 minutes per pound.
However, if you smoke the brisket at 275°F, the brisket will take about an hour per pound.
Temperature
The temperature is the best way to tell when to pull brisket from the smoker.
That's why you should use at least one use at a separate thermometer since smoker thermometers that are mounted on the dome are unreliable.
I recommend using a dual probe instant-read thermometer or at least an infrared thermometer when smoking a brisket.
When it comes to the exact internal temperature of cooked brisket, the temperature varies.
Some BBQ experts believe brisket should be cooked to 190°F, while others insist that 190°F is the best temperature for brisket.
On average, you should remove the brisket when it reaches a temperature between 200°F and 210°F.
At these internal temperatures, the brisket will have had enough time for the connective tissues or collagen to dissolve into gelatin, yielding tender, juicy meat.
You can experiment with these internal temperatures to find the best one that works for you.
Can I Pull Brisket at 190?
Some BBQ experts gamble and remove their brisket at 190°F.
I recommend staying safe and removing the brisket at 200°F since pulling the brisket off the smoker at 190°F would be like committing a brisket atrocity.
At 190°F, the brisket's connective tissues will not begin to render, which means you will be eating undercooked brisket if you remove it at this stage.
Furthermore, pulling brisket off the smoker at 190°F is fruitless since there will not be enough heat to increase the temperature to 200°F.
Can I Pull Brisket off at 195?
As I mentioned above, there are different temperatures to pull brisket off the smoker. Some people believe brisket is done when it has a temperature of 195°F.
However, there is one great risk involved in pulling brisket off the smoker at 195°F.
At 195°F, you risk the brisket being undercooked since the meat will not have rendered the collagen.
This is why some experts recommend removing brisket from the smoker once it has a temperature of 200°F.
Final Thoughts
For most individuals choosing when to take brisket off the smoker is like choosing the perfect shade of green, pink or blue.
It's nearly impossible to tell which temperature or shade is best.
I prefer to take brisket off the smoker at 200°F, especially if this is your first time smoking brisket.
However, if you've coked brisket several times, I recommend testing out each temperature and seeing which temperature gives you the best results.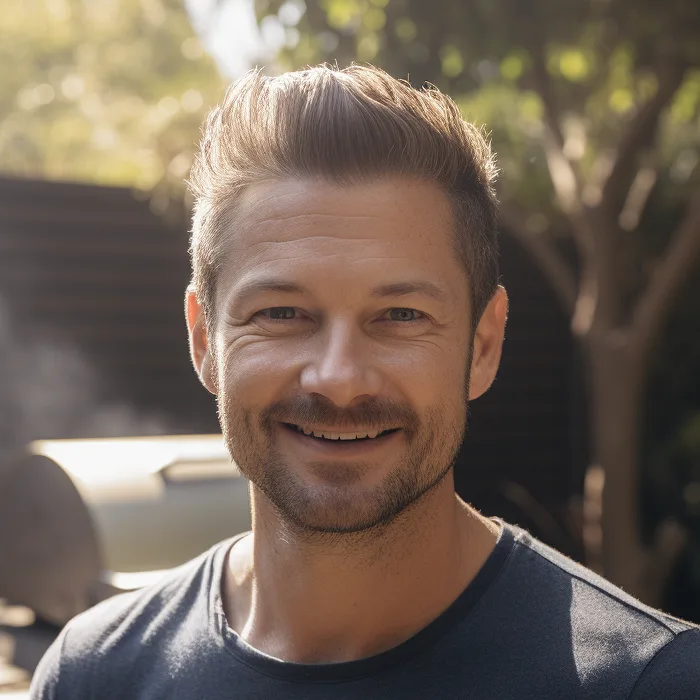 I have been smoking and grilling meat from an early age and enjoy sharing my knowledge and expertise through the hundreds of articles I have written about BBQ. I hope to make everyone's BBQ journey that little bit easier.